Buffalo Toro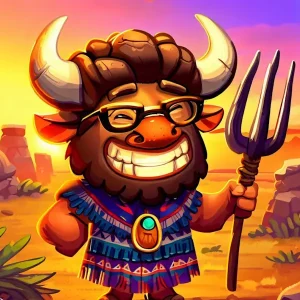 Are you ready to embrace the bull in the most entertaining way possible? Buffalo Toro is the game for you! This one-of-a-kind slot game features 6 reels and 4 rows, providing you with up to 4,096 ways to win big. With a minimum bet of $0.20 and a maximum of $50 per spin, you're guaranteed an immersive gaming experience that delivers a rush of excitement.
What sets this game apart is the three wild symbols and the matador symbol. The walking wild is bound to generate respins as it moves to the left with each play, opening the doors to higher winnings. As for the locked-in matador symbol, it allows you to benefit from respins, increasing your chances of a win. The added features make the game not just exciting to play, but also lucrative, and you can easily get lost in the fun of it all.
But don't take our word for it, come and experience the joy this game brings. If you are a fan of online slots, you cannot miss out on this one. The visually stunning graphics, engaging sound effects, and exceptional gameplay features make Buffalo Toro a winner in every way. Give it a try, and you won't disappoint yourself!
Symbols and Graphics
Get ready to face off with some of the fiercest fauna of the desert in Buffalo Toro! This online slot game's symbols include bears, wolves, lynxes, eagles, and of course, buffaloes. It's a battle of survival of the fittest out there, but with a little bit of luck, you can become the top predator.
The game's graphic design makes the experience a joy to watch, with the cartoonish style and vibrant colors popping out of your screen. The well-defined animations add depth to the game, making each spin feel more alive than the last. And don't fret, this isn't some old western where cowboys shoot buffaloes left and right. Instead, you get to appreciate their grace and beauty on the reels.
If you're lucky enough to land the gold coin scatter symbol, you can win up to 20 free spins, and Rampage Reels. Who doesn't love the sound of rampaging buffaloes? During the Rampage Reels, only golden bison symbols appear on the reels, making your chances of winning big that much higher! Now that's something to hoot and holler about!
Betting Range: How Much Money Do You Need to Play?
Are you looking for a slot game that won't break the bank? Then Buffalo Toro might be the perfect fit for you! With a minimum bet of only $0.20, players on a tight budget can enjoy the game without draining their wallets. But don't worry high-rollers, there's an option for you too! The maximum bet is $50 per spin, giving players the chance to win big.
And for those who don't want to manually click the spin button every time, there's the Autoplay feature. Set the number of spins you want, and let the game play itself. Sit back, relax, and enjoy the spectacle unfold in front of you!
After all, it's not just about the money, it's about having fun. And Buffalo Toro delivers just that. So go ahead, take a chance, and see if you can get lucky with this slot game.
Compatibility: Playing Buffalo Toro Anywhere and Everywhere
No matter which platform you choose, you can enjoy Buffalo Toro without a hitch!
Whether you're playing it on your large PC monitor, or squeezing in a few spins on your phone during your morning commute, Buffalo Toro will fit perfectly. Not only does the game adapt perfectly to different screen sizes, but it also maintains its crisp graphics and smooth operation.
Now, you can play Buffalo Toro at home, on the go, or even during your lunch break! Just don't let your co-workers steal a peek…
If you're ever stuck waiting for an appointment, you can whip out your phone, start spinning those reels, and maybe even win big from that tiny screen! But don't get too engrossed – you might miss your appointment…
RTP and Volatility
What's RTP and volatility, you ask? It stands for 'really tempting possibilities'! Just kidding, but in Buffalo Toro, there's plenty of that. The RTP is 94%, which might not sound like much, but hey, at least it's better than zero, right? And with high volatility, you know that the game isn't messing around. It's like the buffalo, ready to charge with every spin, and when it hits, it hits big!
But don't get too eager, cowboy. You might have to wait a little bit until you hit the right combination. It's like waiting for your cattle to come home. You know they'll get there eventually, but it takes a while. Still, the payouts can be worth it. In fact, the max win is 50,000 times your bet. That's a lot of hay to put in your barn, partner. So saddle up and get ready for a wild ride!
FAQ
What is the minimum bet for Buffalo Toro?
The minimum bet for Buffalo Toro is $0.20.
What is the RTP of Buffalo Toro?
The RTP of Buffalo Toro is 94%.
What is the maximum bet for Buffalo Toro?
The maximum bet for Buffalo Toro is $50.
How many ways to win does Buffalo Toro have?
Buffalo Toro has 4,096 ways to win.
Does Buffalo Toro have an Autoplay feature?
Yes, Buffalo Toro has an Autoplay feature.
What is the maximum win in Buffalo Toro?
The maximum win in Buffalo Toro is 50,000 times the bet.
Can I play Buffalo Toro on my smartphone?
Yes, you can play Buffalo Toro on your smartphone, PC, or tablet.
What are the special symbols in Buffalo Toro?
The special symbols in Buffalo Toro are Wilds, Scatter, Matador, and Super Bonus symbol.
What we like
Multiple Wild symbols and a Respin feature for exciting gameplay.
Vibrant graphics with colorful animations and sound effects.
Scatter symbol that awards players with free spins and Rampage Reels feature.
Playable on PC, tablet, and smartphone devices.
What we don't like
Relatively low RTP of 94%.
High volatility may not appeal to all players.