Break Bones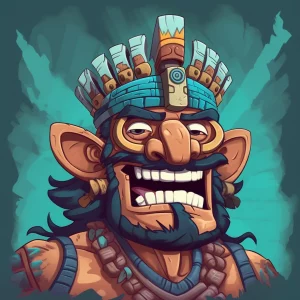 Buckle up, folks – Break Bones is about to take you on a wild ride! This 3-reel, 3-row, and 17-fixed-paylines video slot game by Hacksaw Gaming is a graffiti-themed wonderland. With eye-catching graphics and an electronic soundtrack that'll have you grooving in your seat, Break Bones is the perfect choice for players seeking a high-energy gaming experience.
But don't worry, this game isn't just all flash and no substance. With a medium volatility and an RTP of 96.22%, Break Bones strikes the perfect balance between excitement and reward. Whether you're an experienced player or a novice, you'll find plenty to love here.
One of the coolest features of Break Bones is the ability to customize your betting options. You can set your bet from 0.1$ up to 100$, so whether you're a high roller or a more conservative player, there's a betting range that will suit your needs. Additionally, the game offers advanced settings that let you choose from 10 to 1,000 automatic spins. Talk about convenience!
All in all, Break Bones is a fantastic slot game that we'd highly recommend. From the engaging graphics and soundtrack to the flexible betting options, this game has something for everyone. So what are you waiting for? Get spinning and see if you can break some bones (metaphorically speaking, of course!).
Symbols and Paytable
Let's be real – online slot games aren't just about winning money. They're about the symbols, the graphics, and the sheer fun of it all. That's exactly what you'll get with Break Bones. This game features a mix of standard and extra symbols that will keep you on your toes.
The card suits (A, J) might not be the most exciting symbols, but they're still a necessary part of any good slot game. Plus, they'll come in handy when you need to build up your winnings. On the other hand, the higher value symbols will really make your heart race. Who doesn't love graffiti of skulls in different colors? The orange, blue with purple eyes, green, and blue skull with a green geometric shape are all unique and eye-catching.
Of course, what would a good slot game be without a few extra symbols? Break Bones has three different ones to keep things interesting. First up is the Wild symbol, which can substitute for any other symbol on the reels (except for the Scatters, of course). Next, we have the Skeleton Hand Scatter symbol. Get three or more of these bad boys on the reels, and you'll trigger some free spins that will keep you playing for hours. And finally, we have the Bones Game Scatter symbol. Land three or more of these, and you'll trigger the bonus game where you get to break some bones (virtually, of course).
So, what are you waiting for? Give Break Bones a spin and see if you can land those Scatter symbols. Who knows – you might just break the bank (or some bones).
Unleash the Fun: Exciting Features – Wild and Global Multipliers!
Get ready to experience the thrill of Break Bones with its special features – the Wild and Global Multipliers! The Wild symbol is represented by the letter 'W' and can stand in for any other icon on the payline except for the Scatter symbol. The Wild can also appear on reels as a Wild multiplier, increasing your payout by 2x, 3x, 4x, 5x, 10x, 25x, 50x, or even 100x!
You read that right; even 100 times the payout. We're not joking. Your winnings can break some serious bones, thanks to the amazing features of this game. As long as you have a few Wild symbols appearing on the reels, you're bound to come away with big wins.
But that's not all. The Global Multiplier feature takes your winnings to a whole new level. Triggered when a large number of Wilds appear on the reels, this feature multiplies your overall payout significantly. Imagine seeing an entire screen of Wild symbols, and then watch your winnings skyrocket – it's just like breaking bones, except this time, it'll feel good!
So, what are you waiting for? Get ready to experience the thrill and excitement of Break Bones with its remarkable Wild and Global Multipliers. It's a game that offers more bang for your buck, and you'll definitely want to try it out. It's one of those games that once you start, you can't stop. Go play now and break some bones – metaphorically, of course.
Special Features – Echo Spins Feature
Ready to get your bones broken? Well, hold on tight because the Echo Spins feature is here! This amazing feature is triggered when you get the Skeleton Hand Scatter symbol to appear along with at least one winning payline.
You will be awarded 1 to 5 Echo Spins, and the position of the symbols on the reels will be identical to those that activated the bonus round. This means that you will receive a win on every respin. Talk about a bone-chilling experience!
Get Boned: A Look at Break Bones' Special Features
If you're looking for a bone-rattling good time, Break Bones has got you covered. One of the standout features of this slot game is the Bones Game bonus round. Triggered when three Bones Game Scatter symbols appear on the reels, players are rewarded with 10 free spins. It's like getting a second wind, except instead of air, you're breathing in pure adrenaline and excitement.
But the fun doesn't stop there. During the bonus round, players can also activate Wild multipliers and Echo Spins, which can really crank up the payout and leave you grinning from ear to ear. Just be careful not to get too excited and break your bones from all that jumping and fist-pumping.
Overall, Break Bones' special features deliver bone-afide entertainment and thrills. It's the perfect game for those who like a little danger mixed in with their online slot games. So strap on your safety helmet and get ready to break a few bones (figuratively, of course).
FAQ
What is the maximum payout in the free Break Bones slot game?
The maximum payout is 3,333 times your initial bet.
Can I buy the bonus round in Break Bones?
Yes, you can buy the bonus round; its value is 80 times your bet.
Can I play Break Bones for free?
Yes, you can play for free in demo mode or claim your welcome bonus and play for real money.
What is the RTP and volatility of Break Bones?
The RTP of Break Bones is 96.22% with medium volatility.
What are the key features of Break Bones?
The key features of Break Bones include Wild Multipliers, Global Multipliers, EchoSpins, Bones Game, and Buy Bonus.
What is the EchoSpins feature in Break Bones?
EchoSpins is a feature that gives you free spins and guarantees a win on every respin. It is activated when the Skeleton Hand Scatter symbol appears along with at least 1 winning payline.
What is the Bones Game feature in Break Bones?
The Bones Game is the free spins feature that is activated when you get three Scatter symbols on the reels. You will get 10 free spins and the chance to trigger other bonus features.
What is the Buy Bonus feature in Break Bones?
The Buy Bonus feature allows you to buy your way into the bonus round for 80 times your bet.
What we like
Eye-catching graphics and Urban Graffiti theme
Medium volatility and high RTP
Advanced settings for betting and automatic spins
Multiple special features including Wild multipliers and Echo Spins
What we don't like
Limited number of paylines (17)
Standard paytable symbols may feel repetitive after extended gameplay