BountyPop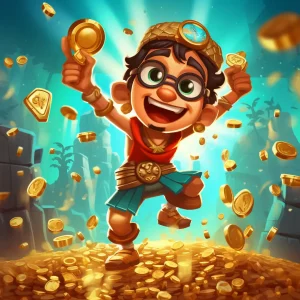 Are you ready to pop your way to big wins? BountyPop has got you covered with its exciting PopWins function. Watch as each winning symbol explodes and is replaced by not one, but two symbols! It's like popping bubble wrap…only with coins!
The real game-changer, however, is the height of the reel that increases with each pop. With potential to expand up to 6 more symbols in the base game and a whopping 9 more symbols during free spins, you'll feel like you're on a never-ending stretchy toy. The only thing better than popping bubbles all day is getting rich while doing it, amirite?
Game Volatility and RTP
Is your heart racing yet? Because it should be. BountyPop is the slot game that will keep you on the edge of your seat with its high volatility. Just make sure you're not on the edge of a steep cliff, or you might fall off if you hit the jackpot.
But seriously, BountyPop's high volatility means that it's not for the faint of heart. It's for the players who want to take risks and potentially reap huge rewards. And with an average RTP of 96%, those rewards can definitely be worth it!
Wheel Of Bets
If you're looking for an online slot game that has a bit of everything, BountyPop may be worth a try. One of the unique features of this game is the Wheel of Bets, which is a sort of wheel of fortune that can really help boost your winnings. With each, win you get to spin the wheel and earn some free spins. Plus, it's just plain fun to spin that wheel and see where it lands! But beware, losing at the Wheel of Bets will send you plummeting back to the base game without any free spins, so it's definitely a gamble.
Personally, I found myself spinning that Wheel of Bets more times than I would like to admit. There's something about the sound of the wheel spinning that just keeps me wanting more, and I know I'm not alone in that. So, if you're anything like me and love a good gamble, this game is definitely worth checking out. Just don't get too carried away, or you may find yourself spinning that wheel until you're out of money, and nobody wants that!
Graphics and Sound Design
Let's talk about BountyPop's graphics and sound design, shall we? While the pirate theme might suggest a swashbuckling visual and audio feast, the game's graphics are surprisingly simple. But hey, sometimes less is more, right? Even though the visuals aren't exactly groundbreaking, they still manage to create an engaging and enjoyable gaming experience.
On the other hand, the sound design is a mixed bag. The background music hits the nail on the head and adds to the epic and adventurous feel of the game. It'll make you feel like you're aboard a pirate ship, searching for treasure on the high seas. However, the sound effects could be much better. They don't quite match the grandeur of the music and end up feeling lackluster and underwhelming.
Despite that, the characters in the game are a real treat to look at. They evoke a sense of magic, mystery, and adventure. It's a shame the rest of the game's graphics don't quite match their level of creativity and detail. If only the entire game was as visually appealing as the characters, it would definitely be a treasure trove. Alas, that's not the case, and we'll just have to settle for the colorful and entertaining aspects that are present.
FAQ
What is BountyPop?
BountyPop is a pirate-themed slot machine that offers high volatility and rich in bonuses.
What is the RTP of BountyPop?
The RTP of BountyPop is in the average of 96%.
What is the main feature of BountyPop?
The main feature of BountyPop is the PopWins function. Each winning symbol explodes and is replaced by two symbols that increase the height of the reel.
What activates the free spins in BountyPop?
Finding three or more scatter symbols (the mermaid) activates the free spins.
What is the 'Wheel of Bets' in BountyPop?
The 'Wheel of Bets' is a sort of wheel of fortune that, in the event of a win, will increase your free spins.
What happens if you lose at the 'Wheel of Bets' in BountyPop?
Losing at the 'Wheel of Bets' will return you to the base game without any free spins.
What is the 'Multiplier Wheel' in BountyPop?
The 'Multiplier Wheel' is activated when a reel reaches 6 symbols in height in the base game. Each level offers increasingly higher multipliers.
What are similar slots to BountyPop?
Wild Pirates, Pirate Gold Deluxe, and Octopus Treasure are similar slots to BountyPop.
What we like
PopWins feature
Game volatility and RTP
Multiplier wheel
Wheel of Bets
What we don't like
Graphics and sound design