Bounty Showdown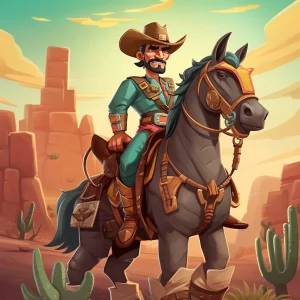 Buckle up, partner. We're about to take on an adventure way out west with Bounty Showdown, the slot game that will make you feel like you're starring in a cowboy movie. Developed by Fantasma Games, this video slot game offers players an eerie Wild West-themed gameplay with 5 reels and 10 paylines.
Bounty Showdown is a wild ride with two bonus features: Double Bonus Respins and Showdown Free Spins. These land when two Bonus Wilds or three or more wild scatters appear in either order, which make the game even more thrilling! And the possible wins? The sky's the limit with up to 4,500x your bet.
But let's talk about the game's graphics; they're fantastic! The slot reels come alive with cowboys, horses, guns, and more. And the soundtrack – it's as exhilarating as being in the hot seat of a rodeo. The game's designers were spot-on with their theme and went full-on cowboy from the sound of the whip cracking to the bonus games of riveting gunfight sounds.
Bounty Showdown is the perfect slot game for Wild West lovers who want to test their luck and skills in a hazardous landscape filled with cowboys and bandits. The game has enough features and win potentials to keep you occupied, and enough humor to make you laugh while playing it. Yeehaw!
Fantasma Games: Online Slot Gaming's Exciting Newcomer
When it comes to online slot gaming, there are plenty of studios churning out new titles every day, but none are making as big an impact as Fantasma Games. These guys specialize in creating games that blend together some of the industry's best developments, including innovative features and compelling themes that breathe new life into what's become a pretty saturated market.
But it's not all innovation and excitement – the team at Fantasma Games don't shy away from humor, something that's sadly lacking in most modern titles. They've got a knack for poking fun at traditional casino tropes in their games, from sly jokes about players' superstitions to parodying 'spin to win' catchphrases.
Unleash Your Inner Bandit with Bounty Showdown
Hold on to your cowboy hats, partner – Bounty Showdown is the online casino's most intense Wild West experience yet. The slot game presents a dusty frontier town full of wooden shacks, sheriff's offices, and a noisy saloon. Take cover from the blazing sun and prepare to face the town's most fearsome outlaws.
The game's symbols include four different kinds of bandits, all of whom pay handsomely – but if you're lucky enough to score the skull-faced criminal, you could rake in the big bucks. The backdrop perfectly depicts a dimly lit Wild West establishment. With so much hanging in the balance, you're sure to feel the tension as the reels keep spinning.
The game's heavy rock soundtrack gives players an extra surge of adrenaline. Whether you're in the mood for classic Guns N' Roses or modern-day rock virtuosos, you won't be disappointed. The pungent aroma of sweat and gunsmoke will leave you feeling like a bona fide outlaw – and who wouldn't want that?
Overall, Bounty Showdown is an immersive, action-packed experience that shouldn't be missed. Get ready to unleash your inner bandit and show those Wild West outlaws who's boss!
Double Bonus Respins Feature
Get ready for a wild ride with the Double Bonus Respins feature in Bounty Showdown! It's like a rodeo for your bankroll, and the bulls are the symbols. Landing two Bonus Wild symbols in a single spin will trigger this feature, and it's an opportunity to lasso some serious payouts.
So how does it work? Simple. Two reels lock in place, while the remaining three spin again, increasing your chances of hitting matching symbols. This is your chance to hit the jackpot and become the next cowboy superstar. After the respins are complete, payouts are calculated based on the active paylines, and you move on to the next spin.
It's not just the extra payouts that make this feature exciting. Activating the Double Bonus Respins feature also fills up the player's meter, which triggers the ultimate showdown – the Showdown Free Spins feature!
So what are you waiting for? Grab your lasso, dust off your boots, and get ready to ride the reels in Bounty Showdown!
Experience the Thrill of the Showdown Free Spins Feature
Are you ready to take on the Wild West and win big? Look no further than Bounty Showdown! One of the most exciting elements of this fantastic slot game is the Showdown Free Spins Feature.
To trigger this feature, all you need to do is land three or more Golden Skull symbols on the reels. As soon as you do, the showdown begins, and you'll be whisked away to a bonus round that could net you some truly massive wins.
In the Gatling Wheel Bonus round, you'll have the chance to accumulate a win multiplier for the wild scatter symbol, which can range anywhere from 2x to an unbelievable 100x. Then, you'll get to spin the wheel and see what kind of payout you'll receive.
But that's not all – the number of free spins you'll be awarded is equal to the number of Golden Skull symbols that trigger the feature, up to a maximum of 20 free spins. And each time a Bonus Wild symbol lands during the free spins, you'll earn bonus wins!
Saddle up and prepare for a wild ride with Bounty Showdown – and with the Showdown Free Spins Feature, you might just come out on top!
Graphics And Sound
Yee-haw! Get ready to saddle up and draw your six-shooter for an immersive experience in the world of the Wild West with Bounty Showdown. The game boasts a visually stunning design that perfectly captures the essence of the Wild West landscape. From the dust and sand, to the cacti and mountains, everything has been carefully crafted to transport you to the time of cowboys and outlaws.
Bounty Showdown's comic-style graphics are not only visually appealing but also add a touch of humor to the game. Even the characters are funny-looking to some extent, but still evoke a sense of menace that reminds you that you are in a showdown where only the quickest draw wins. Speaking of quick, the animation and transitions between screens are smooth and fast, making gameplay even more enjoyable.
Now let's talk sound. The heavy rock tone of the soundtrack fits the game style like a glove – this game is not for the faint-hearted. The mix of modern rock guitar riffs, bass and drums create a dramatic, energetic, and enticing atmosphere. The sound effects have been crafted to match the game's different stages well, helping to immerse players in the virtual Wild West experience. Even the whoosh of the spinning revolver drum adds to the excitement of waiting to see what symbol will land next. Yee-haw indeed!
Accessibility on Desktop and Mobile Devices
Bounty Showdown is a game that caters to all. Whether you're playing on your trusty desktop or using your mobile device, it's easy to access and enjoy. The game's designers have spared no effort to ensure that the gameplay is engaging, no matter the device.
Mobile players will be happy to know that everything is optimized for smaller screens, so they won't feel like they're missing out on any of the game's features. You can take your bounty hunting skills on the go, and maybe even work on your aim as you ride the train or bus.
Desktop players, on the other hand, get to enjoy a larger screen and clearer visuals, making it easier to spot potential bounties. You can have your morning coffee while tracking down those wanted fugitives without having to squint at your phone screen. It's a win-win situation, really.
In conclusion, Bounty Showdown is accessible and enjoyable across all devices – no matter how small or big they are. So dust off your laptop, find your trusty tablet, or grab your mobile phone, and get ready to track down some bounties!
FAQ
What is Bounty Showdown?
Bounty Showdown is a Wild West themed slot game developed by Fantasma Games.
What are the features of Bounty Showdown?
The game offers Double Bonus Respins, Showdown Free Spins, and a Gatling Wheel Bonus that offers multipliers up to 100x.
What is the maximum win in Bounty Showdown?
The maximum payout that can be won in Bounty Showdown is 4,761x your initial wager.
What are the symbols in Bounty Showdown?
The symbols in the game include Royals J, Q, K, and Ace, and four main characters.
What is the wild symbol in Bounty Showdown?
The golden skull with a skull design is both the wild and scatter symbol in the game.
Can I play Bounty Showdown on mobile devices?
Yes, the game is available to play on all devices, including mobiles, tablets, and desktop and laptop computers.
Is there a demo version of Bounty Showdown?
Yes, a free demo game is included in our article and is easily accessible and playable on all devices.
What is the Double Bonus Respins feature in Bounty Showdown?
Landing two Bonus Wild Symbols anywhere on the reels in a single spin triggers this feature, where two reels stay in place while the remaining three spin again.
What we like
Exciting Wild West theme
Engaging bonus features
Visually appealing comic-style graphics
High-quality sound effects
What we don't like