Bounding Luck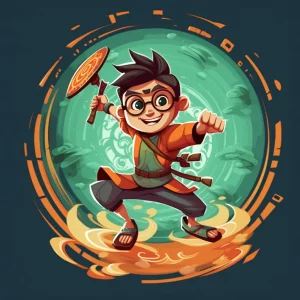 Bounding Luck is more than just a slot game, it's a journey through the Far East, where players can experience the mystery and magic of ancient Asian civilizations. This visually stunning online slot game from Betsoft will transport you to a world of temples, dragons, and powerful deities, all while giving you the chance to hit some lucrative payouts.
The game has a 5×4 grid with an impressive 1,024 ways to win, which translates into more chances to hit winning combinations. And with a minimum bet per spin of only 0.25$, even players with a modest bankroll can enjoy this game. If you're feeling adventurous, you can take advantage of the maximum bet of 50$ and aim for the sky-high payouts.
For those who are looking for extra features, Bounding Luck offers a Bonus Round that can be purchased with credits. And with a theoretical Return to Player (RTP) of 96.28%, you can expect frequent payouts and a balanced gameplay experience. But beware, the game has high volatility, so brace yourself for an exciting ride!
If you're lucky enough, you can hit a maximum win of 5,439 times your bet, which can lead to some insane payouts. So, enter the world of Bounding Luck, and let fortune smile upon you!
Paylines and Betting Options
Get ready to jump into a world of boundless fun with Bounding Luck! Spin the reels on the 5×4 grid and you could win on any of the 1,024 paylines available. And the best part? It won't break the bank! Players can start betting with just 0.25$ per spin, up to a maximum of 50$.
But wait – there's more! For those feeling lucky, players have the chance to purchase a bonus round with their credits. This feature allows you to access additional features and bonuses while rewarding you with an even more unforgettable gaming experience. It's like getting a little extra whipped cream on your sundae – who wouldn't want that?
Symbols and Their Significance
Get ready to bounce into prosperity with Bounding Luck's Asian-inspired symbols! This casino slot game is truly a rabbit hole of opportunities. The symbols range from classic card suites to thematic items, such as flags and lanterns. However, the highest paying symbol in the game is the Bunny itself! It is no secret that the bunny is one of the most recognizable symbols in Asian cultures and mythology, symbolizing fertility, good luck, and abundance. In Bounding Luck, the bunny is the ultimate lucky charm, with the potential to pay up to 6$ for a combination of 5 symbols with a bet of 1.5$. You better hop on it!
Of course, the bunny also has a few tricks up its sleeve, and it shows them off in the bonus game. Get ready to collect those magical artifacts that will enhance your symbol collection and increase your earnings. You will certainly feel like a magician, playing with lucky rabbits' feet and other powerful tokens that will take your game to the next level. The bonus game is where you can truly become the boss of prosperity.
Get Lucky with Free Spins and Multipliers: Bounding Luck Review
Bounding Luck? More like Bounding Free Spins and Multipliers! This casino slot game puts a fresh spin on the traditional slot machine game by offering breathtaking bonuses that can boost your winnings.
One of the most exciting features of the game is the Free Spins Bonus round. With three, four, or five Scatters, players can earn 8, 15, or 20 free spins, respectively, with reward multipliers of 3x, 15x, and 30x. That's not all! Keep an eye out for the Wild symbol that can appear on reels 2, 3, and 4, as it can assign multipliers of either 2x or 3x during the bonus game. That's what we call a wild ride!
As you spin through the free spins round, collecting bunnies can make a real difference in your gameplay. Depending on how many bunnies you collect, you can transform base symbols into golden bunny icons, making the chance of winning even higher. Who knew collecting bunnies could be so lucrative?
If that wasn't enough, collecting two or more scatters during the free spins round will add an extra five free spins to your game. Don't take our word for it, check out the paytable and see for yourself!
Overall, Bounding Luck is a must-play for slot game enthusiasts looking for something new and exciting. With its generous bonuses, free spins, and multipliers, you're bound to strike it lucky!
Gameplay and Demo Mode
Do you want to experience the thrill of a casino without risking your hard-earned cash? Then Bounding Luck is the perfect game for you! This online slot game is available in demo mode, which means you can play it without any financial risks. And trust us when we say that this game is worth the time spent playing it.
The gameplay of Bounding Luck is exciting and engaging. The game has high volatility, which only adds to the excitement as you play. The Asian-themed slot is rich in graphics and audio, and immerses you in a world of good luck and fortune. Whether you're an experienced player or just starting, you'll be thrilled with the gameplay experience Bounding Luck offers.
With a theoretical Return to Player (RTP) of 96.28%, Bounding Luck offers an above-average return compared to many other online slot games. This means you have a better chance of winning with Bounding Luck. And if you're feeling lucky, you can purchase a bonus round. The bonus round provides you with additional features to help make your gaming session more enriching.
Overall, Bounding Luck provides an incredibly fun gaming experience that can be enjoyed without risking your own money. With high volatility and an attractive RTP, you're sure to enjoy every minute you spend playing this exciting game. Give it a try and see for yourself!
FAQ
Can I try the game in free mode?
Yes, you can try Bounding Luck for free in the demo mode without risking your money by playing it directly in our catalog of free slots.
How do I activate the free spins bonus?
Collect 3, 4, or 5 Scatter symbols to activate the bonus round and receive 8, 15, or 20 free spins respectively.
What is the RTP of Bounding Luck?
The theoretical return to player percentage of Bounding Luck is above average at 96.28%.
What is the maximum win potential of the game?
By using the bonus features of Bounding Luck, you can potentially win up to 5,439 times your bet.
What is the minimum and maximum bet per spin?
The minimum bet per spin is 0.25$ and the maximum is 50$.
What is the theme of Bounding Luck?
Bounding Luck follows the Asian theme and features many ethnic artifacts and characters in its symbols.
What are the payout values of the slot symbols?
Different symbols in Bounding Luck have different payout values, with the Bunny symbol offering the highest payout of up to 6$.
Can I purchase a bonus feature in Bounding Luck?
Yes, you can purchase a bonus feature with your credits and receive 8, 15, or 20 free spins for 68x, 141x, or 205x your bet respectively.
What we like
1,024 paylines for more chances to win
Exciting free spins and multipliers
Ability to purchase a bonus round for additional features
Demo mode available without risks
What we don't like
High volatility may not be suitable for all players
Limited betting options for higher stakes