Boom Pirates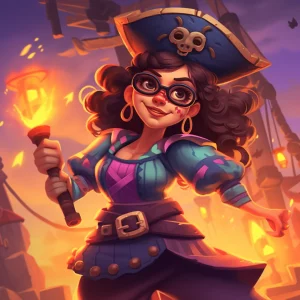 Get ready to be swept off your feet with Boom Pirates, a slot game that boasts of incredible gameplay experience. The game has five reels with four rows, and you can win in 1,024 ways that can increase up to nine reels with six rows and 10,077,696 ways through the innovative Wonderways reel mechanics. With so many ways to win, it's like the game wants you to win, what a sweet sensation!
Do you want to increase your stakes? Then you'll love the Foxify feature that enhances the range from 0.30 to 75 credits. That's awesome, you don't have to be too much of a daredevil when betting but know you can win big. Winning has never been so much fun. The game has medium volatility, but the RTP of 96.19% assures you of a fair chance at winning.
The game fashion and design are on point, and everything is clear, from the paytable to the controls. Blimey! The soundtracks and sound effects are also top-notch, providing you with an immersive gameplay experience that will keep you spinning those reels for hours. Don't be surprised if someone taps you on the shoulder, asking if you are ok, having been spinning for so long.
Visual Design and Graphics
Get ready to set sail on the high seas with Boom Pirates- a visually stunning pirate-themed slot game developed by Foxium. They've done an excellent job at immersing players in a detailed and vibrant world with intricate designs and captivating details.
The visuals and graphics are exceptionally well-done, bringing to life everything from the Jolly Roger flag waving atop the ship to the intricate details of the pirates' clothing. Players will enjoy the game's dynamic sailing system, which simulates a ship's movement across the waves. The game is set against a stunning backdrop of the open ocean, with the sun setting majestically behind the reels, providing the perfect atmosphere to set you in the mood for plundering
But what's a pirate's life without some lively sea shanties? The immersive experience is complemented by amazing sound effects, ranging from the creaking timbers of the ship to the chirping of seagulls overhead. The combination of high-quality graphics and sound design creates a realistic atmosphere that makes you feel like you're part of the pirate crew itself.
Overall, the visual and sound design of Boom Pirates is top-notch, adding to the fun and excitement of the game. From the detailed graphics to the captivating sound effects, the game blends the perfect amount of realism with classic arcade-style gameplay. There's never been a better time to set sail and experience the thrill of being a pirate – It's ARRRRRsome!
Audiophiles Rejoice: Boom Pirates Delivers the Boom
Arrrr you ready for some high seas adventure? Boom Pirates is a rollicking good time, complete with swashbuckling pirates and treasure galore. But what really sets this game apart is the audio. You'll feel like you're right in the middle of a pirate adventure with its impressive sound effects. From the sound of the waves crashing on the shore to the clashing of swords, the attention to detail is impeccable.
It'll make you want to don a pirate hat and start singing shanties. It's almost as good as having your own live band on board your ship.
But what really takes the cake is the voice acting. The pirate captain is a hoot! His quips and one-liners will have you chuckling with every spin. His charming accent and outrageous statements make him all the more endearing.
All in all, the audio in Boom Pirates is outstanding. It's the perfect accompaniment to the high adventure of the game, and it immerses you in the world in a way that few other games can achieve.
Multiplier Feature: Get Ready to Multiply Your Winnings
Ahoy there, matey! Let's talk about the multiplier feature in Boom Pirates. It's the Yo Ho Ho Free Spins feature where you can multiply your winnings significantly. And who doesn't like more winning, right?
But hold on to your hats, because landing the three scatter symbols that make up "YO HO HO" on reels one, three, and five in one spin is not an easy feat! But fear not my dear sailors, because you can always activate the Yo Ho Ho Buy Bonus Feature and sail straight to the free spins round without all the hassle of spinning the reels endlessly.
Once you get to the Yo Ho Ho Free Spins round, get ready to make a killing. You get 10 free spins, and in each one, the multiplier increases by one. And if you're lucky enough to hit three scatter symbols in the Yo Ho Ho Free Spins, you'll assign +5 more free spins with no limits! That's right, there is no cap on the number of free spins you can win. So just sit back, relax, and enjoy the ride while your winnings keep piling up.
All in all, Boom Pirates' Yo Ho Ho Free Spins feature is a great way to increase your winnings, and trust me when I say, it's a boatload of fun to play. So hoist the sail, set a course for treasure, and happy spinning!
Enjoy Free Spins with Boom Pirates
If you're looking for exciting ways to land some loot, then look no further than Boom Pirates. One of the game's standout features is the Yo Ho Ho Free Spins, which can be triggered on any base game spin. It's the perfect way to drum up some pirate excitement and boost your potential winnings.
But what if you just can't wait? Well, the good news is that Boom Pirates offers a Buy Bonus feature that gives you instant access to this awesome Free Spins feature. It's like you're walking into a pirate's lair and finding the treasure trove straight away! Not only can you potentially increase your winnings significantly, but you'll also enjoy an exhilarating gaming experience.
With so much action and the chance to explore the high seas, Boom Pirates is a fantastic game that's sure to put a smile on your face. So weigh anchor, raise the Jolly Roger and let's go find some treasure!
Payout and Jackpot Potential
Ahoy mateys! Ye be wantin' to know about the treasure hoard offered by Boom Pirates, eh? Well, let me tell ye – this game offers a booty-ful RTP of 96.19% with medium volatility, which means it's not too risky for ye wallet. With a maximum payout of 3,800 x your bet, you could make off with a real treasure trove of some serious doubloons, and that's no joke!
But don't be thinkin' it's all smooth sailin'. You'll have to put in the work to crack open the chests full of loot, and that means triggerin' some of the game's bonus features. But trust me when I say that the thrill of the chase is what makes this game so much fun.
Overall, Boom Pirates offers a great playin' experience for buccaneers of all stripes. And even if ye don't walk away with the grand prize, ye can still take pride in knowing ye gave it yer all. So what are ye waitin' for? Hoist the Jolly Roger and set sail for adventure!
Bonus Rounds: Get Ready for More Adventures!
If you're looking for an online slot game with more action, then Boom Pirates is definitely worth giving a spin. With the Yo Ho Ho Free Spins feature and two other exciting bonus rounds, you'll never get bored.
The Wonderways Reel Extension is a real game-changer. When activated randomly in the base game, it can take the game window up to the maximum size of 9 × 6 with 10,077,696 per spin. That's a lot of opportunities for big wins! So, let's get ready to extend those reels and go for the gold!
If you're in the mood for some swashbuckling action, then keep an eye out for Mary's Swashbuckling Attack. When this bonus round activates randomly in the base game, it changes the symbols for a guaranteed five of a kind. So, it's time to take out those scallywags and walk away with big rewards!
Boom Pirates is one of the most fun and engaging casino slot games out there. With its unique pirate theme, amazing graphics, and exciting bonus rounds, it's sure to keep you entertained for hours. So, what are you waiting for? Hoist the main sail, set the course, and get ready to win some serious loot!
Compatibility with Different Devices
Wow, Boom Pirates is so versatile! You can play it on your phone while you wait in line at the grocery store or on your desktop while you're pretending to work. And the best part? No downloads necessary! No need to clutter up your phone or computer with another app. Just open up the game in your browser and you're ready to sail the high seas.
Boom Pirates works on both iOS and Android devices. So whether you're an Apple fan or an Android aficionado, you can join in on the pirate shenanigans. And you can rest easy knowing that you won't miss out on any of the game's features or graphics just because you're playing on a smaller screen.
I mean, who wants to be tied down to one device these days? Gaming should be accessible on the go, and Boom Pirates delivers. So grab your phone, tablet, laptop, desktop, or whatever other device you have lying around and get ready to experience the ultimate pirate adventure. Yarrrr!
Game Provider and Reputation
Boom Pirates is a game that is no less than a masterpiece, created by the talented team at Foxium and powered by the Microgaming Quickfire platform. Foxium, a relatively small game studio that releases two or three games a year, has definitely hit the jackpot with Boom Pirates – a fantastic game that proves they put a lot of effort into every release. This game is an absolute delight, with top-notch graphics and sound, engaging gameplay and a whimsical pirate theme – everything a player could ask for!
The fact that Boom Pirates is backed by Microgaming, a company that's been in the online gaming industry since seemingly the dawn of time (okay, since 1994), only adds to the reassurance factor. Let's face it, with all the scams and fly-by-night online casinos out there, it's essential to play games from reputable providers. An added bonus of playing Boom Pirates is that you get to be a pirate without the risks of mutiny or the inconvenience of scurvy – what more could you want?
FAQ
What is Boom Pirates?
Boom Pirates is a pirate-themed online slot game with 5 reels and 1,024 ways to win that can expand up to 9 reels and 10,077,696 ways to win with the Wonderways Reel Extension feature.
Is Boom Pirates a high or low volatility game?
Boom Pirates is a medium volatility game with an RTP of 96.19%.
What is the maximum payout in Boom Pirates?
The maximum payout in Boom Pirates is 3,800 times your bet.
Are there free spins in Boom Pirates?
Yes, there are Yo Ho Ho Free Spins that can be triggered by landing the scatter symbols on reels one, three, and five or activating the Buy Bonus feature.
Are there any wild symbols in Boom Pirates?
No, there are no wild symbols in Boom Pirates, but there are two extra features: Wonderways Reel Extension and Mary's Swashbuckling Attack.
What is the Round Bonus in Boom Pirates?
The Round Bonus in Boom Pirates is a free spins feature with up to 10,077,696 ways to win and a chance to activate the cannons to uncover more reel positions.
What is the Foxify feature in Boom Pirates?
The Foxify feature in Boom Pirates can increase the range of the bet from 0.30 to 75 credits.
What are some similar slots to Boom Pirates?
Some similar slots to Boom Pirates include Pirate Gold, Pirates' Plenty, and Wild Seas.
What we like
Innovative Wonderways reel mechanics with up to 10,077,696 ways to win
Impressive visual design, graphics, and animation
Immersive sound effects and pirate-themed music
Exciting Yo Ho Ho Free Spins feature with potential for big wins
What we don't like
Limited number of games released by Foxium each year
Medium volatility may not appeal to players seeking high-risk/high-reward gameplay