Book of Time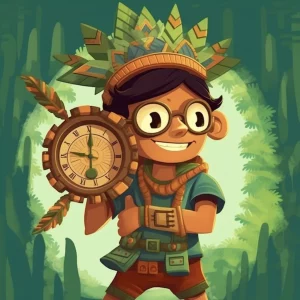 If you're a fan of slot games, you'll want to check out Book of Time from Hawksaw Gaming. This game features everyone's favorite cheerful yellow can, Canny the Can, who has made appearances in two other online games. In Book of Time, Canny is on a quest to travel through time to discover a treasure trove of riches. Are you ready to join him?
The game grid has five reels and four rows, with an impressive 20 fixed paylines to increase your chances of winning big. And with a minimum bet of just $0.10, there's no need to break the bank to get started. But if you're feeling lucky, you can increase your bet to try to hit the jackpot.
But that's not all! Book of Time also offers two types of reel accelerators for those wanting to up the ante: the Turbo and Super Turbo features. And for those who prefer to sit back and relax, automatic spins are also available. Keep in mind, though, that the game's high volatility means that the payouts may not be as frequent, but when they do come, they can be incredibly generous. The game's RTP (Return to Player) is set at a solid 96.13%, which means that the odds are in your favor overall.
All in all, Book of Time is a thrilling and exciting game for those who love slot games. With Canny the Can at your side, the possibilities of traveling through time and winning big are endless. So place your bets, cross your fingers, and let's go on this adventure together!
Max Win And Volatility
Are you ready to win big? Book of Time is the game for you! With a maximum win of 10,000 times the bet amount, this game gives you the chance to go home with some serious money in your pocket. Just be sure not to spend it all in one place, unless you're planning on buying an island or something.
It's high, so be prepared for a wild ride. You might go through some dry spells before hitting it big. It's like trying to find a needle in a haystack, except the needle is a jackpot and the haystack is all the other spins.
However, don't let the volatility scare you away. The RTP, or return to player, is 96.13%, which means you have a decent chance of winning back some of your bets. It's not the highest RTP out there, but it's pretty favorable to players. Who needs a high RTP when you can win big anyway?
Graphics and Design
Book of Time's graphics are striking and immediately capture the player's attention. They're so clear and detailed that you'll feel like you're really living the story with our friendly companion. And let's be honest, he looks like he knows how to party. Move aside, Indiana Jones, there's a new adventurer in town.
The style of the game reminds me of comic books, and our protagonist is located on the right-hand side of the screen, controlling your every move. He's like a knight in shining armor, except he wears a fedora instead of a helmet. The background is a lush forest, and the grid is framed in wood, which complements the game's retro feel. The buttons are well arranged at the bottom, so you won't hit the wrong one in the heat of the moment. The colors aren't too bright, which is good, considering you might be playing through the night.
And the music that accompanies gameplays seems like it comes from an old film from the fifties. It's so catchy that humming it throughout the day seems to become a habit. I've done it, and let me tell you, it doesn't make you the most popular person in the office. But that's a small price to pay when you're winning big with Book of Time.
Bonuses and Free Spins
If you're a fan of bonuses and free spins (and let's face it, who isn't?), then you're in for a treat with Book of Time. This clever little slot game has a range of different bonuses that'll boost your chances of making some truly fabulous wins.
First up, let's talk about the book. As the game's Wild/Scatter symbol, it's a real game-changer. It replaces all paying symbols, and if it appears at least three times during the same game, it awards between 10 and 20 free spins. That's right – up to 20 free spins, just for landing the right symbol.
But it gets better. Before the bonus game starts, a special symbol is selected. If this symbol lands on at least three reels during the bonus round, it expands – giving you even more chances to win big.
And if that's not enough for you, there's also the clock – another Scatter symbol that awards ten free spins. On reels 2, 3, and 4, you'll see clocks with hands that change with each spin. Depending on the time shown, you'll get a multiplier. Time travel AND extra winnings? That's what we call a win-win.
Finally, each clock symbol that lands on the reels will cover the function of a Wild, expanding over the entire reel. We're not sure what that means in scientific terms, but we do know that it's a good thing.
So if you like your bonuses to be big, bold, and plentiful, then Book of Time is the game for you. Just don't forget to set your own clock – you might lose track of time when you're having this much fun!
Turbo and Super Turbo
Are you tired of slow-moving reels in slot games? Say no more! Book of Time has got you covered with not one, but two reel accelerators. The Turbo and Super Turbo features will take your gameplay to a whole new level of speed and excitement.
If you're someone who wants to rip through your spins as quickly as possible, Turbo is definitely for you. This feature will allow you to spin the reels faster than ever before. But why stop there? Super Turbo takes it up a notch, giving you lightning-fast reel movements at an even higher rate. Just be sure to hold on tight!
These features not only add to the overall gaming experience, but they also increase your chances of hitting some big wins. So, don't be afraid to give them a try and see how much faster you can spin those reels. With Turbo and Super Turbo, you'll never want to go back to regular-old boring gameplay again.
FAQ
What is Book of Time?
Book of Time is a slot game from Hawksaw Gaming with memorable characters and comic book graphics.
What is the maximum win in Book of Time?
The maximum win in Book of Time is 10,000 times the bet amount.
What are the reel accelerators in Book of Time?
The reel accelerators in Book of Time are Turbo and Super Turbo.
What is the volatility of Book of Time?
The volatility of Book of Time is high.
What is the RTP of Book of Time?
The RTP of Book of Time is 96.13%.
What symbols are in the base game of Book of Time?
In the base game of Book of Time, there are playing cards, magic wands, witch hats, daggers, hands, and mice symbols.
What is the Wild/Scatter symbol in Book of Time?
The book is the Wild/Scatter symbol in Book of Time, replacing all paying symbols and triggering free spins.
What is the clock symbol in Book of Time?
The clock is another Scatter symbol in Book of Time, triggering free spins and providing multipliers and expanding Wilds.
What we like
High maximum win potential
Well-designed graphics and design
Various bonuses and free spins
Turbo and Super Turbo features
What we don't like