Book of Spells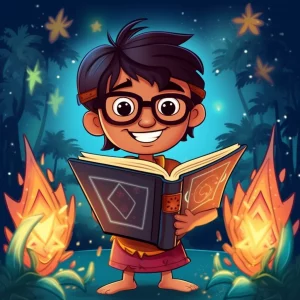 Get ready to be entertained by the mystical world of Book of Spells, a slot game that operates on a common mechanism of five reels displaying three symbols each on nine paylines. Tom Horn Gaming has kept the game grid and number of paylines typical of their slots, which results in fewer winning combinations but generally of higher value.
Speaking of winning combinations, players can get a chance to double their winnings with the Gamble feature available after every minor win. Guess the colour of the hidden card and voila, double your pay-out! But if you're not confident about your guessing skills, we suggest sticking with the original pay-out instead of risking your riches in a game of chance.
Now let's talk about the main attraction of this game, the 'Book of Spells'. This book is the slot's Scatter symbol, and if you're lucky enough to find three or more of these during a single game, you'll receive access to free spins! Don't let the chance fly away, grab all those free spins to up your chances of winning big!
All in all, Book of Spells offers a thrilling gameplay mechanism that leaves players with high hopes and a strong desire to cast some winning spells. Although the number of paylines is lesser, the game still makes up for it in value, and if you're lucky enough to hit the right combinations, you might be the one laughing all the way to the bank. So come on, grab your magic wand, have faith in your luck and cast some winning spells in the mystical world of Book of Spells!
Design and Visual Components
The Book of Spells slot game has a colour scheme that might be divisive among players. Some may appreciate the contrasting colours, while others may find them distracting from the twilight atmosphere that the game attempts to create through its background image. The graphics within the game are equally mixed, with elaborate illustrations of the witch contrasting with simpler playing card symbols that lack attention to detail.
The sounds used in the game, which immerse players in an enchanted forest, are top-notch, but the sound effects produced by the game itself may not match the game's ambience perfectly. Overall, the game's visual components are pleasing to the eye, and many players may enjoy them. That said, it is worth noting that more attention to detail could improve the game's overall appeal.
Despite this minor flaw, Book of Spells is one of the more well-designed slots on the market. As a player, you can appreciate the care that has gone into making the game visually appealing.
Who says slots need to be ugly? Book of Spells proves that even the most magical games can be easy on the eyes. Plus, who doesn't like a little bit of whimsy in their day?
Sound effects
Are you ready to immerse yourself in a world of magic and mystery with Book of Spells? One thing you might notice when you play this slot game is the mixture of nature and magic sounds that play in the background. It's as if you're walking through an enchanted forest! Although, we have to say, the sound of the slot machine itself can be a bit overpowering at times. It almost sounds like it's casting a spell on you! While this doesn't necessarily affect gameplay, as the sound effects do their job when you hit a winning payline, it is something to note.
But, hey, if you're someone who loves a little extra noise (we're looking at you, drummers and DJs), this might be the perfect slot game for you! Lend your own musical talents to the game and make some magic happen. However, if you're more of a peaceful gamer, you might want to turn down the volume a bit. It's not ideal for the game's woodland theme.
Gamble Feature: Take Risks and Double Your Winnings
The Gamble feature in Book of Spells is not for the faint of heart. It's like trying to guess the color of your crush's underwear – exciting yet a bit nerve-wracking. The aim is to tempt lady luck by selecting the color of hidden cards. The perfect guessing game for those who love playing Russian Roulette.
If you make the right choice, you'll double your winnings, and if you're on a lucky streak, you can keep repeating this process several times. Caution though, if your guessing game goes wrong, you'll be back to square one with all your winnings sucked down that unforgiving gambling drain.
But hey! Fortune favors the brave, right? So, if you're feeling lucky and need to add a dash of excitement to your game and bank balance, then Book of Spells Gamble feature is for you. Just don't blame us when your heart is racing faster than a greyhound at a monster truck rally!
Other Magical Slot Options
If you're a fan of all things magical, then you're in luck! There are plenty of other slot games out there with similar themes to Book of Spells. For example, if you want to experience some Secret Spellbinding action, then you should definitely check out the game Secret Spell. If Egyptian mythology is more your style, then Book of Ra Deluxe Online might be worth a spin. Or, if you're feeling nostalgic for a classic fairy tale, give Merlin's Millions a try.
For those looking for a more comprehensive spell book, they can try their luck with Magic Book or Jade Magician. These games will keep any magic lover entertained for hours. And don't worry about these games being hocus-pocus – each one has unique features and stunning graphics to keep you engaged and entertained.
But let's face it, we all know that Book of Spells is where the magic lies. It's got everything you need to cast a spell over your gameplay and potentially walk away with some big wins. So grab your wand and give it a spin!
FAQ
What is Book of Spells?
Book of Spells is a slot game developed by Tom Horn Gaming with a witchcraft theme.
How many paylines does Book of Spells have?
Book of Spells has a total of nine paylines.
What is the Gamble feature?
The Gamble feature is a function in Book of Spells where players can bet their winnings and attempt to guess the colour of a hidden card in order to double it several times.
What is the book of spells symbol?
The book of spells symbol is a Scatter symbol that allows players to access free spins if at least three are found in a single game.
What is the gameplay mechanics of Book of Spells?
Book of Spells is a five-reel slot game with three symbols each, for a total of fifteen symbols and nine paylines.
What are some similar slots to Book of Spells?
Some similar slots to Book of Spells include Secret Spell, Book of Ra Deluxe Online, Merlin's Millions, Magic Book, and Jade Magician.
What are some pros of Book of Spells?
Book of Spells has a pleasant visual aspect and interesting and intuitive functions, with potential for higher value winning combinations.
What are some cons of Book of Spells?
Book of Spells could use more attention to detail and there is nothing particularly new about this title.
What we like
Gamble feature adds to the thrill of the game
Free spins triggered by the Book of Spells Scatter symbol
Enchanting woodland theme with a mix of nature and magic sounds
High-value, low volume payouts for winning combinations
What we don't like
Loud and overpowering slot machine sound effect
Overall design lacks attention to detail