Book Of Sheba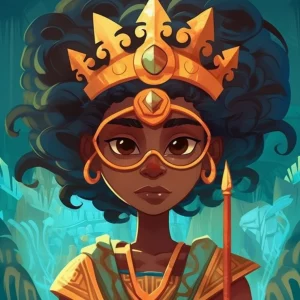 If you're anything like me, you're not just looking for a slot game to play. You're more interested in an adventure that could potentially win you some cash. Luckily, Book of Sheba from Betixon offers both. As you play this game, you'll notice that it has a unique grid of type 5*3. This grid features five reels, each showing 3 symbols. But what makes this game stand out is the fact that the symbols disappear every time a winning combination is obtained. This leaves space for other symbols to fall from above, potentially resulting in even more wins. With 243 paylines, Book of Sheba is the perfect game for thrill-seekers who want to stack those wins.
As if that wasn't enough, this game comes with a feline friend. The cat symbol acts as a Scatter and is your ticket to reaching the sought-after bonus mode. Trust me, it's worth the effort. The book symbol serves as the Wild symbol and is capable of replacing any other symbol in the game. If you've played slot games before, you know how valuable a Wild symbol can be.
Overall, Book of Sheba is an exciting game that offers numerous chances to win. With its unique grid and an abundance of paylines, you'll be on the edge of your seat with every spin. The cat and the book symbols bring a sense of adventure to the game, and the potential for bonuses and extra wins adds to the excitement. So what are you waiting for? Give Book of Sheba a spin and see if luck is on your side!
Theme
Betixon's Book of Sheba takes you on an adventure to the era of Ancient Egypt, with all its mystical wonders and enchanting aura. The game is set against a backdrop of sand-colored pyramids and hieroglyph-coated walls, fully immersing you in the world of this ancient civilization. As you spin the reels, you'll encounter deities, scarabs, and the powerful Book of Sheba.
But the true highlight of the game is the goddess Bastet, who takes center stage like a true superheroine as she guides you through the game's storyline. And let's be real, who wouldn't want to follow the lead of a goddess who's also a total badass?
Animations
Let's get animated! While the animations in Book of Sheba don't quite reach blockbuster movie levels, they do manage to bring some personality and life to the game. The brave and powerful superheroine-inspired character is sure to keep you company as you play, and the flickering flames of the torches will keep you on the edge of your seat.
The falling symbols in Book of Sheba are particularly noteworthy, as they add a lot of movement and excitement to the game. They keep your eyes darting back and forth across the screen as you eagerly anticipate your next big win. While it may seem morbid to celebrate death in a slot game, the animated sequences that come with it are sure to bring a smile to your face.
All in all, while Book of Sheba may not have the most groundbreaking animations, it still does a great job of bringing the game to life. So sit back, relax, and enjoy the show!
Music
The sound of music is the key ingredient to any fantastic slot game. With Book of Sheba, players will be transported to a world surrounded by dark, atmospheric music that will have them on the edge of their seats, wondering what exciting discovery they'll uncover next. It's almost like listening to a horror movie soundtrack – minus the jump scares, of course.
But fear not, for the sound design of this game is top-notch. Every time a payline is filled, players are rewarded with specific sound effects that will keep them engaged and excited throughout the entire gameplay. And when the bonus round is reached, players will be rewarded with an epic sound effect that is simply unbeatable.
Overall, the music and sound design of Book of Sheba is nothing short of amazing. So, turn up the volume, grab your headphones, and get ready to be fully immersed in the world of this exciting slot game!
Competition
Book of Sheba is one of the many slots set amidst Ancient Egypt's sand dunes. But don't grab your sun hat and camel just yet, because there are other pyramid-loving games out there worth exploring.
If you're looking to stick with Novomatic, then Egyptian Experience may be worth a Nile cruise. Or, if you want to delve deeper into the mysteries of the pharaohs, can Pragmatic Play's Mysterious Egypt scratch your itch? And if you're feeling like a ruler yourself, why not try the royal treatment with IGT's Mistress of Egypt?
It's a tough competition out there for these Egyptian-themed games, but Book of Sheba holds its own. So give it a spin and let's hope Lady Luck grants you a more benevolent ruling over Ancient Egypt than the previous rulers had.
FAQ
What is Book of Sheba?
Book of Sheba is an online slot game that has a theme centered around Ancient Egypt. You can play it for real money at online casinos.
Who developed Book of Sheba?
Book of Sheba is developed by Betixon, a software development company focused on creating innovative casino games.
What is the game grid like in Book of Sheba?
The game grid in Book of Sheba is 5 by 3, with five falling symbols on each reel. There are 243 paylines to help you win, and you can get concatenated wins when involved symbols disappear and make room for more symbols falling from above.
What are the symbols in Book of Sheba?
There are various symbols in Book of Sheba, including deities from Ancient Egypt, the Sacred Cat, and the Book of Sheba itself. The cat is the Scatter symbol while the book is the Wild symbol that replaces all others in the game.
Are there other online slots with an Egyptian theme?
Yes, there are many other online slots with an Egyptian theme. Some examples are Egyptian Experience by Novomatic, Mysterious Egypt by Pragmatic Play, and Mistress of Egypt by IGT.
Can I play Book of Sheba on my mobile device?
Yes, you can play Book of Sheba on your mobile device. The game is optimized for mobile play and is compatible with iOS and Android devices.
What is the RTP of Book of Sheba?
The RTP (return to player) of Book of Sheba is 96.23%, which means that for every $100 you wager, you can expect to win back $96.23 on average.
Is Book of Sheba a high or low volatility slot?
Book of Sheba is a high volatility slot, which means that it offers less frequent but higher payouts in comparison to low volatility slots.
What we like
Numerous wins in a single round
Unique falling symbols feature
Interesting Ancient Egypt theme
Immersive sound design
What we don't like
Animations could be improved
Competitive market with similar Ancient Egypt-themed slots