Bloxx Arctic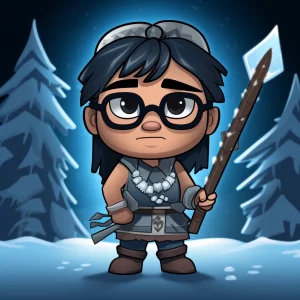 Get ready for an icy adventure with Swintt's Bloxx Arctic online slot game! With its breathtakingly beautiful visuals set in the heart of Antarctica, you'll find yourself transported to an enchanting world of frozen reels, lined with icicle stalactites that resemble a winter wonderland.
Swintt's team of talented graphic designers have truly outdone themselves with the game's intricate details, including a mesmerizing blue starry sky that twinkles in the background and symbols that come to life on the reels. With such stunning graphics, it's hard not to be captivated by the game's visuals alone.
But there's more to this game than just its looks. The Bloxx system, already known for the popular Bloxx Fruit game, features two mirrored grids that offer exciting gameplay variations, making it stand out in a highly competitive online slot market.
If you're looking for a unique and visually stunning slot game, then Bloxx Arctic is definitely worth checking out. With its impressive graphics and innovative gameplay, you're sure to have a fun-filled time playing this game and scoring big wins in the process!
Breaking the Ice: What Bloxx Arctic Has in Store for Players
Bloxx Arctic is a thrilling online slot game that will transport you to a frozen tundra full of rewards. The game works its magic with not just one, but two mirrored grids of 5 reels and 3 rows, making it a unique experience that players won't find elsewhere.
If you're looking for a game with an adrenaline-packed gameplay and decent rewards, you're in for a treat. With 30 fixed paylines, Bloxx Arctic offers a minimum bet of 10 virtual coins and a maximum win of 3,500 times the bet, providing an opportunity to stack up the wins.
But that's not all! Bloxx Arctic comes packed with impressive features such as the Autospin function which allows the players to watch the reels roll on their own, win or loss limits to manage your finances efficiently, and the Gamble function to double your winnings. However, if you're not feeling particularly lucky, it can be disabled to exercise caution.
With all these features, players can expect a theoretical return to player (RTP) of 95.47% – pretty impressive, right? So what are you waiting for? Put on your warmest coat and jump into the world of Bloxx Arctic to explore the pleasures it has hidden in its snow-filled reels.
Different Types of Symbols
Get ready to embark on an exciting adventure with Bloxx Arctic, a casino slot game that offers different symbol categories, including low level, high level, and special symbols. The low-level symbols consist of the good old poker cards for a straight, and honestly, who can complain about those? However, if you're looking to increase your winnings, aim for the high-level symbols featuring beautiful snowflakes, majestic moose, fierce bears, stunning snowflakes, and wild wolves with higher payouts.
The game also offers special symbols consisting of the snow girl (Wild), icicle (Scatter), and dollar (related to the Bloxx function). The Wild is your all-time ally in the reels, as it replaces all other symbols except the Scatter. If you're lucky enough to land three Scatters during the same spin, you'll be rewarded with 10 free spins, which means ten more chances to strike it lucky!
Now, the dollar symbol is related to the Bloxx feature, which is about to blow your mind. Brace yourself! The Bloxx feature activates when at least three adjacent dollar symbols appear on the regular grid. The symbols will transform into one Bleu Bloxx and randomly land on the grid during the spin. But that's not all; when the Bleu Bloxx hits other symbols on the reels, they will merge, stacking up to provide more winning opportunities. Who needs Tetris when you have Bloxx Arctic, am I right?
Bonus Feature: How to Trigger It and Win Big
In the world of online slot games, nothing is more thrilling than triggering a bonus feature that can potentially double your winnings. And that's where Bloxx Arctic shines. The main bonus feature in this game is called Bloxx, and it can be triggered when you land at least three adjacent dollar symbols on the regular grid, all the way from the first reel to the right.
But that's not all! Once triggered, the same positions on the mirrored grid light up, and the player wins the sum of the amounts contained in the selected blocks. It's like hitting a jackpot in a traditional casino game, only more exciting. And that's not all either. After the win, the winning blocks are removed and replaced by others with new amounts, giving you even more chances to win big.
The dollar symbol isn't just a regular symbol in Bloxx Arctic. It can also be replaced by the Wild symbol to create a winning combo. And we all know that the Wild symbol is every player's best friend, right?
All in all, the Bloxx bonus feature in Bloxx Arctic is definitely one of the game's highlights. It adds an extra layer of excitement to every spin and gives players the chance to really increase their winnings. So go ahead, give it a try, and who knows? You may just land the big one!
Compatibility and Accessibility
Bloxx Arctic is not just a fun and entertaining slot game, it's also easily accessible from any device! The game is available in HTML5 version, which means you can play it on your computer, tablet, or smartphone. So whether you're relaxing at home or on the go, you can still have fun with this game!
Plus, with its easy-to-use interface and excellent graphics, Bloxx Arctic is perfect for players of all levels. Even if you're new to slot games, you'll quickly get the hang of it! And if you're an experienced player, you'll love the challenge and the chance to win big payouts!
So why not play Bloxx Arctic today and see what all the hype is about? With its compatibility and accessibility, you won't be disappointed – unless, of course, you're snowed in and all the power's out. But hey, at least then you can still pretend you're in the Arctic!
FAQ
What is the Bloxx feature in Bloxx Arctic?
The Bloxx feature in Bloxx Arctic is activated every time three adjacent dollar symbols land on the regular grid starting from the first reel and moving to the right. This feature allows you to win the amounts indicated in the same positions on the mirrored grid.
Can I play Bloxx Arctic on my mobile device?
Yes, you can play Bloxx Arctic on your smartphone or tablet. The slot is available in HTML5 version, suitable for any portable device.
What is the maximum win in Bloxx Arctic?
The maximum win in Bloxx Arctic is 3,500x the bet.
What types of symbols can be found in Bloxx Arctic?
In Bloxx Arctic, you can find low-level symbols such as good poker cards; high-level symbols such as snowflakes, moose, bear, snowflakes, and wolf; and special symbols such as the snow girl Wild and the icicle Scatter.
What is the theoretical return to player (RTP) in Bloxx Arctic?
The theoretical return to player (RTP) in Bloxx Arctic is 95.47%.
What is the minimum bet in Bloxx Arctic?
The minimum bet in Bloxx Arctic is 10 virtual coins.
Is there an Autospin function in Bloxx Arctic?
Yes, there is an Autospin function in Bloxx Arctic that allows you to activate 10 to 100 automatic spins.
Can I disable the Gamble function in Bloxx Arctic?
Yes, you can disable the Gamble function in Bloxx Arctic from the Autoplay page. The Gamble function allows you to try to double the win or lose it entirely.
What we like
Stunning visuals and beautifully designed symbols
Useful features such as Autospin and win/loss limits
Different symbol categories for more chances of winning big
Main bonus feature called Bloxx adds excitement to the game
What we don't like
Maximum win may not be as high as other online slot games
Gamble function may be missed by players who like to take risks