Bloodthirst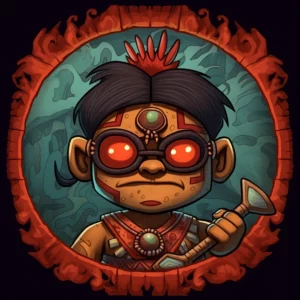 Hold onto your crucifixes, folks! Bloodthirst has landed and it's not for the faint-hearted. This gothic masterpiece is a real treat for all horror-lovers out there and will have you biting your nails in suspense.
The ghost village in the backdrop and the eerie symbols will give you goosebumps. The monsters, vampires, werewolves, and demons are delicately crafted to evoke a sense of horror and get your heart racing.
I mean, who doesn't love a good scare? And with Bloodthirst, you're guaranteed one at every spin. The graphics are so good, they'd make even Count Dracula's heart skip a beat. The background music, complete with haunting whispers and creaky doors, help transport you into the world of bloodthirsty monsters.
Overall, the theme and graphics in Bloodthirst are top-notch and are sure to give players an unforgettable experience.
Slot Features
Bloodthirst is a slot game that's sure to get your heart pumping. With five reels, four rows, and ten fixed paylines, this game has all the makings of a classic blood-sucking adventure. And with a minimum cost of only 0.10 $ per spin, players can experience all the action without breaking the bank.
But don't let the low cost fool you. Bloodthirst has a maximum payout of 10,000x the bet, meaning that players can win some seriously supernatural rewards. And with the game's high volatility and theoretical return of 96.19%, the odds are in your favor.
For those who can't wait to sink their teeth into the action, Bloodthirst offers a range of options to speed up gameplay. Choose from Autoplay, Turbo, and Super Turbo modes to make the most of every spin.
Overall, Bloodthirst is a fang-tastic choice for any player looking for a thrilling slot game experience. Just be sure to bring your garlic and holy water, because this game is not for the faint of heart!
Get Your Blood Pumping with Bloodthirst Slot
Ready to sink your teeth into a thrilling slot game experience? Look no further than Bloodthirst, the game that offers plenty of ways to win big. If you're looking for a fast-paced, heart-pounding slot game with enough excitement to quench your thirst, Bloodthirst is the way to go.
But how do you play this game, you may ask? That's where we come in. Bloodthirst's bonus system adds an extra layer of excitement to an already thrilling game. By hitting specific symbols, players can earn bonuses. For instance, the three different vampire symbols in the game offer higher payouts, with up to ten times the wager in a 5-combo win.
Another feature unique to Bloodthirst is the expanding monster symbol. If four stacked monster symbols appear, they expand to cover the entire reel, triggering extra prizes after paying out the wins. And if you hit five monster symbols, hold on tight, because you'll activate the Monster Conquest feature. All reels will be filled with the monster symbol, paying out between 100x to 2,500x.
Don't forget the wild and scatter symbols either! The red star symbol is the Wild, which can substitute for all other symbols and add payouts to the win. The FS star symbol is the Scatter, which activates the Bloodthirst feature, awarding 10 free spins and a higher chance of landing expanding monsters. And if you get four Scatter symbols, the Immortal feature triggers, providing players with 10 free spins, but only one expanding monster is chosen, remaining active throughout the bonus round.
If you're a fan of fast-paced action, thrilling slots, and the opportunity to win big, Bloodthirst is the game you've been waiting for. So what are you waiting for? Get spinning today!
Paylines and Bet Range
Are you ready to quench your thirst for blood? Look no further than the Bloodthirst slot game! With ten fixed paylines and a minimum bet starting at a mere 0.01 $ per payline, this game is perfect for any player looking to sink their teeth into a fun gaming experience.
But don't let the small stakes fool you – Bloodthirst packs a punch with a maximum payout of 10,000x the stake. That's enough to make any vampire's heart start beating again! With a betting range that suits any budget, you can play as conservatively or as aggressively as you want, without sacrificing on the excitement factor.
Experience the Thrills with Volatility and Theoretical Return
Are you looking for a slot game that keeps your heart racing? Look no further than Bloodthirst! The game's high volatility means that you could be spinning the reels for a while before a big win finally comes, but when it does, it's worth the wait. Your bankroll may dwindle, but the potential for big payouts keeps the excitement level high.
19%. That's a pretty fair payout for a game with such high stakes. Besides, who doesn't love the idea of putting in a little bit of money and coming out on top?
Of course, you could also be like those vampires that love to suck the blood out of unsuspecting victims and get rich fast. However, your chances of winning will rely primarily on your patience, strategy, and a dash of luck.
Overall, Bloodthirst is a thrilling game that is worth its weight in gold – or in this case, blood. So, sit back, hit the spin button, and let the adrenaline flow. Who knows, today might be your lucky day!
FAQ
What is the theme of Bloodthirst?
Bloodthirst is a horror-themed slot game with a gothic atmosphere and symbols that seem like they've been lifted straight from a horror movie.
Is Bloodthirst a high or low volatility game?
Bloodthirst is a high volatility game with a theoretical return of 96.19%.
What are the slot features in Bloodthirst?
Bloodthirst features five reels, four rows, and ten fixed paylines. The game also includes options to hasten gameplay, including Autoplay, Turbo, and Super Turbo mode.
What is the minimum bet in Bloodthirst?
The minimum bet for Bloodthirst is 0.10 $ per spin.
What are the symbols in Bloodthirst?
Bloodthirst features several symbols, including vampires, werewolves, demons, and monsters. The red star represents the Wild symbol, while the FS star is the Scatter symbol.
Does Bloodthirst offer a bonus system?
Yes, Bloodthirst includes an exciting bonus system, featuring the Bloodthirst and Immortal features, triggered by landing Scatter symbols.
Can I buy the bonus game in Bloodthirst?
Yes, Bloodthirst offers buying options for the bonus game, with 100x the bet required for the Bloodthirst feature and 200x for the Immortal feature.
Where can I find Bloodthirst?
Bloodthirst was released in February 2023 and can currently be found in almost all legal online casinos.
What we like
Thrilling gothic atmosphere
High volatility with high payouts
Unique bonus system with expanding monsters
Excellent graphics and sound effects
What we don't like
Limited paylines compared to other slot games
High variance may not be suitable for casual players