Blood Night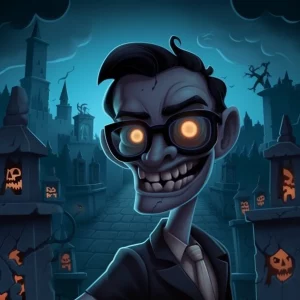 Are you ready for a blood-curdling adventure? Blood Night has got you covered! This online slot game follows a traditional gameplay structure with five reels and twenty pay lines. Betting has never been easier as you can bet one coin at a time. With a total bet per spin that ranges from 0.20 $ to 40 $, you're bound to have a thrilling experience!
Oh, and let's not forget the token value. With a minimum of 0.01 $ and a maximum of 2 $, you can bet without breaking the bank. Blood Night features two progressive jackpots, Golden and Silver, whose value increases as the bet increases. If you're lucky enough to win one of these jackpots, you might just need to take a few deep breaths before continuing the game.
And here's the icing on the cake- the theoretical return to player is an impressive 97.35%! That means that you're more likely to win big at Blood Night than at any other online slot game. So, what are you waiting for? Put on your cape, and face your fears, because it's time to conquer the night!
Graphics and Design
Prepare yourself for a spooky and immersive experience with Blood Night. This online slot game has an overarching vampire theme that is consistent from start to finish. The symbols used in this game are entirely thematic, which helps to reinforce the overall design of the game.
One of the most impressive aspects of Blood Night is the graphics and design. The game developers have gone to great lengths to make the game as immersive as possible. The dark shade and rich atmosphere of the game create an eerie ambiance that transports you straight to a spooky cemetery at night.
The reels are located in the center of the game, surrounded by a spooky graveyard and entrenched as if they were buried underground. The settings buttons at the bottom of the screen are designed to look like tombstones, and the entire game has an attention to detail that is second to none.
Each symbol in the game is reproduced with great graphical accuracy, with everything from magic potions and garlic cloves to anatomical hearts and skulls with candles. The attention to detail that has gone into the design of this game is truly amazing.
All things considered, the graphics and design of Blood Night are outstanding. It's rare to see an online slot game that is so immersive and detailed, and it really helps to make Blood Night stand out from the crowd.
Progressive Jackpots
If you're like us, you have a soft spot in your heart for progressive jackpots. And let us tell you, Blood Night doesn't disappoint. This spooky slot game allows players to win not one but two progressive jackpots – the Golden and Silver jackpots. Sounds pretty fancy, right?
These jackpots are randomly assigned, so it's like a surprise party for your wallet! And the cherry on top? The value of the jackpots increase with every bet made, giving you even more incentive to play. It's like the game is saying, 'Come on, take a chance. I promise it'll be worth it.'
Now, we know what you're thinking. How do I win one of these shiny jackpots? Well, friend, it's your lucky day because you can win one of the two jackpots on any spin, regardless of the game outcome or the amount bet. It's like a Halloween miracle.
Paylines and Bet Limits
Blood Night may seem like a scary game, but don't worry, you won't need garlic or a wooden stake to play it. With twenty pay lines, you'll have plenty of chances to hit the jackpot and become as rich as Dracula himself. Just remember to watch out for the bats – they might steal your winnings!
As for bet limits, the game offers a range of options that can suit any player's budget. Whether you're a high roller or prefer to keep it conservative, Blood Night lets you bet a minimum coin size of 0.01 $ and a maximum coin size of 2 $. That means you can spin the reels for as little as 0.20 $ or go all in for 40 $ per spin.
Return to Player
Are you looking for a game that is both exciting and rewarding? Look no further than Blood Night! With a theoretical return to player of 97.35%, this game is a fantastic choice for players who want to get the most bang for their buck.
Not only is Blood Night thrilling, with its spooky vampire theme and excellent graphics, but it's also a solid investment. With a higher-than-average return to player, you can rest easy knowing that you have a better chance of winning big while playing this game.
So what are you waiting for? Sink your teeth into Blood Night and see if you have the luck and skill it takes to beat the odds and win big. We guarantee you won't be disappointed!
FAQ
What is Blood Night?
Blood Night is an online slot game with a vampire theme developed by Tuko Productions.
What is the structure of the game?
The game has five reels and twenty pay lines which offer a betting range from 0.20 to 40 $.
What makes Blood Night's graphics stand out?
The graphic department of Blood Night is one of the best in Tuko's slot machines. The game's atmosphere is truly immersive which makes it stand out.
What is the theoretical return to player?
The theoretical return to player is really high in this case, reaching an excellent 97.35%.
What are the symbols in Blood Night?
The symbols in Blood Night include magic potions, garlic cloves, a gravestone, a hammer with a stake, a gun on a red cushion, an anatomical heart, and a skull with a candle.
What does the Wild symbol do?
The Wild symbol is a gravestone, it acts as a wild card, and can replace all other symbols except Scatter and Bonus, but it can also form winning combinations by itself.
What does the Scatter symbol do?
The Scatter is represented by swords and when it appears at least three times, it allows access to free spins in which it also gives multipliers, up to a maximum of x150!
What does the Bonus symbol do?
The Bonus is the image of a book. If at least three of them appear, you will have access to a mini-game of cards with which you can try to take home extra winnings.
What we like
Immersive and detailed graphics
Consistent vampire theme
Two progressive jackpots available
Impressive 97.35% return to player
What we don't like
Limited betting options
No bonus features