Black Mummy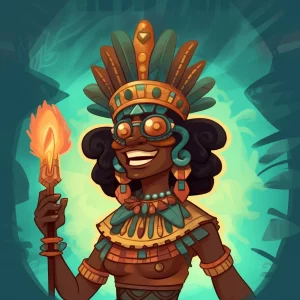 Have you been feeling like something is missing in your life? Have you been craving an adventure that is both classic and modern? Look no further as Black Mummy from Tom Horn Gaming is here to take you on an exciting journey.
This slot game is a perfect blend of traditional and contemporary features. Its five reels and three symbols each offer a classic feel with an updated look. The Black Mummy itself acts as a Wild symbol, and it's wilder than any character in The Hangover. This mummy can replace any other symbol in the game, except the scatters and bonuses. That's not all – if the Black Mummy appears on the third reel, it expands to cover the entire reel, increasing your chances of winning.
The game's style is as simple as a snack bar's menu, but it's far from being as unexciting. Its vibrant colors transport you to Egypt, and you'll find yourself feeling like a true explorer. The symbols are themed to match the theme, and they include everything from the Egyptian eye to the pharaoh's mask. Even the classic playing card symbols (A, K, Q, J) are decorated in the theme's style. However, they stick out like a pharaoh in New York City.
As for the audio, it plays a little hard to get. You won't hear much, except for a faint sound of rock rubbing against rocks when the reels spin. You might mistake it for a sound effect from Indiana Jones, but it's still enjoyable.
In conclusion, Black Mummy from Tom Horn Gaming is the perfect game for those who are looking for a mixture of the past and present. It's also great for those who want to take a break from the usual loud slot games that give you a headache. This game is like the mummy itself – exciting, silent, and wrapped in mystery.
Unraveling the Secrets of Black Mummy – Symbols and Features Explained!
Welcome, adventurer, to the mystical terrain of Egypt as we dive into the world of Black Mummy, a casino slot game that will transport you to the land of pyramids and pharaohs. If you're a fan of all things ancient Egypt, this game is sure to keep you hooked and entertained for hours on end!
The symbols in Black Mummy are what make it so unique. The game boasts various mystical icons like the mummy, the pharaoh's mask, and the all-seeing Egyptian eye, all of which add to the overall vibe of the game. The mummy symbol is a Wild symbol that can help you get a winning combination with a multiplier, provided it replaces minor symbols. While there are no scatter or bonus symbols in the game, it still manages to keep the players hooked with its 'gamble' mode.
The 'gamble' mode in Black Mummy is a fun and exciting feature that can be activated after a win. It's like having access to a 'double or nothing' function. Players get to pick between red and black for each of the five stars, with their eyes firmly set on the prized golden star. If they guess the correct color, their winnings double, and they move on to the next star. The function ends when players reach the coveted golden star, but if luck is not on their side, they lose all their winnings.
The game doesn't have any other special features, but its enigmatic theme and simple gameplay make it a popular choice amongst players. So, if you're on the hunt for a light-hearted but exciting game, Black Mummy is the way to go!
Exploring the Egyptian Theme in Black Mummy Slot
What do you get when you combine the mystery of the ancient Egyptian civilization, a slot machine and a generous casino jackpot? The answer is Black Mummy, of course. As with many other online slots that use the Egyptian theme, Black Mummy has an aura of mystery, magic and excitement that draws players in.
While the theme is not entirely original, this particular slot game has its own unique charm that sets it apart from other Egyptian-themed slots. The graphics are bright, bold and perfectly designed using the right colors and symbols that transport you to the world of the Pharaohs. But we can't help but wonder why the playing card symbols are even included – did the ancient Egyptians play with those too?
One of the things we love about Black Mummy is its serene gameplay. The absence of distracting music and sound effects that would usually accompany a slot machine game is a breath of fresh air. It gives players a quiet gaming experience that allows them to focus on the excitement of winning and watching those Egyptian-themed symbols line up.
All in all, Black Mummy brings out the adventurer in every player, with its Egyptian-themed symbols, and mysterious atmosphere. It's no wonder that this slot game is a favorite amongst avid slot players worldwide.
And hey, even if you don't win that casino jackpot, the game is still worth playing! Where else can you see a Mummy dancing in a pharaoh hat?
Gambling Function in Black Mummy will keep your heart racing!
Black Mummy isn't your regular slot game because it has a 'gamble' mode. It's like playing with fire, taking a chance and hoping that it pays off. You can't resist the urge to try your luck, can you? It's a double or nothing affair, and it's available after every win. But be warned – it's addictive!
When you activate the 'gamble' mode, five stars will appear, and you need to choose red or black for each of them. The objective is to guess which star is golden. If you guess correctly, you'll double your winnings and move on to the next star. The game will keep going until you reach the golden star, or you lose it all. Sounds simple, right? But it's not that easy, and it will keep your heart racing.
If you're someone who likes to take risks and add some excitement and uncertainty to your gaming experience, then Black Mummy's 'gamble' mode is perfect for you. But be careful not to get too addicted, or you might end up with a mummified wallet. Play responsibly!
Comparison to Other Egyptian-themed Slots
If you're a fan of ancient Egypt, you've probably played plenty of online slot games with this theme. Black Mummy is just one in a long line of these games, but it stands out from the crowd in a few ways.
First, the game has a simple yet stylish design that really draws you in. The graphics are bright and colorful, and the themed symbols do an excellent job of making you feel like you're exploring ancient ruins.
Another great feature of Black Mummy is its 'gamble' mode. This allows you to put a recent win on the line and double it – if you can guess whether the next card drawn will be red or black. This is a fun way to add a bit of extra excitement to the game.
But of course, no game is perfect. One downside to Black Mummy is the use of the standard playing card symbols (10, J, Q, K, A) alongside the themed symbols. While these cards have been decorated to fit in with the Egyptian theme, they feel a bit out of place and can be distracting.
Overall, Black Mummy is a great addition to the lineup of Egyptian-themed slot games. If you're looking for a game that will take you on a journey through ancient Egypt, this is definitely one to check out.
FAQ
What is Black Mummy?
Black Mummy is an online slot game with an Egyptian theme.
What are the symbols in the game?
There are themed symbols like the Egyptian eye, mummy, and pharaoh's mask, and also classic playing card symbols (A, K, Q, J …) which are decorated.
What is the Wild symbol in the game?
The mummy is the Wild symbol which can replace any other symbol and help obtain a winning combination with a multiplier, if it replaces the minor symbols.
Does Black Mummy have any special features?
The game does not have any special features but has a 'gamble' mode where it is possible to try and double winnings with a gambling function.
What is the 'gamble' mode in Black Mummy?
In the 'gamble' mode, players must guess the color of stars shown on the screen to double their winnings. Be careful not to lose it all!
Are there any other slot games with an Egyptian theme?
Yes, there are many similar games available in the market such as The Book of Ra (Deluxe) and Book of Ra 6 by Novomatic and Grace of Cleopatra.
What are the technical specifications of Black Mummy?
The game has five reels and shows three symbols each. The game's music and sound effects are minimal but well-suited to the game's theme and style.
Is Black Mummy a difficult game to play?
No, Black Mummy is rather simple to play and understand. Even new players can quickly get accustomed to the game's mechanics and enjoy the experience.
What we like
Classic gameplay mechanics with modern twists
Themed symbols create a sense of immersion
Interesting 'gamble' mode adds excitement
Bright colors set it apart from other Egyptian-themed slots
What we don't like
Playing card symbols do not match well with the theme
Limited music and sound effects