Battleship Direct Hit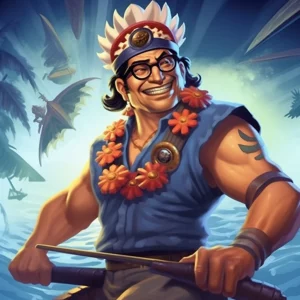 Battleship Direct Hit Megaways is not your average online slot game. It's a high-stakes adventure that will take you on a journey across the high seas as you hunt down enemy battleships. Designed to emulate the popular board game classic, this game is an absolute blast to play.
With 6 reels and 7 rows, Battleship Direct Hit Megaways offers players a whopping 117,649 ways to win big! That's right, you heard it correctly – you have over a hundred thousand chances to strike it lucky with every spin! And don't worry, you won't be going broke trying to do so. Bets range from 0.10 to 100$ per spin, so you can play within your budget and still have a chance to win big.
The highlight of this game is the exhilarating gameplay, where players get to fire their missiles at the enemy battleships, and watch as the symbols inserted in the top line explode. It's like being in a real battle, except without the mess and danger. Once you hit your targets, you can embark on a journey filled with bonuses and free spins. With each successful shot, your chances of winning increase substantially.
Overall, Battleship Direct Hit Megaways is an exciting and engaging online slot game that will keep you on the edge of your seat. With its unique gameplay and impressive number of paylines, it's no wonder that this game has become a fan favorite. So, what are you waiting for? It's time to test your luck and see if you have what it takes to conquer the high seas and come out on top!
Impressive Graphics and Sound Effects
Let's face it, we play slots not only to win money but to also enjoy the experience. And oh boy, Battleship Direct Hit truly delivers when it comes to graphics and sound effects. The game comes with a stunning interface that will make you feel like you're in the control room of a Navy ship in the middle of the ocean.
You'll be fascinated by the detailed graphics that depict the naval warfare with perfection. It's a visual treat to the eyes, and you'll feel the thrill and adventure of being at sea. Thanks to the incredibly engaging soundtrack, you'll be transported to the battlefield where you'll be ready to conquer your enemy.
Playing this game is a feast for the senses. The sound effects perfectly complement the visuals and add to the overall excitement of the game. From the sound of the waves to the thud of the missiles, you'll feel every moment of the game. So if you're looking for an immersive slot game with top-class graphics and sound effects, Battleship Direct Hit is the one for you.
Symbols and their meaning
Ahoy! Let's talk about the symbols in Battleship Direct Hit Megaways slot game. As in any slot machine, the symbols here have different payouts. The lowest-paying symbols are the usual suspects 10, J, Q, K, and A. Along with them, there's also a missile symbol, a battleship symbol, and several medals of different rank. The medals come in bronze, silver, and gold, with the top tier having two smaller stars on each side. It's a good thing this is a virtual slot game because if it was a real battle, someone would have gotten seriously hurt over those medals.
Now, pay attention to the top of the board. You'll see six squares, each with a ship of a different value in free spins. These ships are essential to the game because if you manage to sink them, you earn the prize associated with that ship. We're not talking about a friendly sail on the lake; we're talking a full-on naval battle here. So, take aim and fire at those ships!
The Importance of Megaways Engine in Battleship Direct Hit
Battleship Direct Hit is a casino slot game that features the Megaways engine, offering players 117,649 ways to win. It sounds like a big number, and it is! Just imagine the possibilities – it's like getting hit by a glitter bomb of winnings. With so many ways to win, players can feel like they're the captain of a battleship heading straight for victory.
But it's not just the amount of ways to win that makes this game great. It's the explosion of icons that happens every time a player gets a winning combination. It's like having your own fireworks show, but instead of fireworks, it's raining coins! The only thing missing is a hot dog on a stick – the kind you get at the county fair.
And don't forget about the Turret Fire. It's like having your own personal army of turrets, ready to fire at the slightest hesitation. Just imagine the satisfaction of blowing up lower-paying symbols with a burst of shots. It's like you're in a warzone – but instead of the enemy, you're battling for big wins.
Overall, Battleship Direct Hit with Megaways engine is a perfect combination of fun, excitement, and winning potential. It's like a good box of chocolates – you never know what you're going to get. But one thing's for sure – you'll feel like you've won the lottery every time you play.
Prizes Associated with Sinking the Ship Symbols
If you think sinking ships is cruel, wait until you hit the jackpot. Free spins are distributed based on the vessel a player sinks during the game. If a player has a destroyer in their crosshairs, they will receive 5 free spins – let's hope they aim better in their next battle! If they manage to sink the cruiser, they will get 10 free spins. If the player sinks the submarine, they bolt ahead with 15 free spins. Things get more exciting when they hit the mighty battleship; this sinking experience is worth 25 free spins – bonus ahoy! Finally, if players manage to hit the prestigious aircraft carrier, they will get a whopping 50 free spins. Players can use these free spins to increase their chances of winning the game and bragging rights at the battleship pub – imagine the respect they'll earn.
FAQ
What is Battleship Direct Hit Megaways?
It is an online slot machine game that is based on the popular naval battle strategy game, Battleship.
What are the graphics and game symbols like?
The graphics simulate a control room and the symbols include ships, medals, missiles, and the traditional card symbols.
How many ways to win does this game offer?
It offers 117,649 ways to win with the Megaways engine.
What are the free spin prizes associated with sinking each ship?
The prizes are: destroyer – 5 spins, cruiser – 10 spins, submarine – 15 spins, battleship – 25 spins, aircraft carrier – 50 spins.
What is Turret Fire?
It is a feature that activates randomly after each round in the base game. The turrets on the board can fire shots to destroy lower-paying symbols and increase chances of winning.
What is the bet range for this game?
The bet range is from 0.10$ to 100$ per spin, so there are options for both casual and high-stakes players.
What happens when you get winning combinations?
The game box explodes and new icons drop down to replace them in a cascading reels feature.
What are some final thoughts on this game?
Battleship Direct Hit Megaways is a well-designed and engaging slot game that offers a unique twist on a classic strategy game. The Megaways engine and Turret Fire feature add excitement to the gameplay and the graphics and sound design create an immersive experience.
What we like
Impressive graphics and sound effects
Exciting gameplay with the Megaways engine
Opportunity to win free spins
Unique theme inspired by the classic Battleship game
What we don't like
Limited betting range
May not appeal to players who are not familiar with the Battleship game