Barbaria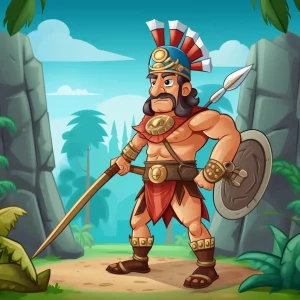 Are you ready to be transported back to the brutal era of ancient Rome, where battles were fought with brute strength and powerful weapons? Look no further than Barbaria, the latest addition to the online casino gaming world. With Barbaria, players can easily pick up on the gameplay mechanics and experience the thrill of the fight.
The developers at Barbaria have done an exceptional job of creating stunning visuals that truly capture the brutal world of Rome. The symbols in Barbaria are also a fitting tribute to the game's theme, with weapons and armor from the barbarian era gracing the reels.
One symbol that truly stands out is the Wild symbol – a helmet with horns. This symbol can replace all other symbols except the Scatter symbol, giving players more opportunities to create winning combinations. And speaking of Scatters, Barbaria has the perfect one in the form of a medallion. When activated, the free spins bonus rewards players with a whopping 15 free spins, so get ready to rack up those wins!
But the fun doesn't stop there. Barbaria also boasts an exciting bonus game that is triggered when three symbols of a skull are spun. This bonus game features a fortune wheel that gives multipliers ranging from x20 to x80. So, not only are you fighting in ancient Rome, but you're also a step away from winning big!
All in all, Barbaria provides a thrilling gaming experience that is both engaging and entertaining. So what are you waiting for? Don't be a lion in a coliseum full of jackals – try Barbaria today!
Pay lines, betting, and RTP
Are you ready to embark on an epic journey through Barbaria's five reels and twenty pay lines? The minimum bet is only 20 cents, which is cheaper than a pint of ale in some towns, and the maximum bet is a whopping 40 $ per spin. Who said saving a kingdom had to be expensive?
Don't let the fixed pay lines discourage you, though. You can still adjust your bet amount to fit your budget. The value of the token ranges from 1 cent to 2 $, so you can bet as high or low as you want. Of course, if you're feeling brave and ready to face the Barbarian hordes, then a high bet may be just what you need!
But what about the Return To Player (RTP)? Well, Barbaria's RTP is 96.35%. This means that for every 100 $ you bet, you can expect an average return of 96.35 $. That's better than what you'd get if you invested in cryptocurrency last year!
Barbaria's volatility is medium, which means you'll be able to snag smaller prizes more frequently. Think of it as conquering small castles before taking on the big one. So, grab your sword and shield, enter Barbaria, and let the slot games begin!
Symbols and Their Significance
Get ready to embark on a journey back to the barbarian era with Barbaria's unique symbols. The game has a variety of weapon-themed symbols that add to its overall immersive experience. From helmets, heavy hammers, and horns, to crossed axes, single axes, and a mysterious animal leg, the symbols will make you feel like a true warrior.
The Wild symbol is a particularly interesting one. It's a helmet with horns that can replace all other symbols except for the Scatter. Now, who wouldn't want to have horns on their head? Unfortunately, they're not real, but this symbol will help you complete winning combinations, which is much better than having horns anyway.
If you're looking for even more excitement, keep an eye out for the Scatter symbol. It's a medallion that can unlock the free spins bonus. And who doesn't love free stuff? With 15 free spins to play around with, you'll have plenty of opportunities to rack up some serious winnings.
Three symbols depicting a skull can activate the bonus game, which is an exciting fortune wheel that gives multipliers ranging from x20 to x80. That's right, not only do you get to spin the wheel and feel like a contestant on a game show, but you also have the chance to win some serious cash. What more could an aspiring barbarian warrior want?
All in all, Barbaria's symbols are unique, immersive, and extremely enjoyable. Whether you're a history buff or simply love a good slot game, these symbols will keep you on the edge of your seat. So grab your helmet, sharpen your axe, and get ready to spin those reels like a true warrior!
Take Advantage of These Epic Free Spin and Bonus Game Features
Get ready to hit the jackpot with the Barbaria slot game's awesome bonus features. It all starts with the medallion Scatter symbol, which has the power to activate 15 free spins. That's right folks, who doesn't love free spins? You'll be spinning those reels without betting a penny, and if lady luck is on your side, you might land some major payouts along the way.
But that's not all! The game's lucrative bonus game can be triggered by landing three skull symbols. Once triggered, you'll enter the fortune wheel that gives players multipliers of x20 up to x80. Now we're talking serious cash, so pay attention! It's not every day that you get the chance to multiply your winnings by up to 80 times, so go big or go home – it's time to take a shot at glory.
And the best part? The bonus game can be randomly triggered during any spin, so you never know when it's going to happen. What's better than having a surprise round of the bonus game come out of nowhere and increase your winnings in a big way? We'll give you a hint – absolutely nothing.
So, grab your sword and shield and enter the world of Barbaria. Not only will you have the chance to win major payouts, but you'll also experience the thrill of battling powerful barbarians. This game has everything to offer – free spins, multiply multipliers, and surprise bonus games. Join the ranks of the greatest warriors in Barbaria and see if you have what it takes to rise to the top of the leaderboard.
Graphics and Overall Game Experience
Let me tell you something, my slot-loving friends: Barbaria is not just any ordinary slot game. The graphics in this game are so stunning that you might just forget you're gambling during gameplay. The makers of Barbaria have truly outdone themselves in this area—every symbol is crisp and detailed, and the animation is so smooth, I felt like I was watching a movie!
From the moment I started playing, I was enraptured by the beauty and attention to detail of this slot game. The variety of betting options is also impressive. When the game offers this much, it's like having a buffet at the casino: you have a little bit of everything just waiting to be enjoyed!
But, Barbaria isn't all about looks. The game also offers a favorable RTP and volatility for those of you out there who are looking to really win big. Plus, there are free spins and bonus features that provide endless chances to increase your earnings. What more could you want in a game?
In summary, Barbaria isn't a game—it's an experience. The stunning graphics, seamless gameplay, and numerous chances to win make Barbaria one of the most immersive and enjoyable slot games on the market today. I highly recommend Barbaria slot game to anyone who enjoys gambling, beautiful graphics, and a little bit of humor!
FAQ
What is Barbaria?
Barbaria is a slot machine game set in ancient Rome during the barbarian era that contains weapons, axes, swords, shields and helmets.
Is Barbaria's gameplay easy?
Yes, Barbaria's gameplay is simple and intuitive.
What type of design does the Barbaria game have?
The barbaria game has a cartoon-style design that is reproduced with incredible realism and quality.
What type of prizes can you win on Barbaria?
You can win pretty good prizes through its five reels and twenty pay lines.
What is Barbaria's betting range?
The minimum bet is 20 cents and a maximum of 40 $ per spin.
What is Barbaria's theoretical return to player percentage?
96.35%, which is perfectly in line with most slot games found in online casinos.
What is the volatility of Barbaria?
The volatility is medium, meaning that although winning streaks are not so frequent, players can also count on small prizes that can be obtained more easily.
What are some of the symbols and special features of Barbaria?
Some symbols and special features include weapons, a Wild symbol that acts as the usual wild, a free spins bonus, and a bonus game that is a kind of wheel of fortune that gives multipliers ranging from x20 to x80.
What we like
Astounding graphics and cartoon-style images
Free spins and bonus features offer chances to win big
Good RTP and volatility provide a fair return to players
Immersive gaming experience
What we don't like
Fixed pay lines may not be suitable for some players
Bonus game activation is rare and requires specific symbols