Banana King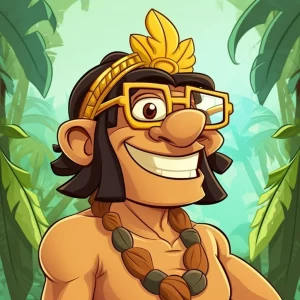 Step into the lush green forest and join the gang of banana-loving chimpanzees in Banana King. The adorable characters and amazing graphics will make you forget you're even playing a casino game.
With 5 reels and 3 rows, Banana King offers up to 25 pay lines to select from. You can place your bets from as little as $0.01 per line to a maximum of $2. The game will reward you for matching adjacent symbols from the leftmost reel to the right on an active line.
As if the game wasn't exciting enough, Banana King offers the possibility to select between 5 and 1,000 automatic spins. That means you'll have ample time to raid the jungle for as many bananas and rewards as you can before the spin ends. The game also allows you to set the maximum bet ($30) with a single button press, making it quick and easy to play.
If you're looking for a slot game that has amazing graphics, incredible bonus features and the opportunity to go bananas for big payouts, look no further than Banana King.
Bet Limits
Are you ready to go bananas with Banana King? This slot game is not only entertaining but also affordable for all types of players. Whether you're a high-roller or a penny-pincher, there's a bet limit that suits your style.
If you're just starting, fear not, you can bet as little as $0.01 per line. Yes, you heard that right, 1 cent per line! Who said you needed to break the bank to have fun? In Banana King, even if you have a limited budget, you can still have a blast without worrying about losing too much.
But if you're feeling lucky and want to increase your winnings, you can adjust your bets up to $2. I mean, come on, $2 is a small price to pay for the chance to win big in this jungle-themed game.
Now, if you're a daredevil, you can set the maximum bet with a single button press. That's right, $30 per spin! That's one way to go ape and swing for the fences. Just remember, with great bets come great rewards. But also greater risks. So, only go for the maximum bet if you're prepared to face the music.
In the end, Banana King caters to all bet limits and budgets. From the cautious players to the bold and adventurous ones, everyone can find their sweet spot in this slot game. Go ahead and choose your bet limit and enjoy the ride!
Symbols
If you're a fan of fruity themes, you won't be disappointed with Banana King. The game features 10 symbols that will make your mouth water, including juicy cherries, delectable bananas, and even a luxurious leaf crown. But don't let the cute and colorful presentation fool you; this game is bananas.
Of course, it wouldn't be a slot game without the standard royal flush symbols from 9 to Ace, which may not be as tasty, but they're still worth a win. The mango is the Wild symbol and is the one to look out for, as it can replace any symbol except for the special ones.
Speaking of special symbols, the Free Spins symbol is a favorite among players. Get three of these, and you'll be awarded with 15 free spins, but why settle for that when you could activate 30 with four symbols or an insane 60 with five symbols? Hold on, let me grab my calculator; that's a lot of chimp bananas!
All jokes aside, the real highlight of Banana King is the special feature triggered by the chimpanzee with the Bonus caption. Prepare yourself for a game grid disappearing act, as the rows of bananas appear. Now it's time to get your hands dirty and start clicking on some bananas to earn your prizes! Keep going until the Collect message appears on the screen. Best of luck, and remember, don't slip on the peel.
Design and Theme
World Match has gone bananas with their slot game Banana King – and we aren't complaining! The graphics are top-notch, with a vibrant and lush forest background and adorable chimpanzees who have an insatiable love for bananas. It's almost like we're transported to a tropical rainforest, where the only thing we need to worry about is hitting the jackpot.
The game grid is designed to blend seamlessly with the jungle theme, featuring branches that intertwine to hold the reels. We can't help but appreciate the attention to detail that World Match has put into this game. The buttons, which are traditionally located on the left side of most online slots, are placed at the bottom of the screen. This unconventional design decision makes sure that the jungle is always front and center.
If you're a fan of great graphics and creative design, then Banana King is definitely worth your time. The game's statistics, winnings, and betting information are located right below the buttons, so you can keep track of your progress without breaking your winning streak.
RTP Value: Make Those Bananas Count!
So, you're in the jungle and need to make some money, fast? Look no further than Banana King! The game's RTP value may not be as high as some of the other slots out there, but we think the extra dose of monkey business more than makes up for it.
At 92.81%, the RTP value means that for every $100 you bet, you can expect to win back $92.81 over time. Not too shabby, right? Certainly, not as great as the smell of a fresh banana split, but still good enough to give you a shot at some serious payouts.
Remember, though – don't monkey around too much and make sure to stay in control of your budget. Bananas may be a great snack, but betting all your chips on a single spin can bring you down faster than a bunch of ripe bananas in the middle of the jungle.
All in all, we think that Banana King is a solid choice for a little bit of monkey business and a chance to cash in on some serious rewards. Get spinning, and let those bananas work their magic!
FAQ
How many reels does Banana King have?
Banana King has 5 reels.
What is the minimum bet for Banana King?
The minimum bet for Banana King is $0.01 per line.
What is the maximum bet for Banana King?
The maximum bet for Banana King is $2 per line.
What is the RTP value for Banana King?
The RTP value for Banana King is 92.81%.
What are the basic symbols in Banana King?
The basic symbols in Banana King are 10 and include 9 to Ace, cherries, bananas, a leaf crown, and a chimpanzee.
What is the Wild symbol in Banana King?
The Wild symbol in Banana King is the mango.
How many free spins can I get in Banana King?
You can get up to 60 free spins in Banana King by landing five Free Spins symbols.
What is the special function triggered by the chimpanzee symbol?
The chimpanzee symbol triggers a special function, where the grid disappears, and rows of bananas appear. You must click on some of the bananas and discover the corresponding prize. The game ends when the Collect message appears on the screen.
What we like
Flawless design with excellently crafted graphics
Selectable lines in steps up to 25 pay lines
Possibility to select between 5 and 1,000 automatic spins
Free Spins symbols can earn players up to 60 free spins
What we don't like
RTP is below average compared to other slot games
Not many special symbols