Auspicious Fortune God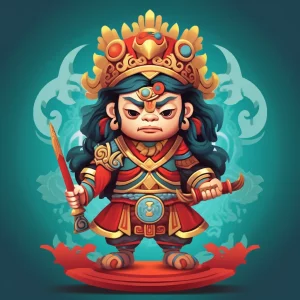 Are you ready to take a trip to ancient China? Well, look no further than Auspicious Fortune God, the Chinese-themed slot game that will take you on an adventure to unlock treasures and riches! This game features five reels, 20 paylines and many symbols that will transport you to another world.
Look out for the Fortune Deities and Money Trees, for they can help you unlock the hidden treasures in this slot game. And don't forget about the Ingots and Treasures; they are also important symbols for unlocking bonuses.
If you see a stack of gold treasures appear on reels two through four, that's the wild symbol. If it makes an appearance after the reels stop spinning, the entire reel will become wild and you'll get a respin of the other reels. And if another wild icon appears, you may get another respin, and so on and so forth, until there are no more wild symbols.
So gear up and get ready for a chance to find hidden treasures with the Auspicious Fortune God slot game. Who knows, maybe you'll unlock enough wealth to become a fortune deity yourself!
Customization options
Listen up, fellow slot enthusiasts! Are you tired of being stuck with the same ol' betting options on every slot game? Well, Auspicious Fortune God has got you covered with its customizations options.
Just click on that three-line menu button and then the gear tab, and voila! You now have the ability to adjust your betting amounts and choose from a variety of customization options. Want to speed things up a bit? Check out the Turbo tab! And for those indecisive players out there, you can even try the game in free demo mode before you spend any of your hard-earned cash.
It's like Auspicious Fortune God was designed specifically to cater to our every need. Who said the casino doesn't care about us?
Volatility Level
The volatility level of Auspicious Fortune God is medium, meaning that players can expect to receive payouts at a somewhat steady pace during gameplay. Much like the stock market, the game has its ups and downs, but in this case, the downs are typically followed by a few ups. Just like the saying goes: What goes down, must come up. Unless you're playing Flappy Bird, in which case you'll probably just keep going down.
Of course, it's important to note that no win is ever guaranteed, and a player's luck can change as quickly as the weather. That's why it's always a good idea to gamble responsibly and within your means. If you're not having fun, then take a break and come back later when the sun is shining (metaphorically, of course. We're talking about online slots here).
Speaking of sunshine, one way to brighten up your day is to set a reasonable budget for each gaming session. It's like setting a budget for a vacation, except you don't have to worry about packing sunscreen or accidentally getting a sunburn. Just make sure to stay within your limits and never chase losses. Unless you're trying to catch that one coin that just won't fall, in which case chasing may be necessary.
Betting Range
When it comes to Auspicious Fortune God, there are a lot of reasons to love it. But one of the biggest selling points is definitely the vast range of betting options. Whether you're looking to play it safe or roll the dice, this game has something for everyone.
But let's be real here, we all know that the high-rollers are the ones who really want to make it rain. They can rest easy knowing that this game has some seriously impressive maximum betting options. Of course, there are options for more conservative players as well, with smaller betting amounts that won't break the bank.
Now, we're not saying that you should go all in and risk your life savings here. But let's face it, there's nothing quite like the thrill of a big win. Plus, with all these great betting options, you can easily find a level that works for you.
So go ahead and place your bets, folks. The Auspicious Fortune God is waiting to see if you've got what it takes to strike it big!
Top tips for responsible gambling
Let's talk about the elephant in the room: responsible gambling. We know it's not the most glamorous topic, but it's crucial nonetheless. With Auspicious Fortune God, just like with any online slot game, it's important to gamble responsibly. Here are our top tips for staying in control while playing.
First things first, set yourself a budget and stick to it! It might be tempting to keep spinning the reels, but don't let the thrill of the game lead you to financial trouble.
Secondly, it's important to remember that gambling should always be a form of entertainment, not a way to make money. With the right approach, the slot machine can offer hours of fun and excitement. However, setting realistic expectations and not playing over your limits is key.
Thirdly, always make sure to take breaks and step away from the game if you feel like it's not fun anymore. After all, there is more to life than just spinning the reels of Auspicious Fortune God!
And last but not least, always read through the game rules and guidelines before placing your first bet. Don't be that player who just swings at the piñata, so to speak. It's important to understand how much you can win, what you can win, and the best ways to win.
So, remember: responsible gambling is the key to enjoying Auspicious Fortune God and any other online slot game safely. Let's keep it fun and always gamble responsibly!
FAQ
What are the main features of Auspicious Fortune God slot game?
The main features of the game are the expanding wilds and respins.
What is the theme of the Auspicious Fortune God slot game?
The game is inspired by Asian culture, specifically Chinese mythology and folklore.
How many paylines does Auspicious Fortune God have?
The game has 20 paylines.
Can I play Auspicious Fortune God for free?
Yes, you can play the game in free demo mode to test it out without spending money.
What are the customization options available in Auspicious Fortune God?
You can choose different bet amounts and access autospin settings through the three-line menu button and gear tab.
What is the wild symbol in Auspicious Fortune God?
The wild symbol is a stack of gold treasures that appears on reels two through four.
Does Auspicious Fortune God have a high volatility?
No, the game has medium volatility.
What should I keep in mind when playing Auspicious Fortune God?
We recommend playing responsibly by setting a budget, never chasing losses, and respecting your limits.
What we like
Chinese-themed with visually appealing symbols
Expanding wilds and respins for added excitement
Customization options for a personalized gaming experience
Wide range of betting options suitable for different types of players
What we don't like
No guarantees on wins, as with any online slot game
No mention of bonus features or progressive jackpot