Armadillo Goes West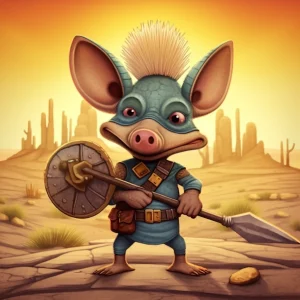 Oh boy, where do we even start with Armadillo Goes West? This game is jam-packed with more features than a toolbox at a construction site. You've got Random Wilds, Wild Reels, Colossal Reels, Random Multipliers, Instant Wins, Free Spins, Trail Bonus, and so much more! It's almost as if the game designers were trying to fit as many awesome features as possible into one game…and we're not complaining!
Personally, we love the Random Wilds feature. It's like a wild west version of whack-a-mole! When the armadillo randomly pops up on the screen and starts firing his pistols, you know you're in for a good time. And when he lands on a symbol, that symbol becomes a wild! Yeehaw!
But don't forget about the Trail Bonus, where you get to guide the armadillo through the desert to collect coins and multipliers. It's like a combination of an adventure game and a slot game. We just wish we could ride a real armadillo through the desert in real life…but we digress.
All in all, Armadillo Goes West truly has it all – it's like a smorgasbord of slot game features. Whether you're in the mood for some free spins or a chance at an instant win, this game will keep you entertained for hours on end.
Reels, Rows, And Paylines
Hold onto your cowboy hats, folks! Armadillo Goes West is one wild ride with 6 reels, 4 rows, and 25 paylines. It's like the slot game version of a wagon train headed straight for the jackpot. And trust me, you won't want to hop off this ride anytime soon.
What's great about this game is that it pays from left to right. So you won't have to wrangle those wins by rounding up symbols from all over the board. Nope, just focus on the left side and let those armadillo instincts take over.
With so many reels, rows, and paylines, it's easy to get caught up in the excitement of the game. Just remember, the real thrill comes from winning big. So load up your virtual revolver, keep your eyes on the prize, and let's see if we can't rustle up some serious winnings.
Minimum Bet and RTP
Are you ready for some real Rootin' Tootin' slot spinning action? Well, saddle up, partner! Armadillo Goes West is a game that will have you hootin' and hollerin' in no time. And what's more, it won't cost you an arm and a leg to play. In fact, you can join the fun for as little as $0.25 per spin. This means you can extend your playtime and have even more chances to hit that big win.
If you feel like a high-roller, well, you're in luck. You can also choose to set your bet at an impressive $100 per spin. And if you're feeling extra lucky, there's always the Golden Bet extra bet. With this option, you can bet up to a whopping $160 per spin! Giddy up!
The RTP, or return to player, is 94.35%. This means that on average, every $100 you wager, you can expect to get back $94.35. Not too shabby, partner. So what are you waiting for? Put on your cowboy boots and get ready for a wild ride with Armadillo Goes West!
Volatility
If you're looking for a slot game that is predictable and boring, then Armadillo Goes West is NOT the game for you! But if you're looking for a game that keeps you on the edge of your seat with medium volatility, then strap on your cowboy boots and get ready for a wild ride!
The game's unpredictability can be both thrilling and nerve-wracking. It's like watching a rodeo, you never know when the armadillo is going to buck you off! This is a game for the risk-takers and those who like a little excitement in their lives.
Just like the unpredictable weather in the Wild West, the volatility of Armadillo Goes West can be a bit of a rollercoaster. One minute you're hitting big wins, and the next, it's tumbleweeds and dust swirling around your bankroll. But don't worry, the game's RTP (return to player) rate is a solid 96%, so you'll have plenty of chances to win big and ride off into the sunset.
In the end, the volatility of Armadillo Goes West adds to the overall excitement and unpredictability of the game. It's not for the faint of heart, but for those who are willing to put on their cowboy hats and take some risks, this game is a must-play!
Graphics and Symbols
Get ready to saddle up because Armadillo Goes West has some graphics and symbols that will transport you to the Wild, Wild West! The game's mascot, an Armadillo dressed in cowboy gear, is ready to help you rustle up some big wins. The graphics are high-quality, and the gameplay is smooth, so you can enjoy the game without any lagging or glitches.
The game's symbols are aligned with the Western theme, featuring golden horseshoes, cowboy hats, boots, rattlesnakes, and premium whiskey bottles. You might even catch a glimpse of a beautiful cowgirl or a handsome cowboy if you get lucky. Although, let's be honest. You're really just in it for the big payouts, aren't you? Fear not – this game has plenty of those waiting for you.
Of course, there are also some standard symbols thrown into the mix. You'll see the classic card suits, including Hearts, Spades, Diamonds, and Clubs, which add to the overall Wild West vibe of the game. Plus, there are special symbols too, including Wilds, Bonus, and Free Spins. These symbols can help you stack up some serious cash and are sure to make gameplay even more exciting.
Random Features
If you are the type of player who loves surprises, "Armadillo Goes West" is your game! Before the previous spin's reels come to a stop, one of several random features can be activated, like an unexpected visit from a wild west rodeo clown. You never know what you might get, but trust us, it will keep you on your toes.
If you are lucky and land some spinning time, you might experience some random features such as Symbol Upgrade, Repeat Win, or Instant Win. However, we suggest you don't get too excited as these random features are not applicable to bonus slot symbols, wilds, or free spins.
So, get ready to experience the wild west like never before with the random (and, might we add, hilarious) features of "Armadillo Goes West"!
Bonus Features
Bonus features are the cherry on top of any online slot game, and Armadillo Goes West has two of them! Prepare to be amazed by the Trail Bonus and Free Spins.
The Trail Bonus is what we all signed up for when we started playing this game. Triggered by three or more scatter symbols, this game could potentially lead you to a jackpot of 2,000 times your bet or more! This bonus round is like a mini game within the game. The graphics are top-notch, and the anticipation of potentially winning big is exhilarating!
As if the Trail Bonus wasn't enough, Armadillo Goes West also offers free spins! These are activated by the same trigger as the Trail Bonus: three or more scatter symbols. During the three bonus rounds of free spins, you're guaranteed a random feature. That extra little bit of excitement and unpredictability makes this game even more fun to play.
Oh, and let's not forget about the Golden Bet function. This function increases your chances of activating random features during the base game. We highly recommend trying it out, even if it means betting a little extra.
For those of you who want to speed things up, there's also a Bonus Buy function. This function allows you to enter the Trail Bonus round right away, but it's going to cost you an extra 42 times your existing bet amount. But hey, you're not here just to save money, are you?
To sum it up, Armadillo Goes West knows how to keep things interesting, and its bonus features are a big part of that. Try it out today and enjoy the thrill of adventures in the Wild West, right from the comfort of your couch!
Armadillo Goes West is compatible with almost all devices!
Are you tired of online slot games that only work on one or two devices? Well, fear not my friends because Armadillo Goes West is here to save the day! This game is compatible with almost all devices, so whether you prefer playing on your computer, tablet, or smartphone, you can still enjoy this game without any issues!
No need to download any additional apps, just fire up your device, head to your favorite casino site and start playing!
Now, if only it could make my morning coffee or fold my laundry, it would be the most compatible thing on earth!
FAQ
Can I play Armadillo Goes West in demo mode?
Yes, the game has a demo version available which allows you to play for free and practice before playing with real money.
What special symbols can I find in Armadillo Goes West?
The game includes wilds, scatters and the Trail bonus symbol as its special icons.
What kinds of special features are included in Armadillo Goes West?
Armadillo Goes West features random wilds, wild reels, multipliers and random prizes, as well as a free spins feature and Trail bonus round.
Can I play Armadillo Goes West on my mobile device?
Yes, the game is compatible with mobile devices, including smartphones and tablets, and an additional app is not required to play.
How do I activate the Golden Bet feature in Armadillo Goes West?
To activate the Golden Bet feature in Armadillo Goes West, you will need to select the option and pay an extra ante bet equal to 60% of your existing bet amount.
What is the RTP of Armadillo Goes West?
The RTP of Armadillo Goes West is 94.35%, and the game has a medium level of volatility.
What is the maximum win available in Armadillo Goes West?
The game includes a maximum potential win of 4,000 times your bet, which is sure to appeal to many players.
Is there another Armadillo game available?
Yes, if you enjoy Armadillo Goes West, you may also want to try the 15 Armadillos online slot from the same studio, featuring a range of wild animals from the Everglades in Florida.
What we like
Numerous features including Random Wilds, Wild Reels, and Colossal Reels
High-definition graphics and well-crafted symbols
Random features and bonus features offer exciting gameplay
Compatible with mobile devices for on-the-go play
What we don't like
Medium volatility may not appeal to players seeking high-risk/high-reward gameplay
Bonus Buy feature requires an extra ante bet