Arcane Gems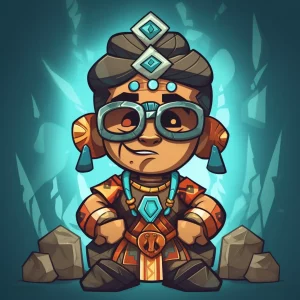 Arcane Gems is the latest addition to the exciting world of online slot games. With its unique features and amazing graphics, players are sure to have a memorable experience playing this game. One of the game's interesting features is the symbol locking feature, which adds an extra level of excitement to the game.
By using the symbol locking feature in Arcane Gems, players can stick to their initial wins. It is every player's dream to have as many chances as possible to maximize winnings. The re-spin button is available for players to try their luck and spin the remaining symbols on the reels until additional matching symbols appear.
Playing with the lock buttons means that the multipliers of locked symbols are added to maximize potential wins. This ups the ante for players to score big and enjoy wins that can go up to 25x! With these huge numbers at stake, players will surely feel like they are in a real-life casino, and the thrills will keep them coming back for more.
Arcane Gems' symbol locking feature is a game-changer, and players searching for the ultimate gaming experience will not be disappointed. It provides a more interactive gaming experience by giving players the power to control their wins like a boss, and that is more than enough reason for players to try this fantastic online slot game.
As the saying goes, 'fortune favors the bold.' So be bold and give Arcane Gems a try – you might just hit the jackpot and unlock all the treasures of the game.
Get Ready for High Rewards!
Looking for a game that's worth your while? Say hello to Arcane Gems, a casino slot game that will surely keep you on the edge of your seat. Don't be fooled by its seemingly challenging base level of play because this game has the potential for high rewards that will leave you feeling like a jackpot winner!
With the medium volatility reels, players can generate up to 5,625 times the stake of the game. That's right! You read that correctly! With each spin, you have the chance to win big bucks. Plus, with 25x multipliers possible through respins in the game, you never know what exciting surprises might be waiting for you around the corner. And if that wasn't enough, the base game contains a maximum of 14x, so the rewards just keep on coming.
So, if you're looking for a game that's both thrilling and rewarding, then Arcane Gems is the perfect game for you. Don't let its challenging base level scare you away because once you start playing, you'll quickly realize that the potential for winning big is well worth the effort.
Design and Effects
Arcane Gems – more like Arcane GEMS! Quickspin sure knows how to make a slot machine shine, and this one is no exception. With a 5×3 reel setup and medium volatility, you're sure to feel the excitement as the symbols spin around the screen. And the graphics? They're absolutely stunning! Quickspin has created an immersive experience with beautiful, colourful designs that will leave you spellbound.
But it's not just the visuals that are out of this world. The effects are captivating too! Each time a winning symbol is added, it illuminates blue light from below the box, like it's a gem that's about to burst out of its setting. And speaking of gems, these symbols are somehow pushed upward, making it feel like you have a real stack of valuable stones right in front of you.
In short, the design and effects of Arcane Gems are top-notch. It's a game that's both visually appealing and engaging, and one that will keep you coming back for more. So what are you waiting for? Jump in and start spinning those gems!
Experience the Thrill of Arcane Gems' Respin Feature
Want to keep the winning streak going on Arcane Gems? Look no further than the game's impressive respin feature. This unique feature locks in all the winning symbols while spinning the rest of the reels once again, giving you the chance to land even more matches and score big. It's like having your own personal slot-playing genie!
But that's not all – the respin feature also unlocks the potential for new symbols to fill the available spaces, increasing your chances of hitting the jackpot. So why settle for one win when you can keep the good times rolling?
What's more, if you're lucky enough to match specific symbols, you'll trigger the incredible Arcane Multiplier feature. Every time one of these symbols lights up the counter, you'll add a multiplier ranging from 2x to 5x, giving you the chance for truly astronomical payouts. It's like having a wizard on your side!
So the next time you're playing Arcane Gems, be sure to take advantage of this thrilling respin feature and work your way towards that mystical multiplier. Who knows – with a little luck and a lot of magic, you could be the next big winner!
Unleash the Volatility with a High RTP!
Arcane Gems is a game that packs a punch with its medium volatility and impressive RTP of 96.05%. You may win more than you ever anticipated, but be warned, this game dishes out high-risk entertainment like it's nobody's business. You may need to keep your eyes on the prize and not surrender to the marvels of the game's gem-combos to keep those rewards coming!
It's not all sunshine and rainbows though, as some players may be unnerved by the game's low contribution rate during the base game in comparison to other games. But hey, you know what they say – no risk, no reward! Besides, who needs a 9-5 job when you can play an online slot with potentially life-altering payouts?
Other slot games with gem themes may come and go, but Arcane Gems is here to stay. Despite the common usage of such a theme, Arcane Gems sets itself apart by ensuring the design quality is strong and reliable, not to mention fun to play! The graphics and sound effects may even give you some pleasant surprises with a mystical vibe, and who doesn't love good vibes with some high-stakes fun?
Paytable and Payouts
Are you looking for a slot game that's full of sparkles and gems? Look no further than Arcane Gems! This shiny game features nine paylines, and winning has never been easier. In fact, winning symbols don't even have to start from the far left or right. All you need to do is land three, four, or five matching symbols to start raking in the jewels.
And, oh boy, the precious jewels are where the real money is at. Forget those low-paying symbols made out of gemstone card suits. Go for the blue gem symbol instead, and you might just hit the jackpot. You're welcome for that pro tip.
Now, you might be wondering: where the heck is the wild symbol? Don't worry, Arcane Gems has got you covered. Instead of a wild symbol, this game features a unique respin feature that will make you feel like a high roller. The respin feature balances out the game, and it's honestly super fun to play. So, what are you waiting for? Give Arcane Gems a spin today!
Payout System
If you're looking for a slot game that won't break the bank, Arcane Gems has got your back! With bets ranging from $0.10 to $50.00 per spin, you can keep the reels spinning without emptying your pockets. And if luck is on your side, you can win big!
The payout system in Arcane Gems is top-notch. Players can win with matching symbols on adjacent reels, which adds some excitement to the game. The game is well-balanced, so you won't get bored after just a few spins. In fact, you might find yourself playing for hours on end without even realizing it!
Overall, Arcane Gems is a great choice for anyone who wants to try their luck at a fun and engaging slot game. Who knows, you might end up with a treasure trove of winnings! Just don't forget to take a break and stretch your legs every once in a while. No one wants to end up like a gnome, hunched over a computer screen all day long.
FAQ
What is Arcane Gems?
Arcane Gems is an online slot game developed by Quickspin. It has a gemstone-based theme where players can enjoy 25x wins with multipliers added to the locked symbols.
Is Arcane Gems a high-risk game?
Yes, Arcane Gems is a high-risk slot game that offers greater rewards than expected. It has a medium volatility that can generate wins up to 5,625 times the stake of the game.
What is the RTP of Arcane Gems?
The RTP of Arcane Gems is a good figure at 96.05%, but the base game contribution is very low.
What is the gameplay of Arcane Gems?
The gameplay of Arcane Gems is similar to that of previous releases by Quickspin. It has multiple bets starting from as low as $0.10 to a maximum of $50.00 per spin.
What are the symbols in Arcane Gems?
Arcane Gems has high-paying symbols of various precious gems, while the low-paying symbols are the gemstone-made card suits. The blue gem symbol is the most sought after as it pays 25x for five matching symbols.
Does Arcane Gems have a wild symbol?
No, Arcane Gems does not have a wild symbol on its paytable. This is to balance the game with its respin feature that keeps the good symbols locked.
What are the extra features in Arcane Gems?
Arcane Gems has a unique payout system where winning results do not have to start from the leftmost or rightmost reel. The game keeps the good symbols locked with the rest going for a re-spin. The blue meter atop every reel represents the multiplier counters that add a number between 2x and 5x with any new matching symbol.
What similar slot machines are there to Arcane Gems?
Players who enjoyed Arcane Gems should try Gem Zone Slot by Leander Group, which offers up to 3125 ways to pay with payouts on consecutive reels and Dynamic Modes.
What we like
Symbol Locking Feature
High Rewards
Design and Effects
Respin Feature
What we don't like
Volatility and RTP
Paytable and Payouts