Arabian Dream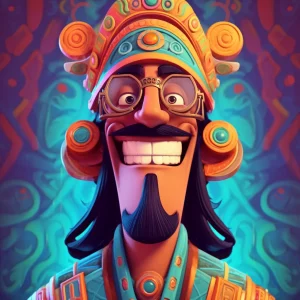 Let's take a quick journey into Arabian Nights with Arabian Dream slot game. The game's design is on point! It takes us on a tour of a typical old Arabian town situated right in the desert where the sky is filled with millions of stars making it a truly magical experience. The colorful graphics of camels, flying carpets, and symbols taken straight from ancient Arabian tales will keep players' eyes indulged in the game for hours.
Arabian Dream perfectly blends the magical world of Aladdin and Arabian Nights. It's a perfect dynamic between colors, graphics, and sound, and the tranquil music played throughout the game will take you somewhere between the Arabian night skies. Even if you don't hit the jackpot, you will still feel yourself drifting away in a cloud of dreamy pleasure!
The game's animations and interactive objects are what make it a standout online slot game. The precious gems, camels, and of course, the flying carpets, are fantastic, to say the least. You won't get bored with the game, as the animations keep surprising you at every turn and detour. The slot also features a bonus symbol recognizable by the word "Bonus," decorated in the style of typical Oriental art. And the magic lamp serves as the Wild symbol.
Overall, Arabian Dream is a beautiful and addictive online slot game. The graphics and sound transport you straight to the Arabian Nights, and the gameplay keeps you on the edge of your seat! Don't be surprised if you find yourself feeling like a prince or princess while playing this game. The game's design experts did an excellent job with this one, and the high-quality graphics and whimsical animations make it an experience that everyone should try at least once!
Unleash Your Fantasies with Arabian Dream's Gameplay
Are you ready to go on a magic carpet ride and fulfill your dreams? Then say 'Alohomora' and give Arabian Dream's reels a spin! This exciting slot game offers traditional gameplay with a bonus mode that elevates it above the basic experience.
Featuring a classic slot machine gameplay, Arabian Dream brings you straight into One Thousand and One Nights. It's the perfect choice for players looking to be whisked away to a world of magic and wonder.
But what truly sets Arabian Dream apart is its bonus mode. Triggered by finding three or more bonus symbols in a single play, the magic lamp feature brings a new level of excitement to the game. You'll be taken to a treasure-laden room where 20 magic lamps await you. Choose wisely, as every lamp could contain more bonuses than the last. Find three of the same color to receive free spins and a glorious multiplier that will make all your wildest dreams come true!
With stunning graphics and the opportunity to win big, Arabian Dream is a slot game that you don't want to miss. So, grab your turban and embark on a winning journey that's fit for a king and queen!
Bonus Features: Fulfilled by the Magic Lamp Function
If you're looking for a slot game that features exciting bonus rounds, then the Arabian Dream slot game is one you should definitely check out. The game's bonus features are filled with magic and excitement, especially with its unique magic lamp function which is the most interesting among all the other features. It offers players the chance to win up to 30 free spins with a 3x multiplier, and if you're lucky enough to hit new combinations with bonus symbols, you could get even more free spins.
When you trigger the magic lamp function by finding three or more bonus symbols in a single play, 20 magic lamps will appear on the screen. It's like being transported to a whole new world of fun and excitement! As you select the magic lamps, you must find three of the same color in order to receive a different number of free spins accompanied by a multiplier. It's like playing a mini-game within the game, and it's so much fun!
And let's be honest – who doesn't love a good bonus round? If you're going to be spending your hard-earned cash on an online slot game, then you want to know that it has great bonus features to keep you entertained and make your bankroll go a little further. With Arabian Dream's magic lamp function, you'll certainly get that. The opportunity to potentially win big with the game's free spins and multipliers is something that should definitely not be ignored.
Overall, if you're looking for a magical, exciting slot game with the potential for great bonus features, then Arabian Dream should be on your list of games to play. Don't miss out on the chance to rub the magic lamp and see what treasures it can offer you!
Arabian Dream Sound Design: Unexceptionally Hypnotic and Surreal
When it comes to online slot games, the sound design can often be overlooked. However, this is not the case with the Arabian Dream slot game. The sound design is exceptional and contributes perfectly to immerse the player in this magical and surreal atmosphere.
The background music is perfect, evocative, and hypnotic. It's almost enough to make you forget about the thought of hitting the jackpot and just relax in this dreamy world. When you do hit the jackpot, the sound effects are similar to the gentle clinking of coins. These accompany the music gracefully, making the entire experience seem effortless.
It's almost as if the game designers knew that the players would get lost in the world of Arabian Dream and thus delivered a sound design that would complement the gameplay while keeping the players entertained.
Overall, the sound design of Arabian Dream is one of the many elements that make this game a standout choice for players who want to experience a truly captivating and immersive online slot game.
Return to Player: An Interesting Experience Worth Trying
Are you ready to step into the world of Arabian Dream? This online slot game comes with a low volatility and a return to player (RTP) rate of 96%. That means you're in for an interesting experience that's definitely worth trying, even if it's just for a few rounds.
But it's not just the RTP that makes Arabian Dream stand out. It's also got a unique selection of bonus functions that will keep players coming back for more. Whether you're a fan of traditional slots or looking for something more unique, Arabian Dream is sure to satisfy your needs.
And if you're looking for other similar slots to try your luck at, we recommend Arabian Nights and Genie's Palace. Who knows? You might just find your next favorite game and end up with riches beyond your wildest dreams.
Overall, Arabian Dream is a great game for both newbies and seasoned players. With its interesting features and solid RTP, we don't think you'll be disappointed.
So what are you waiting for? Give Arabian Dream a spin today and see if you can strike it lucky. And remember, if all else fails, just rub the lamp and make a wish! (Disclaimer: rubbing your computer screen may not result in genie or riches, please don't try it at home)
FAQ
What is Arabian Dream?
Arabian Dream is an online slot game created by Zeusplay that takes players on a journey to the world of the Orient through a beautifully designed and detailed game grid with 5 reels, 3 rows and classic gameplay.
What is the theme of Arabian Dream?
The theme of Arabian Dream is the magic and allure of the Orient with a royal palace, precious gems, the Sultan, the Princess, flying carpets, camels, and of course, the magic lamp.
What is the visual design of Arabian Dream like?
The visuals of Arabian Dream are impressively detailed with a classic 5×3 grid, perfectly in line with the art and architecture of the Orient, and a starry sky as a backdrop. The sound design is exceptional with perfect music and sound effects.
What is the basic gameplay of Arabian Dream like?
The basic gameplay of Arabian Dream is that of a classic slot machine providing a relaxing and hypnotic experience due to the design and music. It is perfect for players who want a simple yet intriguing game.
What is the magic lamp bonus function in Arabian Dream?
The magic lamp bonus function in Arabian Dream activates when players find three or more bonus symbols in a single play. Once activated, the player selects 20 magic lamps on the grid and must find three of the same color. Depending on the winning color, the player will receive a different number of free spins, accompanied by a multiplier for a maximum of 30 free spins and a 3x multiplier. These free spins will increase in case of new combinations with bonus symbols.
What is the RTP of Arabian Dream?
The RTP of Arabian Dream is 96% which is perfectly in the middle range.
What is the volatility level of Arabian Dream?
The Arabian Dream slot has a low volatility level.
What are some similar slots to Arabian Dream?
Similar slots to Arabian Dream include Arabian Nights and Genie's Palace.
What we like
Exceptional artistic design and attention to detail
Perfectly matched bonus mode with the rest of the slot
Magic lamp function is the most interesting of all bonus features
Exceptionally hypnotic and surreal sound design
What we don't like
Basic gameplay may not be appealing to players seeking more advanced features
Lack of diversity in symbols