Amun's Book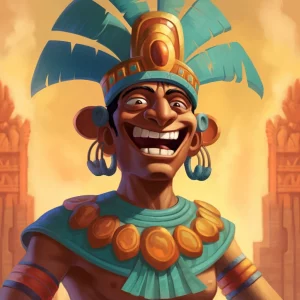 Prepare to be transported to ancient Egypt with Amun's Book! If you're a fan of pyramids, pharaohs, and sphinxes, then this slot machine game is definitely for you. The overall design is so visually stunning that you'll feel as though you're exploring an ancient tomb rather than sitting in front of your computer screen. From the intricate hieroglyphic symbols to the stunning background, it's clear that a lot of time and effort went into creating this slot game.
But let's talk about the real stars of the show: the Egyptian-themed symbols. Not only are they visually striking with their bold colors and intricate designs, but they also help to create an immersive gameplay experience. The Wild symbol, the book of Amun, is particularly impressive. Not only does it substitute for any other symbol to create winning paylines, but it also triggers the Free Spins Bonus round – more of those, please!
Of course, no Egyptian-themed slot game would be complete without a heroic explorer to guide us through our quest for treasure. While the explorer is present on the grid, he doesn't play as big of a role as he does in other similar slots. Unlike in Indiana Jones, for example, our hero doesn't have a whip at the ready or a witty one-liner in his back pocket. That being said, we still can't help but root for him to land on a winning payline – after all, he's still doing all the hard work, right?
Gameplay Mechanics
Are you one of those players that prefer the good-old and easy-to-understand gameplay mechanics? Well, Amun's Book might be your answer, as it implements the classic style of many other slots. While some might say this makes the game too predictable and boring, we prefer to think of it as a sign that Zeusplay knows what they're doing.
One thing that sets Amun's Book apart from other classic slots is its free spins feature. If you manage to find three or more scatters, the mystical book of Amun will reveal a random symbol. And here is where the fun begins – during the next 10 free spins, that symbol will lock in every position, potentially creating massive payouts for lucky players.
But don't take our word for it – try it yourself and see if you're lucky enough to trigger this lucrative bonus round. And of course, we can't forget to mention the game's whopping 97% RTP – it's almost too good to be true!
Bonus Features
Let's talk about the only good thing about Amun's Book – the bonus feature! We all love free stuff especially when it comes to free spins! The slot gods will look over you if you manage to land 3 or more scatters, and trigger the bonus feature. While we can't guarantee that you will win big, but we can guarantee that you will at least enjoy the extra game time that the bonus feature offers!
The highlight of this bonus round is the book of Amun, which will reveal a random symbol. Hold on to your seat because the next 10 free spins will see that lucky symbol win in every position! Is it just me or does it feel like the universe is conspiring to make you rich? Now, if only my life can also have a book of Amun to reveal my lucky symbols, I'll be a millionaire by now!
Is Amun's Book Worth Your Spin? Jackpot Potential Considered
When it comes to online casino slot games, players are often on the hunt for the biggest and most lucrative jackpots out there. Unfortunately, Amun's Book isn't exactly a title that's going to blow your socks off with its jackpot potential. There's no progressive jackpot available, nor are there any huge payouts to speak of. However, there are still plenty of reasons why this game might be worth your spin.
First and foremost, Amun's Book boasts an attractive RTP of 97%. For those unfamiliar with the term, RTP stands for 'Return to Player' and it refers to the percentage of money wagered on a slot machine that will be paid back to players over time. A higher RTP means a better chance of winning, so this is definitely a point in favor of the game.
But let's be real, we're all here for those big wins – and while they might not be as big as we'd like, they're definitely still there. Plus, with the added benefit of free spins and a bonus round, Amun's Book truly gives players the chance to win big. And who knows? Maybe that huge payout is just waiting for you, hiding in the pages of Amun's Book.
At the end of the day, if you're looking for a game that's going to offer you the biggest jackpots around, you might want to keep searching. But if you're okay with less impressive payouts and are just in search of a fun and accessible slot game, Amun's Book is definitely a title that's worth considering. With its sleek graphics, fun and unique theme, and entertaining gameplay, it's sure to keep you entertained – and maybe even put a little extra cash in your pocket. So why not give it a spin?
Overall Impression
Amun's Book by Zeusplay takes you on a journey to ancient Egypt. The game's graphics are aces, immersing you in a world as vast and endless as the Sahara desert. Be warned, however: you may just find yourself stuck in an oasis of banality when it comes to the gameplay.
Don't get us wrong, the slot game is enjoyable, but it's not something that'll razzle-dazzle you with a plethora of bonus features. The allure instead lies in the game's exceptional RTP of 97%. And hey, if you happen to win big, perhaps you'll start believing in the power of ancient Egyptian gods and goddesses!
FAQ
What is the theme of Amun's Book?
The theme of Amun's Book is ancient Egypt.
What is the art design of the game?
The art design of the game features a nighttime scene among the ruins of a temple or pyramid.
What symbols are present on the grid?
The symbols present on the grid are playing card letters in Egyptian style, scarabs, idols, pharaoh masks, an explorer, and the Wild symbol which is the book of Amun.
What is the free spins feature in Amun's Book?
By finding 3 or more scatters, the book of Amun will open revealing a random symbol. In the next 10 free spins, that symbol will win in every position.
What is the RTP of Amun's Book?
The RTP of Amun's Book is 97%.
Is Amun's Book a complex game?
No, the gameplay of Amun's Book is extremely simple.
What are some other slots similar to Amun's Book?
Other slots similar to Amun's Book are The Explorer's Quest and Egyptian Experience, both by Zeusplay.
What impact does the explorer symbol have in Amun's Book?
The explorer symbol in Amun's Book doesn't have much impact as it doesn't appear as a protagonist.
What we like
Noteworthy design with an immersive ancient Egypt theme
Interesting free spins feature
Excellent RTP of 97%
Attractive nighttime sky and background setting
What we don't like
Risk of gameplay sinking into banality
Lack of additional bonus features