Amazonia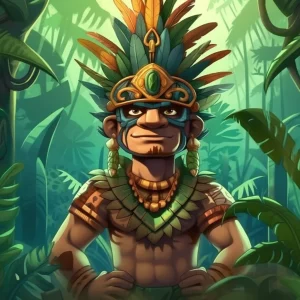 Amazonia by Merkur is a classic 5×3 slot with 15 paylines that takes place in the heart of the Amazon Rainforest. If you are looking for adventure and thrills, then this slot is perfect for you.
With its attractive interface, Amazonia is visually stunning and very interactive. The game offers players numerous opportunities to win big through its various symbols, including the Wild symbol, which is represented by an indigenous woman. Watch her carefully as she may lead you to the jackpot!
In addition to the Wild symbol, Amazonia has two Scatters that provide additional winning possibilities. The ancient temple and the waterfall not only add visual appeal to the game, but also give players exciting mini-games that can enhance gameplay.
If you enjoy online slots with great graphics and entertaining gameplay, then Amazonia is a great choice for you. So, saddle up and get ready to explore the wilds of the Amazon Rainforest with this incredible online slot game!
And if you're not convinced yet, keep in mind that monkeys are known to be big fans of this game! You might catch one swinging by just to have a peek at the action. Just make sure they don't throw any banana peels your way while you're spinning those reels!
Exploring the Exciting Features and Symbols of Amazonia
Are you looking for a slot game that offers unique symbols and exciting features? Look no further than Amazonia!
This game has a great selection of symbols from the Amazon rainforest, including the tree frog, chameleon, and macaw parrot. These characters aren't just cute; they also have the potential to earn you big payouts!
The black jaguar is another symbol to keep an eye out for, as it unlocks free spins and multiplies your winnings. It's like having your very own jungle cat on the prowl for big jackpots.
And it wouldn't be a slot game without mini-games, right? Amazonia doesn't disappoint in this regard, offering players two options: the fortune card or the fortune ladder. Who knew climbing ladders or flipping cards could be so lucrative?
So, if you're ready for a wild ride through the Amazon rainforest (without having to deal with any actual bugs or humidity), give Amazonia a spin. You might just discover a hidden treasure trove!
Gameplay and Winning Possibilities
Are you ready to explore the wild, untamed mysteries of the Amazon jungle? Look no further than Amazonia, where the gameplay is as varied and unpredictable as the wildlife itself!
While the graphics may not be the most eye-catching, don't be fooled – this slot game offers numerous opportunities for victory! With multiple winning combinations and mini-games, players are sure to stay engaged and entertained throughout their gaming experience. Plus, if you're lucky, you could unlock one of the game's free rounds of spins, giving you even more chances to hit the big time.
Who knew the jungle could be so lucrative?
Similar Slot Games
If you're a fan of Amazonia, then you're in luck! There are several other fantastic slot games out there that share a similar Amazonian theme and provide equally thrilling gameplay. Some of these include Amazon Adventure, Amazon Wild, Amazing Amazonia, and Amazon Queen. It's like having a whole virtual jungle of options to choose from!
Each of these games offers their own unique spin on the Amazonian theme. In Amazon Adventure, you'll navigate treacherous terrain and dangerous creatures to uncover hidden treasures. Amazon Wild immerses you in the beauty of the Amazon with stunning graphics and soaring sound effects.
Meanwhile, Amazing Amazonia gives you a tour of the rainforest and its wildlife through an immersive, 3D world. And in Amazon Queen, you'll team up with the queen herself on a quest for riches. Who wouldn't want to join forces with a powerful Amazonian queen? She's bound to lead you to victory!
So, while Amazonia may be your first love, there are plenty of other Amazonian themed slot games out there to explore. Who knows, you might just find a new favorite. Or, you might just end up wandering around in the jungle, lost and confused, because you can't decide which game to play next. Don't worry, it happens to the best of us.
Graphics and Design
Did Amazonia forget to update its design since the 90s? While the game is set in the beautiful Amazon Rainforest, the graphics and overall design seem a bit outdated compared to newer slot games. The 3D models of the animal symbols can be a bit clunky and mechanical, making it hard to fully get lost in the game. However, there are some simple sound effects that can make the experience a bit more enjoyable. Just don't expect to be blown away by the design of this game.
I mean, at least the sound effects are there to help keep you awake, right? It's like whoever designed Amazonia thought, 'Eh, good enough. Let's just add some sound effects and call it a day.' Don't get us wrong, we still enjoyed playing the game, but it's not the most visually stunning slot game out there.
FAQ
How many paylines does Amazonia have?
Amazonia has 15 paylines.
What kind of symbols are there in Amazonia?
Amazonia has playing card symbols (A, K, Q, J), and symbols representing Amazonian animals such as the tree frog, chameleon, black jaguar, and macaw parrot.
What is the Wild symbol in Amazonia?
The Wild symbol is represented by an indigenous woman.
What is the Scatter symbol in Amazonia?
The Scatter symbols are an ancient temple and a waterfall.
What happens when you get three temples or two waterfalls in Amazonia?
The Scatter symbols will activate the Mystery win, which can be either accepted, ending the game, or rejected to try your luck again.
What are the mini-games in Amazonia?
Players can choose between the fortune card or the fortune ladder. The first mini-game consists of predicting the colour of the next card, while the fortune ladder is a climb to higher winnings.
What is the maximum amount of free spins you can get in Amazonia?
The maximum amount of free spins you can get in Amazonia is 6.
What are some similar slots to Amazonia?
Similar slots to Amazonia include: Amazon Adventure, Amazon Wild, Amazing Amazonia, and Amazon Queen.
What we like
Classic 5×3 slot with 15 paylines
Exciting mini-games
Opportunity to win big with Wild and Scatter symbols
Free spins and multiplied winnings
What we don't like
Graphics and design appear dated
Clumsy and mechanical 3D models for animal symbols