Alpha Eagle Stack N Sync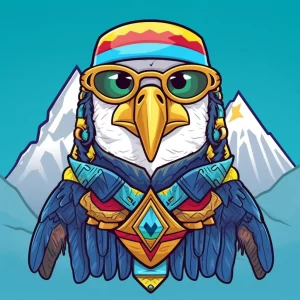 The Alpha Eagle Stack N Sync slot is a truly captivating game with a beautiful snowy mountain background that instantly transports you to a winter wonderland. The transparent game grid is a fantastic touch that allows you to become completely immersed in the game, and the game's graphics are simply stunning. The creators have outdone themselves with the design of the icons, which are carved in stone and have a real 3D effect. It's like you could reach out and touch them!
With cool colors and a winter theme, everything about this slot screams majesty and elegance. The attention to detail in the artwork and design is top-notch and demonstrates the amount of care that was put into creating the game. The music that accompanies the gameplay is a funky keyboard tune that perfectly complements the vibe of the game. It's like being transported back to the 80s, but with a modern and fresh feel.
I mean, this game is about a majestic eagle. And when you design a game about something as noble as an eagle, you've got to make sure it looks good, right? And they absolutely nailed it! I think even the eagle himself would be impressed with the level of detail in this slot game's design.
Paylines and Volatility
If you're a fan of high-stakes slot games, Alpha Eagle Stack N Sync is the perfect fit for you. This game features a 5-reel, 4-row layout, with 20 fixed paylines to help you stack up some big wins. And let's face it, who doesn't love winning big?
The game's betting range is quite comfortable, allowing you to make wagers as little as $0.10, all the way up to as much as $100. Now, that's what we call the best of both worlds. Whether you're a conservative player or a high-roller, there's a betting option available for everyone.
But it's the game's high volatility rate that really sets it apart from the rest of the pack. With every spin, comes a new opportunity to hit that big win. And honestly, there's just something about taking a risk and coming out on top that feels amazing. Plus, with an impressive RTP percentage of 96.26%, players have an excellent chance of earning some serious money.
Bonus Symbol System
Alright, let's talk bonus symbols. This game has not one, not two, but five! That's like having a burger with five patties… and it's delicious. One of those symbols is the Wild, and let me tell you, it's wilder than a pack of hyenas on a sugar high. It can substitute for any symbol except the bonus ones. It's like being the popular kid in school who can get away with anything.
Now, let's get to the juicy bits. The nest with the S'N'S writing is key. When it appears on the reel, it transforms everything and everyone (well, every symbol) on that reel into a random symbol with a Respin. It's like a karaoke party where everyone gets to sing their favorite song. And it's way more fun than karaoke, trust me.
The Scatter symbols can stack, which is like stacking pancakes, but instead of your stomach being satisfied, your wallet gets bigger. There are two Scatters: the FS symbol that triggers Free Spins and the talons that activate a special game. This game features all eagle and golden eagle symbols and lasts for three respins. It's like an Olympic race, but instead of running, you're winning money.
And if you're feeling impatient, you can always use the Bonus Buy button to purchase these features. It's like buying a shortcut in a video game. Sure, it may cost you more, but it saves you time and, in this case, it saves you from getting a cramp in your clicking finger.
All in all, the bonus symbol system in Alpha Eagle Stack N Sync is a wild, fun ride. Buckle up and get ready for a journey to big wins!
Special Features
If you thought Alpha Eagle Stack N Sync was just about spinning reels and hoping for the best, think again. This game is packed with special features that will keep you on the edge of your seat (or your couch, or wherever you like to do your slot-playing). One of the standout features is the golden version of the S'N'S symbol, which has the power to stack all the grid reels with Wild or Scatter symbols and even activate a multiplier of up to 100x. That's right, we said 100x. You'd need to be as bold and daring as the titular Alpha Eagle to take full advantage of that multiplier.
The Wild symbol is the highest paying symbol in the game, so keep your eagle eyes peeled for it. If you're lucky enough to land five of them on the reels, you'll be rewarded with as much as the eagle head itself. And don't forget about the Scatter symbol, which can also stack during the game. With all these special features, it's no wonder Alpha Eagle Stack N Sync is quickly becoming one of the most popular slot games online. Give it a spin and see for yourself.
Overall Experience and Recommendation
Are you ready to soar high with the Alpha Eagle Stack N Sync slot game? This winter-themed game is perfect for players who love stunning graphics and a unique gaming experience. With its compelling theme and excellent features, there's never a dull moment with Alpha Eagle Stack N Sync.
The game's bonus system, special features, Free Spins, Respins, and scatters are just some of the highlights that make it stand out from other slot games. With a high volatility rate and an impressive RTP of 96.26%, this game is perfect for players who want to add some excitement to their gaming sessions. And with various betting options available, it caters to players of all levels.
But don't let the seriousness fool you, this game also has a playful side! In fact, I couldn't help but chuckle when I saw the quirky eagles with their winter accessories. The graphics and animations truly add to the overall experience, making it a joy to play.
All in all, Alpha Eagle Stack N Sync is a highly recommended game for slot enthusiasts who want something new and exciting. So, what are you waiting for? Grab your winter coat, put on your headphones, and get ready to stack and sync those eagles!
FAQ
What is the RTP of Alpha Eagle Stack N Sync?
The theoretical return to player rate is 96.26%.
How many paylines does the game have?
There are 20 fixed paylines.
What is the minimum and maximum bet amount?
The minimum bet amount is $0.10, and the maximum bet amount is $100.
What are the special symbols in the game?
The special symbols in Alpha Eagle Stack N Sync include Wild, two versions of S'N'S symbol, and two versions of Scatter symbol – FS and eagle talons.
What do stacked special symbols do?
Stacked Wilds can pay up to 5 of a kind, and stacked Scatters increase the multiplier on all wins during the feature.
What happens during the free spins feature?
During the free spins feature, the number of free spins is determined by the number of FS symbols landed. All wins during the feature are multiplied by a value determined by the number of golden S'N'S symbols landed.
Is there an autoplay feature in the game?
Yes, Alpha Eagle Stack N Sync has an autoplay feature, allowing players to set the number of spins they want to play automatically.
Can I purchase the bonus features in the game?
Yes, there is a bonus buy feature that allows players to purchase the special features, including free spins, respins, and multipliers.
What we like
Stunning graphics and immersive snowy mountain background
Beautifully designed symbols with a cool winter theme
Exciting bonus symbol system with various special features
High volatility rate and excellent RTP percentage
What we don't like
Limited number of bonus symbols
Bonus features can only be purchased with the Bonus Buy button