50 Lions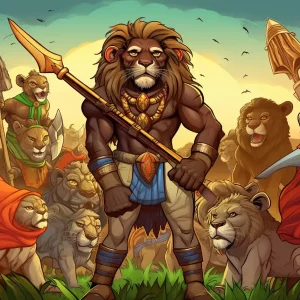 Looking for a roaring good time? Look no further than 50 Lions, the online slot game that brings the African savannah to your screen. Produced by Aristocrat, this game features 50 pay lines spread across 5 reels, with stunning symbols that showcase the beauty of African wildlife and culture, including lions, zebras, giraffes, and acacia trees.
But don't just take our word for it – the graphics in this game are top-notch, offering an immersive and visually stunning experience that will have you feeling like you're right there on the savannah. Plus, the gameplay is up-to-date and highly functional, making this a game that's not only beautiful, but also easy to play and enjoy.
So what are you waiting for? Give 50 Lions a spin and see for yourself why this game is king of the jungle when it comes to online slot gaming. And if you happen to hit the jackpot? Well, let's just say you'll be roaring with excitement in no time.
50 Lions: How to Roar with a Big Win
If you're ready to become the King of the Jungle, then 50 Lions could be the slot game for you. With 50 pay lines to play, there are more chances to win than ever before. But how do you ensure the payouts come rolling in?
Well, the first thing to note is that you need to align three or more identical symbols to win. The lion symbol is the most valuable and can help you earn real cash, so keep your eyes peeled for it! If you manage to get the diamond symbol (or Wild), this can replace any other symbol, leading to some fantastic combinations.
The Protea flower, represented in the game as the Scatter, is your ticket to free spin mode. If you land three of these beauties anywhere on reels 1 to 3, then you'll activate 10 free spins. After all, everyone enjoys getting something for free.
If you're feeling extra lucky, the Gamble mode gives you an additional chance to increase your winnings. Could you take the risk and increase the intensity even further?
Just don't forget to keep your cool when playing, as the jungle can be a wild place. But with enough courage and a bit of determination, you could walk away with some serious cash in your pocket, and maybe even an interesting story to tell (in which case, we want to hear it!)
Bonus Mode and Features: Your Chance for a Wild Adventure!
Are you ready to kick things up a notch with the 50 Lions slot game? Then get ready to activate the one and only bonus mode! All it takes is three Scatter symbols on reels 1, 2, and 3, and you'll be awarded 10 free spins to use. You can even reactivate this mode up to 5 times. That's right, we said five! So, don't hang up your coat just yet!
During each free spin, an extra Wild Diamond symbol appears on reels 2, 3, 4, and 5. Meaning, more possible winning combinations. So, fasten your seatbelts, folks. We're about to go on a wild ride!
If you're feeling extra lucky, you can even take a chance with the Gamble function. Go ahead and multiply your winnings by guessing the color or suit of a covered card. But let's be honest, that's a bit like trying to herd lions. So, maybe stick to the free spins. Those extra Wilds can really pour on the cash!
Aristocrat's Extensive Industry Experience
Aristocrat has been around in the entertainment and gambling industry since 1953. That means they've been creating games longer than your grandparents have been alive. While most of us were still just a twinkle in our dad's eye, Aristocrat was already crafting slot games. With a history that long, they've amassed a wealth of knowledge and experience that they have poured into creating some of the best games on the market.
Their longevity has proven their reliability, giving casino players a reason to trust them. When you see their name on a slot game, you can be confident that it will provide you with top-notch entertainment that you won't soon forget. Simply put, Aristocrat has stood the test of time, and the 50 Lions slot is living proof of their mastery of the industry.
Similar Games to 50 Lions
So, you've played 50 Lions to your heart's content and now you're hungry for more? Fear not, my friend, because Aristocrat Technologies has got your back! They've produced other slots that are similar to 50 Lions. Two of them are 50 Dragons and Miss Kitty.
50 Dragons is a close relative of 50 Lions. It offers the same 50 pay lines divided over 5 reels with 4 symbols each. It also has the coveted free spin mode and the Gamble feature. To top it off, 50 Dragons is reactivatable up to five consecutive times with free spins. That's enough spins to make you feel like you're sitting in the middle of a dragon's hoard!
Now, if you're a cat person, Miss Kitty might be more up your alley. This game also features 50 pay lines, 5 reels, and 4 symbols. And, of course, it has the free spin mode and Gamble feature. Like its lion and dragon counterparts, Miss Kitty is reactivatable with up to five consecutive free spin rounds. Imagine being surrounded by dozens of cute little felines and not having to clean up after them! Bliss.
FAQ
What is the theme of 50 Lions slot machine?
The theme of 50 Lions is the savannah and its inhabitants, with symbols representing animals, people, and landscapes from Africa.
What is the Wild symbol and where does it appear?
The Wild symbol is represented by a Diamond and appears exclusively on reels 2, 3, 4, and 5 of the slot machine, replacing other symbols except the Scatter to complete winning combinations.
What is the Scatter symbol and what does it do?
The Scatter symbol is represented by a Protea flower and appears only on reels 1, 2, and 3. Getting 3 of these symbols in any position activates the free spin mode, granting 10 bonus spins that can be reactivated up to five times.
Is there a Gamble function in 50 Lions?
Yes, 50 Lions has a Gamble function that allows players to try and multiply their winnings by guessing the color or suit of a covered card.
How many active pay lines can be played in 50 Lions?
Up to 50 active pay lines can be played in 50 Lions, divided over 5 reels with 4 symbols each.
What is the most lucrative symbol in 50 Lions?
The most lucrative symbol in 50 Lions is the Lion, which also gives the slot its name.
Are there any similar slots to 50 Lions?
Yes, other Aristocrat Technologies slot machines with a similar standard of play are 50 Dragons and Miss Kitty. Both have 50 pay lines divided over 5 reels with 4 symbols each, offer free spins as a bonus, and feature the Gamble function.
Is 50 Lions a graphically up-to-date slot machine?
While the weight of its age is evident, 50 Lions can still be considered a graphically up-to-date, functional, and high-quality slot machine.
What we like
50 pay lines offering multiple chances to win
High-quality graphics and music
Free spins with extra Wild Diamond symbol
Gamble function can multiply winnings
What we don't like
Can be difficult to trigger the bonus mode