50 Dragons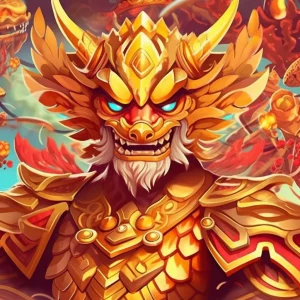 If you're tired of playing slots that look like they've been designed by an amateur, then 50 Dragons is the game for you! The graphics and design elements in this game are simply breathtaking. With its stunning visuals and rich colors, it's almost like you've been transported to ancient Asia yourself. You can practically smell the incense and hear the faint sound of a Chinese zither in the background.
The symbols on the reels are crafted with intricate detail, with sparkling golden dragons, exotic tigers, elegant masks, beautiful peacocks, and even the standard card symbols have been given an Eastern twist. The use of gold as the primary color scheme adds to the game's luxurious and exotic feel and gives it an air of prestige and grandeur.
Overall, the graphics and design of 50 Dragons provide an immersive experience for players. It's like taking a trip to a far-off land without ever leaving the comfort of your own home (or office, we don't judge). It's so mesmerizing that you might almost forget that you're actually playing a slot game.
Paylines and Winnings
If you're a fan of slots with a lot of paylines, then 50 Dragons is the game for you. With 50 paylines, you have the freedom to choose how many paylines you want to activate, giving you a wide range of possible winning combinations. And let's be honest, who doesn't love a game with a ton of winning combinations?
But, let's focus on the most important part of any slot game – the big bucks. In 50 Dragons, the game's potential winnings can be up to $125,000, which is more than enough to buy yourself a pet dragon. Or, you know, to pay off some bills.
Just remember, with great payout potential comes great responsibility. Make sure to set a budget for yourself before playing, because we all know how easy it is to get caught up in the thrill of a big win. Play smart, and who knows, you may just end up with enough cash to fulfill your dragon-owning dreams.
Bonus Features
Who doesn't love a good bonus feature in a slot game? Thankfully, 50 Dragons has got you covered! Get ready to roar with excitement as you take advantage of the exciting bonus features and special symbols that can help boost your winnings.
The Pearl symbol is the wild card in this game, and it's here to replace any symbol on reels 2, 3, 4, or 5. So when you see it pop up, you can let out a sigh of relief knowing that it just made your winning combo that much easier to achieve. The Scatter symbol is labeled as a Lingot, and it triggers the Free Spins bonus in the game. But that's not all! It also multiplies your stake for even bigger rewards – cha-ching!
If you're feeling extra lucky, 50 Dragons also lets you try your hand at the 'Gamble Function.' It's just like playing a hand of poker, but without the bluffing. After each win, you have the option to guess the color or suit of the next playing card that's turned over. If you're right, your payout gets a boost! If you're wrong, no harm done – you still get to keep your original payout. So, if you're feeling bold and want to gamble it up, go ahead and give this feature a try!
Gameplay Experience
Are you up for a thrilling experience? Look no further than 50 Dragons! The game is fast-paced and as exciting as a carnival ride. You'll experience highs and lows with each spin, but that's half the fun. And let's talk about the animations and sound effects. They're practically cinematic. It's like playing a blockbuster movie on your computer screen.
And boy, does 50 Dragons deliver. The special symbols and bonus features are like the icing on the cake. They keep the ride interesting and your pockets full.
In conclusion, if you're an experienced player looking for adventure and big rewards, 50 Dragons is definitely the game for you. Just don't forget to bring extra coins for the next ride. Who knows what kind of adventure you'll embark on next.
Similar Games
If you're a fan of the ancient Asian theme that 50 Dragons offers, get ready to take a spin on Ainsworth's Dragon Lines. Not only does Dragon Lines have a comparable aesthetic, but it also offers its unique features that are sure to keep players coming back for more. One of these features is the 'Golden Dragon' feature, where players have the chance to win up to 5,000 times their original wager. Just imagine the possibilities!
But don't let the similarity between 50 Dragons and Dragon Lines stop you from exploring the vast array of other online slot games that are available. With so many options out there, you're sure to find a game that suits your specific preferences and playing style.
It's always a good idea to branch out and try new things, and you might even be surprised by what you end up enjoying. For example, if you're a fan of the dragon theme, you might also want to check out games like Dragon Island or Dragon Shrine. Who knows, you might just stumble across your next favorite game.
So, while 50 Dragons and Dragon Lines are both excellent online slot games, don't limit yourself just to them. There's a whole world of slot games out there waiting to be explored!
FAQ
How many paylines are there in 50 Dragons?
There are 50 paylines in 50 Dragons.
What is the maximum amount you can win in 50 Dragons?
The maximum amount you can win is $125,000.
What kind of symbols are used in 50 Dragons?
The symbols used in 50 Dragons are golden dragons, tigers, masks, peacocks, and card symbols J, Q, K, and A with an Eastern spin.
What is the Pearl symbol in 50 Dragons?
The Pearl symbol acts as a wild card, replacing any missing symbol on reels 2, 3, 4 or 5 to help you win.
What is the Scatter symbol in 50 Dragons?
The Scatter symbol is represented by a Lingot, and it can trigger the Free Spins bonus and multiply your stake for bigger rewards.
Can you boost your payout in 50 Dragons?
Yes, after each win, the 'Gamble Function' lets you guess the color or suit of a playing card for a chance to boost your payout.
Who is 50 Dragons by Aristocrat suitable for?
50 Dragons by Aristocrat is a thrilling slot game suitable for experienced players who seek adventure and big rewards.
Is there a similar slot game based on ancient China to 50 Dragons?
Yes, Ainsworth's Dragon Lines slot machine is a similar slot game based on ancient China.
What we like
Stunning graphics and design elements
Wide range of possible winning combinations with 50 paylines
Exciting bonus features and special symbols
Fast-paced and immersive gameplay experience
What we don't like