3 Tiny Gods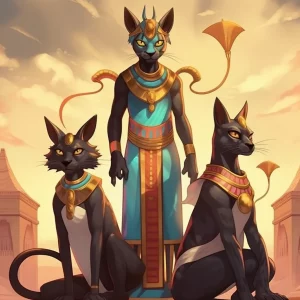 Are you ready to meet the tiniest gods in the world of online slot games? 3 Tiny Gods offers you a chance to unravel the age-old mysteries of Ancient Egypt. The 5 reels and 4 rows come to life with 30 paylines, an RTP of approximately 96.40%, and a betting range of $0.10 up to $50. So whether you're a high roller or just here to have some fun, this game is perfectly tailored for you.
The gods might be tiny, but they pack a punch! With the reel modifiers, the jackpot bonus game, and the free spins features, this game is jam-packed with opportunities to win big. And if you're just here to check out the game without risking any of your hard-earned cash, the free mode lets you do just that.
Let's talk about the three reel modifiers – Coin, Anubis, and Bastet. These tiny gods can randomly feature in the base game and turn it on its head. The Coin feature can reward you with instant cash prizes when the coin dissolves and the juice spills out. The Anubis feature unleashes several wild symbols, and the Bastet feature modifies the lower paying symbols to potentially create more winning combos.
And that's not all – the Jackpot bonus game is triggered when you land three or more of the relevant symbols anywhere on the reels, and you get a chance to win one of three jackpots. The free spins function, triggered by landing three or more of the skull symbols, gives you 8 free spins to play with. During the free spins round, the three special randomly triggered modifiers show up more frequently, giving you even more chances to win big!
All in all, 3 Tiny Gods is an exciting slot game with plenty of features to keep you hooked. Whether you're here for the payouts or the stunning graphics and sound effects, you won't be disappointed.
Get Ready for the Reel Modifiers in 3 Tiny Gods
Foxium's 3 Tiny Gods slot game offers three amazing reel modifiers to enhance your gaming experience. And trust me, they are not like any other boring reel modifiers you might have seen before.
First up is The Gift of Bastet, a bonus that adds extra fun to the game. This is randomly activated after a spin that doesn't lead to a winning combination. It rearranges the symbols on the reels and makes sure that they create a winning combination. Talk about a divine intervention!
The Mystery of Horus is the second reel modifier. This one adds stacks of symbols to not one but two or three reels. These symbols then transform into matching symbols, which means big wins for you. Don't you think it's amazing to have the power of the gods on your side?
The last but certainly not the least, is the Wrath of Anubis. This one is triggered when the BONUS symbol lands on reels 1, 3, and 5. It can give you free spins, a bonus win, or both! Anubis might be the god of the afterlife, but this modifier ensures that your game stays right here in the land of the living.
Overall, playing 3 Tiny Gods is an amazing experience and these reel modifiers add to the excitement. With The Gift of Bastet, The Mystery of Horus, and Wrath of Anubis by your side, you can have a divine time spinning those reels and winning big!
Experience the Thrill of the Jackpot Bonus
If you're feeling lucky, the Jackpot Bonus game in 3 Tiny Gods is the perfect way to test just how lucky you are. Collecting those golden coin symbols is the key, but it's not just about luck – it's also about strategy. You need to make every spin count, and stay focused on the prize.
Of course, the real fun starts when you hit those matching jackpot symbols! The Mini jackpot is sweet, but the Midi jackpot is where things really get exciting – you could win 100 times your bet! And if you're really lucky, you could win the Maxi jackpot, which is a whopping 5,000 times your bet.
So, are you ready to take your chances and see if the gods are shining down on you? Just be sure to say a little prayer to the tiny gods before you get started – they might just give you that extra bit of luck you need.
Unlock the Power of Free Spins
Nothing beats receiving free spins. I mean, who doesn't like getting something for free? And that's why we here at 3 Tiny Gods love the Free Spins bonus. You get to enjoy 8 free spins just for having the Scatter symbol appear on the first, third, and fifth reels of the same spin. It's like hitting the jackpot without spending a penny!
Anubis, the jackal-headed god, can grant you extra free spins during this bonus round. We don't know how he does it, but we won't complain. And if that's not enough, Anubis can also use his powers to remove some of the pesky lower-value symbols from the reels, increasing your chances of landing lucrative wins. Now, that's a truly divine intervention!
There's more to this Free Spins bonus than meets the eye. The Mystery of Horus feature is also active during this round, bringing even more excitement to the reels. It's like an Indiana Jones adventure, but without the danger of running away from boulders. Basically, the Mystery of Horus can randomly turn symbols into Wilds, adding more winning combinations to your game. Let's just say that the gods are truly on your side when you trigger this bonus round.
Symbols
Get ready to meet the 3 Tiny Gods in this exciting slot game! The symbols in 3 Tiny Gods are as epic as the game itself. First up, we have the elusive Wild symbol – the golden game logo. This symbol can complete a range of winning combinations and pays out the most of all the symbols on the paytable. So, don't be fooled by its diminutive size – this tiny god packs a mighty punch!
Next up, we have the BONUS symbol, which functions as the Scatter. The Scatter is the trigger for the Anubis' Wrath bonus and will appear on reels 1, 3, and 5. Landing on this symbol is the ultimate holy grail for players, as it unlocks some of the game's most exciting features and wins. Get ready to feel the wrath of Anubis in this bonus round!
The other symbols in this game include the Gods Anubis, Bastet, and Horus, as well as Cleopatra and Tutankhamun. With such an all-star lineup, it's clear that this game has been designed with care and attention to detail. As you spin the reels, the characters come to life in stunning visual detail and provide plenty of opportunities for wins and laughs. So, keep a sharp eye on the reels and watch out for these powerful symbols!
Foxify Feature: Look out for Tiny Gods with Big Rewards!
If you're looking for a fantastic slot game with plenty of chances to win big, then be sure to check out 3 Tiny Gods from Foxium. This game is packed with exciting features that will keep you entertained for hours.
One of those features is the Foxify feature, which increases your chances of activating both the Mystery of Horus feature and the free spins bonus. Of course, it's an optional feature, but why wouldn't you take the opportunity to maximize your chances of hitting those big rewards? After all, who wouldn't want to rub Horus' belly for good luck?
However, keep in mind that the Foxify feature comes with a bit of a price tag. You'll need to pay 50% more than your usual bet to activate the feature. But hey, you've got to pay to play, right? And playing with the Foxify feature is worth every penny if it means landing one of those coveted free spins bonuses.
So, if you're feeling lucky and want to have some fun playing a fantastic slot game, be sure to give 3 Tiny Gods a spin and activate the Foxify feature. With its cute and quirky theme and big rewards, this game is sure to leave you feeling like a god!
Final Verdict: Is 3 Tiny Gods Worth Playing?
Are you ready to take a trip to ancient Egypt? 3 Tiny Gods is a medium variance slot machine that gives you the chance to do just that. And let's be honest, who doesn't love a good theme? The graphics and design are impressive, and the sound effects really immerse you in the game.
But what really sets 3 Tiny Gods apart from other slot games is its special features. The Bonus Round symbol can trigger a bonus round where you're given the chance to choose between three mini-games with hidden prizes. And don't forget the Free Spins feature, where you can win up to 10 free spins!
But let's get down to the nitty gritty – the potential payout. With a maximum payout of up to 5,000 times your bet, you could be taking home some serious cash. Of course it's important to remember that this is all down to chance and luck, but it's nice to dream.
If you're a fan of Ancient Egypt themed slots, then 3 Tiny Gods is definitely worth your time. And if you've played and enjoyed Barcrest's Legend of the Pharaohs, then you'll definitely enjoy this game too. The medium volatility and juicy RTP are perfectly suited for players who like sticking with the same game for a while.
However, if you're looking for a slot game with a bit more action and high stakes, then 3 Tiny Gods might not be for you. But hey, who knows, maybe the gods will be on your side and you'll hit that big payout.
FAQ
Can I try 3 Tiny Gods for free?
Yes, you can try the 3 Tiny Gods online slot machine for free on SlotJava. No download is necessary!
Which casino is safest to play 3 Tiny Gods?
If you're concerned about the security of your information while playing the 3 Tiny Gods slot game, consider choosing from our list of secure casinos.
What is the RTP of 3 Tiny Gods?
The RTP of 3 Tiny Gods is set to approximately 96.40%.
How much can I win per spin in 3 Tiny Gods?
According to Foxium, it's possible to win up to 5,000 times your bet per spin. However, this is a rare occurrence and is usually during the bonus round.
What is the range of the bet in 3 Tiny Gods?
The betting range of 3 Tiny Gods starts at $0.10 and goes up to $50.
What are the Wild and Scatter symbols in 3 Tiny Gods?
The golden logo of the game is the Wild symbol, which can replace all icons except the Scatter. The BONUS symbol is recognized as the Scatter symbol. When it appears on reels 1, 3, and 5, it triggers the Anubis' Wrath bonus.
What are some bonus features in 3 Tiny Gods?
There are several bonus features in 3 Tiny Gods, including Foxify, The Gift of Bastet, Mystery of Horus, Free Spins, and the Jackpot Bonus.
Is 3 Tiny Gods a good game for players who enjoy the Egyptian theme?
Yes, 3 Tiny Gods is perfect for players who enjoy online slots focused on Ancient Egypt's themes. It is a medium-variance video slot game with a juicy RTP.
What we like
Three reel modifiers available
Jackpot bonus game with three different jackpots
Free Spins feature with additional bonus opportunities
Foxium's Foxify feature to increase chances of activating bonuses
What we don't like
Not suitable for players looking for high volatility games
Foxify feature costs 50% more to use