Oriental Flower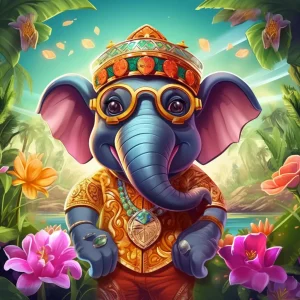 Get ready to immerse yourself in all things Asian with Oriental Flower, a five-reel, three-row slot game that dazzles players with 243 winning combinations and bets ranging from a measly $0.20 all the way up to $40. With Autospin, you won't have to lift a finger as the game spins continuously until you say stop. Just don't forget to breathe!
What's really great about Oriental Flower is that it has medium volatility and an RTP of 94%, giving gamers the perfect balance of risk and reward. Because let's face it, who doesn't love the rush of a good gamble? Especially when you have the opportunity to win big. So come on, take a spin on the wild side with Oriental Flower and see if lady luck is on your side.
Exploring the Asian Oasis of Oriental Flower
Oriental Flower is where relaxation meets adventure, with an Asian oasis that's teeming with treasure just waiting to be won. The game's designers have gone all out to create an atmospheric setting that offers the ultimate escape to the Far East – without the need for a lengthy plane journey!
A feast for the eyes, Oriental Flower introduces a tropical landscape filled with riches galore, from the majestic Elephant symbol to juicy, medium-value fruits and high-value icons featuring a delightful boat, a striking statue, and even a gorgeous local girl.
The colorful design and calming melodies work together to set a serene mood that's sure to keep you focused on hitting those big wins – with none of the stress that comes with everyday life. What more can you ask for from an online slot game?
Winning Combinations and Bets
Looking to win big bucks while spinning the Oriental Flower reels? You're in luck! With bets ranging from a measly $ 0.2 to a thrilling $ 40 per spin, this game accommodates both high rollers and cautious gamblers alike.
What's more, there are four tantalizing jackpots up for grabs – Mini, Minor, Major, and Grand. If that doesn't make your heart race, we don't know what will! Don't let the medium volatility rate fool you; there are still plenty of chances to land a massive payout in any of the 243 winning combinations.
Special Features and Bonuses
Let's talk about everyone's favorite part – the special features and bonuses in Oriental Flower! The game offers some great options including Autospin, the Wild, the Scatter, and the Jackpot features. And let's face it – who doesn't love a good jackpot?!
The Wild symbol is a real life saver in Oriental Flower – it replaces missing symbols and can even activate the Jackpot feature. And who knows, maybe collecting all the Wilds on the board will give you a chance to select three identical flowers and win big based on your bets. If you ask us, that's a pretty sweet deal.
The Scatter symbol can activate the Free Spins function and offer different multipliers. And who doesn't love free things? We know we do! Plus, with guaranteed multipliers like 5x, 10x, and even 50x of the total bet, your chances of winning big just got a lot better. So go ahead, give Oriental Flower a spin – you won't regret it!
Compatibility and Accessibility
If you're worried that your phone won't be able to handle all the beautiful blossoms and lovely sounds of Oriental Flower, fear not! This game is created with HTML5 and Flash to ensure that it works perfectly on both Android and iOS systems. So whether you have an Apple or a Samsung, a Huawei or a Google Pixel, you can enjoy the game on the go.
And guess what? You can even try it for free on SlotJava! That's right, you can bask in the beauty of Oriental Flower without having to spend a single cent. Of course, if you're feeling lucky and want to play for real money, you can find this Asian-themed gem on reputable online casinos.
FAQ
Can I play Oriental Flower for free?
Yes, Oriental Flower is available in free mode on SlotJava.
What is the betting range of Oriental Flower?
The betting range for Oriental Flower is $ 0.2 to $ 40.
Does Oriental Flower have an Autospin feature?
Yes, Oriental Flower has an Autospin feature.
What is the RTP of Oriental Flower?
The RTP of Oriental Flower is 94%.
What is the volatility of Oriental Flower?
The volatility of Oriental Flower is medium.
What are the special features of Oriental Flower?
The special features of Oriental Flower are Free Spins, Gambling Feature, and Jackpot Bonus.
How do I activate the Free Spins feature in Oriental Flower?
The Free Spins feature in Oriental Flower is activated when three or more Scatter symbols appear on the reels, giving you ten free spins.
How do I activate the Jackpot Bonus in Oriental Flower?
The Jackpot Bonus in Oriental Flower is activated by collecting enough Wild symbols. The Wild amount is different for each bet. Then, you need to choose three identical flowers out of 15 options to win one of the four jackpots.
What we like
Asian-themed with stunning visuals and relaxing melodies
Wide range of betting options for all types of players
Exciting special features like Wilds, Scatters, and Jackpots
Compatibility with multiple operating systems for convenient gameplay
What we don't like
Medium volatility may not appeal to players seeking high-risk/high-reward gameplay
RTP of 94% is slightly below industry average