Mechanical Clover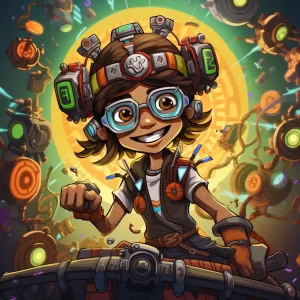 Looking for some good luck? Mechanical Clover is a 3×3 online slot game with 5 active paylines. Keep your eyes peeled for the four-leaf clover – the wild symbol that only appears on the middle reel and completes winning combos. Landing it can also mean earning some free spins (up to 6, to be exact). During the bonus round, the number of paylines increases to 27, giving you even more chances to win big. Plus, there's a progressive multiplier ranging from x2 to x7 with each Respin – so it could be your lucky day indeed. Feeling extra lucky? Try the Gamble function to double your most recent win, or risk losing it all. Good luck, my fellow clover enthusiasts!
Game Design
Prepare to time travel back to the Victorian era with Mechanical Clover's steampunk inspired design! The fruits in this game are made of metal, but don't worry, they're not hard to chew. They move around a grid that is set in an attic. It's like playing a slot game with the ghosts of Charles Dickens and HG Wells! Not only that, the pipes and bulbs surrounding the fruits add to the overall theme, while two bell symbols on the side indicate the active paylines and multiplier. Ding, ding, ding, we have a winner!
Pay Up! Paylines and Betting Range
Who loves paylines? We do, we do! Lucky for us, Mechanical Clover has 5 active paylines during regular play and 27 during the bonus round. Bet as little as $0.10 or as much as $50! It's like the game is saying, "go big or go home".
If you're feeling lazy, the autoplay mode allows you to choose from 10 to 1,000 spins, or you can go all-out and select infinite spins! But be careful, there are threshold limits that, when hit, will stop the automatic spins. This game may be mechanical, but it's not heartless. It cares about your wallet and your sanity.
Get Excited with Mechanical Clover's Bonus Features
If you think Mechanical Clover is only about spinning reels and hoping for the best, you're in for a pleasant surprise. This game has bonus features that will make you jump out of your seat!
First, landing the wild symbol can get you free spins between 1 and 6 times, meaning more chances to win big. And if that's not enough, paylines increase to 27 during the free spin rounds, and a progressive multiplier from x2 to x7 is also attached to each Respin. That's a whole lot of opportunities to increase your winnings!
Can't get enough of the thrill of risk-taking? Mechanical Clover's Gamble function lets you either increase the last win or lose it entirely. It's like Las Vegas, baby! The Best part? The Gamble function presents the player with five playing cards, one on top and four below. The banker will reveal their card, and the player must choose one of the four cards below, hoping it's higher. Exciting and nerve-wracking all at once!
Get Paid to Play: Return to Player (RTP)
Are you tired of feeling like a loser after playing online slot games? Well, Mechanical Clover has got you covered with a theoretical return to player (RTP) of 96.8%! That's higher than the number of times your dog wags its tail when you come home! So, for every $100 you play, you can expect to get $96.80 in winnings. It's not like winning the jackpot of a lottery, but it's a decent payout percentage for online slot games. Plus, you'll have some extra cash to buy those cute socks you've been eyeing for a while now.
FAQ
How many paylines does Mechanical Clover have?
During regular play, the game has 5 active paylines. During the bonus round, paylines increase to 27.
What is the theoretical return to player (RTP) for Mechanical Clover?
The RTP for Mechanical Clover is 96.8%.
What is the minimum and maximum bet for Mechanical Clover?
The minimum bet is $0.10 and the maximum bet is $50.
What is the Gamble function in Mechanical Clover?
The Gamble function allows you to increase the last win or lose the entire amount. After a winning combination, two symbols will appear under the grid: a dollar symbol to collect the win and a card symbol to risk it.
What is the Wild symbol in Mechanical Clover?
The four-leaf clover is the Wild symbol, landing only on the middle reel and completing winning combinations. It also awards between 1 and 6 free spins.
What is the theme of Mechanical Clover?
Mechanical Clover combines historical elements with the steampunk genre, setting the game in an attic with metallic fruits and Victorian era-style pipes and bulbs.
Does Mechanical Clover have an autoplay feature?
Yes, you can choose the autoplay mode, from as little as 10 spins up to 1,000 or infinite, and simply click the same button again to stop. There are also several threshold limits that, once reached, will stop the automatic spins.
What is the value of the symbols in Mechanical Clover?
The symbols are almost all traditional ones seen in classic slots, such as cherries, plums, oranges, lemons, watermelons, bells, and double 7s, plus a cylinder-shaped hat. To understand their value, simply refer to the paytable.
What we like
Exciting bonus features with free spins and multipliers
Unique steampunk design with metallic fruits and pipes
Autoplay mode available with several threshold limits
High theoretical return to player of 96.8%
What we don't like
Small grid of 3×3 may not appeal to some players
Limited betting range compared to other online slots