Lucky Lucifer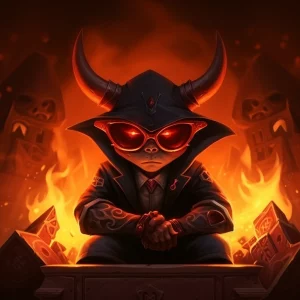 Prepare to be blown away by the visuals on Lucky Lucifer. Slotmill has done an amazing job creating an immersive experience with graphics so sharp they'll put your barber to shame. Not only do they look incredible on your computer screen, but they're also perfect for playing on-the-go since they work just as well on mobile devices.
We're talking full HD graphics, so realistic you might forget you're playing a game and think you're actually in your own personal casino. And the attention to detail is insane; it's almost like they hired a team of tiny artists with tiny brushes to paint each pixel with care.
But hey, don't take our word for it. Give Lucky Lucifer a spin and see for yourself just how stunning these graphics are. And if you're feeling extra fancy, you can even play with your pinky out to really soak up the luxury vibes.
Exploring the Fiery Features and Sultry Symbols of Lucky Lucifer
Hold on to your souls, folks! Lucky Lucifer is an infernal slot game that'll make you forget the outside world. With wild symbols galore, you'll be conjuring up wins like a charming dark lord. And if you're lucky enough to combine the images of Lucifer and Succubus, you might just trigger 1 to 7 wild symbols on every spin. Silly mortal games? This one goes up to 666 in multiplier potential, evoking a mysterious and intriguing atmosphere. And because Satan loves a good surprise, there's even a 'Mystery' wild symbol that'll keep you on the edge of your seat.
The Devilish Goodness That Comes From Lucky Lucifer's Parent Company, Slotmill
Prepare to be bewitched by the hellacious entertainment that comes with Lucky Lucifer, created by none other than Slotmill, a veteran producer of heart-pumping online games. Slotmill has broken all the rules with this one, creating a platform so wickedly awesome that it's the perfect fit for all device types, including smartphones. It's like carrying a piece of Lucifer himself in your pocket.
Slotmill has once again demonstrated their supremacy in the online gaming industry with this slot game that's so devilishly good, it's sinfully entertaining.
Experience Virtual Hell with Lucky Lucifer Slot Game
Get ready to take a fiery trip to hell with Lucky Lucifer slot game! This game is perfect for thrill-seekers who want to enjoy a unique and mysterious gaming experience. The game revolves around a dark theme with symbols and functions that add to the excitement, and you can win up to ten thousand times your initial bet!
But don't be afraid of the devilish theme! The game offers amazing rewards that are worth the risk. The graphics, sound effects, and animations are top-notch, immersing you in a virtual world that is both thrilling and entertaining.
In the end, Lucky Lucifer is an embodiment of the kind of online entertainment that can keep you entertained for hours. So, get ready to take a spin and embrace your inner devil!
Mobile Compatibility
Have you ever found yourself in a devilishly good mood, ready for some slot action, but your computer is nowhere in sight? Fear not, Lucky Lucifer is fully optimized for mobile gameplay so you can take him with you wherever you go. And don't worry about any demonic lag or crashes because Slotmill has ensured it runs smoothly on both iOS and Android devices.
Not only can you now play Lucky Lucifer while waiting in line at the DMV, but you can also play it while battling your own little devils on the throne. With Slotmill's optimization efforts, Lucky Lucifer is a game players can enjoy without sacrifice, adding a little sin to their daily routine.
FAQ
What is Lucky Lucifer?
Lucky Lucifer is an online slot machine game with stunning graphics and features that are aligned with the theme of hell and its symbolism.
Who created Lucky Lucifer?
Lucky Lucifer was designed and produced by Slotmill, a company that specializes in online slot machines.
What makes Lucky Lucifer stand out from other slot machine games?
Lucky Lucifer stands out from other slot machine games due to its exceptional graphics and multiple wild symbols, including the 'Mystery' symbol and a winnings multiplier up to 666 times.
Can Lucky Lucifer be played on a smartphone?
Yes, Lucky Lucifer is optimized for use on smartphones and can be played anywhere on-the-go.
How much can you win on Lucky Lucifer?
You can win up to ten thousand times your initial bet on Lucky Lucifer.
What are the symbols in Lucky Lucifer?
The symbols in Lucky Lucifer include Lucifer, Succubus, and various symbols of hell and darkness.
How many wild symbols are there in Lucky Lucifer?
There are multiple wild symbols in Lucky Lucifer, and with each spin, you can obtain from 1 to 7 wild symbols.
Is Lucky Lucifer recommended for those looking for a darker theme in their gaming experience?
Yes, if you are looking for a virtual gaming platform with a dark and mysterious theme, Lucky Lucifer is highly recommended by Slotmill.
What we like
Stunning graphics
Numerous wild symbols for gameplay
Produced by top parent company, Slotmill
Thrilling online entertainment
What we don't like
Theme may not be suitable for all players
Obscure gameplay features