Leprechaun Rama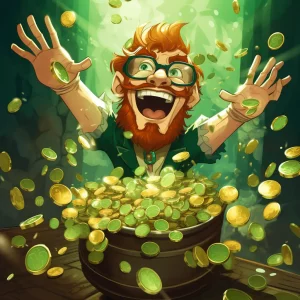 Get ready for some serious gridiron action with Leprechaun Rama slot game! This five-by-five grid is the perfect place to score some big wins while watching symbols burst and be replaced by new, lucky symbols. With 351 ways to win, this All Ways slot game is the pot of gold at the end of the rainbow. And with an RTP value of 97.15%, you'll be feeling like you've hit the jackpot even if you haven't!
Graphics
Prepare to feast your eyes on a visual masterpiece! The graphics in Leprechaun Rama are so stunning that even the grumpiest leprechaun in the land would crack a smile. The developers have outdone themselves with the well-designed and impeccably detailed animated cartoons that transport you straight to Ireland.
The symbols are all tied to Irish traditions, from the horseshoe to the four-leaf clover, and even the whiskey flask (sure to be a lucky charm for some players). And don't forget about the overflowing pot of coins just waiting to be won – it's enough to make any leprechaun jealous.
But that's not all – the game takes place inside the leprechaun's home, adding to the immersive experience. It's like having your own personal fireworks show every time you win big!
Experience Endless Possibilities with All Ways Slot System
Get ready for a wild ride with Leprechaun Rama's All Ways slot system. Forget about the standard left to right combinations – this game pays out in all directions, giving you more chances to hit the jackpot than ever before. Who needs luck of the Irish when you have this unique feature!
Once you start playing, you'll quickly realize that the All Ways slot system makes for an electrifying and unpredictable game. With every spin, there's the potential to hit a winning combination from any direction. You never know where your luck might come from!
Get Lucky with Leprechaun Rama's Multistep System
Prepare to be delighted by Leprechaun Rama's multistep system, which offers exciting gameplay in three different levels! You'll reach each level once you hit specific milestones, so keep your eyes peeled and your fingers crossed. If you're lucky enough to come across a key, it'll add to the left counter and take you one step closer to unlocking the next level.
In the first level, Leprechaun's Lair, feast your eyes on a green pot of gold coins that may appear on the grid. If it spills its contents into the main pot beside the grid, your bet will increase by 20%. In the second level, Faury's Forest, the prize is bumped up by 40%, and in the third level, Rancher's Riches, it's sky-high with a whopping 60% increase to the jackpot. So what are you waiting for? Give Leprechaun Rama a spin and try your luck!
Get Lucky with Leprechaun Rama's High RTP Value
Want to know the secret to winning big? Look no further than Leprechaun Rama! With an impressive 97.15% RTP value, this game gives players a higher chance of winning compared to other online slots. So go ahead, take a spin and see if the luck of the Irish is on your side!
But beware – with endless opportunities to strike it rich, you may never want to leave! Leprechaun Rama is the perfect game for those who are feeling lucky and looking to land their pot of gold.
FAQ
What is the betting range in Leprechaun Rama?
The betting range is adjustable with the Step button.
How many ways to win does Leprechaun Rama have?
Leprechaun Rama has 351 ways to win.
What is the RTP value of Leprechaun Rama?
The RTP value of Leprechaun Rama is 97.15%.
What kind of slot is Leprechaun Rama?
Leprechaun Rama is an 'All Ways' slot, meaning that combinations pay out in all directions, not just from left to right.
What symbols are included in Leprechaun Rama?
All symbols in Leprechaun Rama are tied to Irish traditions, featuring a horseshoe, acorn, whiskey flask, four-leaf clover, and numbers 3 and 9.
Does Leprechaun Rama have special features?
Yes, Leprechaun Rama has special features. It has a multistep system with levels that are activated by reaching specific milestones.
How many levels does Leprechaun Rama have?
Leprechaun Rama has three levels: Leprechaun's Lair, Faury's Forest, and Rancher's Riches.
What happens in the Gamble game of Leprechaun Rama?
In the Gamble game of Leprechaun Rama, players can choose to cash out or try to increase their winnings with the risk of losing everything.
What we like
Outstanding graphics and animation
All Ways slot system for more chances to win
Exciting multistep system with increasing jackpot
Higher RTP value for higher chances of winning
What we don't like