Kingdom Gems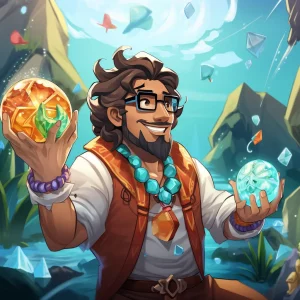 Ladies and Gentlemen, step right up and enter the world of Kingdom Gems! Developed in 2020 by the wizards at FBM Gaming, this slot game shines brighter than a diamond on a sunny day. With its enchanting oriental theme and amazing sound and visual effects, you'll feel like a king or queen in your own kingdom.
But don't let the sheer beauty of Kingdom Gems fool you – this game packs a punch! With classic gameplay mechanics, you'll find yourself earning more free spins than a competitive ice skater. Plus, with its medium to high volatility, you'll feel the adrenaline rush as you make your way to the crown jewels. Oh, and did we mention the game has an RTP of 96%? That's more than enough to make even a staunch penny-pincher loosen their purse strings.
Theme and Graphics
The Kingdom Gems slot game is proof that you CAN judge a book by its cover, or in this case, a game by its stunning graphics. You'll feel as though you're strolling through ancient China as the game's 3D symbols pop off the screen! And speaking of popping off, the animated background is a real treat for the eyes.
Aside from its good looks, the game's theme is all about luck, health, and riches, just like my favorite Chinese takeout joint. And with a well-made soundtrack to accompany you on your romantic adventure, this game is truly a feast for the senses.
Bonuses Galore!
Are you a fan of wilds? If so, then you're in for a treat with Kingdom Gems! Wild symbols can help you complete winning paylines and increase your chances of winning big! Plus, with bonus features like scatter symbols, your chances of hitting that jackpot just got even higher.
Oh, did we mention that you can win up to 12 free spins by landing just three scatter symbols? That's right, this game is chock-full of exciting bonuses and chances to win big! So what are you waiting for? Give Kingdom Gems a spin today and see if you can unlock all of its amazing features!
Feeling Lucky? Try Your Luck with these Free Spins!
Are you ready to spin your way to riches? Look no further than Kingdom Gems — this game packs a punch with its special free spins feature. Triggered by landing 3, 4, or 5 scatter symbols, these free spins give you a chance to win some serious cash. And if you're lucky enough to land more scatters during the free spins feature, you'll keep the fun going with even more free spins — talk about Kingdom Gems making it rain!
Plus, during the free spins feature, the low-paying J-K royals get the boot from the reels, leaving behind only the high-paying symbols. It's like getting an exclusive pass to the VIP section of the casino! So what are you waiting for? Dive into Kingdom Gems and see if luck is on your side.
The Kingdom's Biggest Wins
Get ready to spin the reels and win big in Kingdom Gems! During free spins, you can rack up over 1,000 times your initial bet! That's enough to buy you a real-life kingdom! (Well, maybe not, but it's still a lot of gold coins!)
If you're looking for the most rewarding symbol, keep an eye out for the Golden Dragon symbol. Landing 5 on a payline will give you a whopping 200 credits! That's enough to treat yourself to a feast fit for a king. The White Lion symbol also pulls its weight with a payout of 100 credits if you land 5 on a payline.
Don't forget about scatter wins, too! They'll be paid out based on your total bet, so keep spinning those reels and cross your fingers for a little luck from the kingdom's many riches.
RTP and Volatility: How Much Will You Win?
Got your calculator ready? Kingdom Gems' long-term RTP is 96%, meaning you can expect a theoretical return of 96 credits for every 100 bets. That puts the odds in your favor, but don't forget about volatility. This slot has a medium to high volatility, so while you may not win every time, when you do, it could be a treasure trove. Think of it like finding a diamond in the rough, or a secret stash of gold.
Mobile Optimization
Are you tired of slot games that just won't let you play on your phone? Fear not, my friend! 'Kingdom Gems' is here with its mobile optimization that will keep you entertained regardless of the orientation of your device. Don't be that person who drops their phone on their face while playing a game in bed. With 'Kingdom Gems', you can comfortably play in both horizontal and vertical modes. So, you can spin those reels and enjoy your wins without any inconvenient accidents.
FAQ
What are the bonus features in Kingdom Gems?
The bonus features in Kingdom Gems include wild symbols, free spins, and scatter symbols.
How can you activate the free spins feature in Kingdom Gems?
You can activate the free spins feature in Kingdom Gems by landing 3 or more scatter symbols anywhere on the reels.
What is the minimum and maximum bet for Kingdom Gems?
The minimum bet for Kingdom Gems is 50$ and the maximum bet is 1000$.
What is the RTP of Kingdom Gems?
The RTP of Kingdom Gems is 96%.
What is the biggest win available in Kingdom Gems?
The biggest wins in Kingdom Gems are available during free spins when you can get over 1,000 times your bet.
What are the symbols that pay the most in Kingdom Gems?
The Golden Dragon symbol pays the most in Kingdom Gems, offering 200 credits if 5 land on a payline.
Is Kingdom Gems optimized for mobile devices?
Yes, all FBM Gaming's slot demo games, including Kingdom Gems, are optimized to play on all Android or Apple devices in both vertical and horizontal modes.
What other free gem-themed slot machine game is available in the library?
Aztec Stargems by Leap Gaming is another free gem-themed slot machine game available in the library.
What we like
Stunning graphics and animation
Medium to high volatility for exciting wins
Multiple free spin opportunities
Well-made soundtrack adds to the gaming experience
What we don't like