King Cobra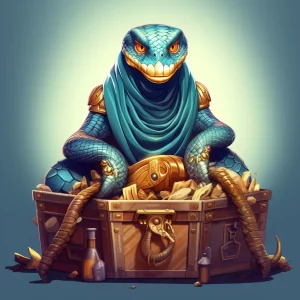 Buckle up, folks! We're headed to the Amazon jungle with Booming Games' King Cobra slot game. The layout is the same old 5×5 we're used to, but the 15 fixed paylines add a new twist to the adventure. Wanna bet? You can adjust the amount from $0.05 to $15 but don't blame us if your wallet starts hissing. To help you on your quest, the game features a wild icon, scatter symbol, Poison Spins, and Mystery Wild Multipliers! Feeling bold and not really feeling like playing today? Try the Auto 50 option to play 50 rounds in a row! And if all else fails and you're not satisfied with your winnings, there's always the Bonus Purchase feature. The RTP is set at 95.6%, so give it a shot, and who knows? Maybe you'll come out of the jungle richer than a snake with two tails!
Impressive Graphics and Sound: A Jungle Adventure
The King Cobra slot game is a wild ride into the jungle and the stunning graphics and sounds are sure to impress even the most seasoned adventurer. The game's theme is brought to life with every symbol and animation, transporting you into the heart of the wilderness.
Not only are the graphics visually pleasing, but the sound design is also top-notch. The sounds of the jungle and its inhabitants create an atmosphere that is both exhilarating and immersive. You'll feel like you're right in the middle of the action, with King Cobras slithering around every corner.
So sit back, put on your safari hat, and get ready for an experience like no other. With King Cobra, you won't be just playing a slot game; you'll be embarking on an unforgettable adventure.
Bonuses and Specials
King Cobra is not stingy when it comes to bonuses and special features. These added perks can turn an average payout into a massive windfall. For the Poison Spins feature, hitting three scatters is like finding a hidden stash of antidotes for your winnings- it can reset multiple times and provide free spins and a multiplier for each reel. Watch out for the Mystery Wild Multipliers that appear during winning sequences. They're like the surprise cobra in your basket of fruit- they'll jump out and multiply your winnings by up to a whopping 5x. And, if you're feeling extra lucky and confident, the Bonus Purchase feature lets you activate a bonus buy with a bet that's 90 times your wager- that's like putting a crown on your king cobra and watching it unleash its full power.
Get Your Snake On: King Cobra Mobile Ready
Ah, finally a slot game that won't bite the dust when played on your phone! Booming Games has slithered to the occasion and optimized King Cobra for mobile snake charmers everywhere. The graphics and sounds translate beautifully to smaller screens, making it easy to get lost in the game. With a user-friendly interface, you won't have to be a snake charmer to play on the go.
Return to Player Percentage
So, you're wondering what your odds are of beating this game? Well, the Return to Player Percentage for King Cobra is in at a respectable 95.6%! That means, statistically speaking, you'll get back $95.6 of every $100 you bet. But don't worry, you can still be the lucky player who gets $100 or even more! Or, if you're like me, you'll end up with about as much luck as a mongoose going up against a King Cobra.
Just remember, RTP percentages are based on long-term play, so don't sweat it if you don't win big right away. Take your time, enjoy the game, and maybe even develop a new appreciation for snakes in the process. Well, let's not go that far, but you catch my drift!
FAQ
How many paylines does King Cobra slot have?
The game features 15 fixed paylines active from left to right.
What is the maximum prize in King Cobra slot?
The maximum prize in the game is 10,000 times your bet.
What is the minimum and maximum bet amount in King Cobra slot?
You can bet from $0.05 up to $15 per round.
Can I play King Cobra slot for free?
Yes, there is a free version of the game available.
What is the return to player (RTP) of King Cobra slot?
The RTP of the game is set at 95.6%.
What are the Wild and Scatter symbols in King Cobra slot?
The Gold Cobra acts as a wild, and the Bonus Logo is the scatter symbol.
What is the Poison Spins feature in King Cobra slot?
It is an in-game bonus feature that activates when you hit three scatters, offering free spins, multipliers, and a minimum win of 5x for the feature.
What is the Bonus Purchase feature in King Cobra slot?
It is a feature that allows players to activate the slot's bonus at 90 times their bet.
What we like
Great graphics and sound design
Exciting bonus features
Fully optimized for mobile devices
Standard 5×5 grid layout
What we don't like
RTP is in line with industry average
Only 15 fixed paylines