Gustavo El Luchador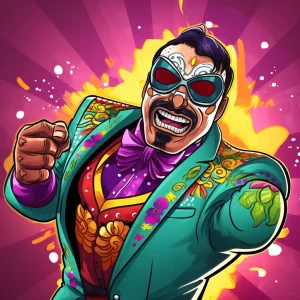 Buckle up for Gustavo El Luchador, the online slot game that packs a punch with its 5 reels and 20 paylines. With bonus symbols and special gameplay modes, this game can knock out your winnings for an enhanced gaming experience.
Gamblers can choose from a range of bet options that cater to both cautious and daring players alike. The star of the show is none other than Gustavo himself, who doubles as the Wild! Other symbols include El Titan, Tarantula, Infierno, Los Tigres, tacos, cactus, tequila, and spicy chili.
In Rumble in the Ring, the scatter symbol can get you access to up to 81 paylines for colossal payouts. Feeling greedy for more? Try your luck with Las Mascaras, the exciting bonus game where you can rack up bet multipliers by selecting from a variety of dolls and masks.
Graphics and Sound: A Visual and Auditory Fiesta!
Gustavo El Luchador is not just a game, it's a journey to the colorful and exciting world of Mexican wrestling! The graphics are so good that you'll feel like you're right there in the arena with Gustavo and his opponents. The characters are so well-realized that you might feel tempted to shout '¡Órale!' (or other colorful Spanish expressions) as you play!
The Mariachi-style soundtrack is also a feast for the ears. It gets you pumped up for the match and keeps you engaged throughout the game. You'll feel like dancing around your screen in joy every time you get a big win or a bonus round!
Not only that, but Gustavo El Luchador is also a versatile game that runs smoothly on all devices, from desktop computers to mobile phones. You don't have to sacrifice any of the graphics or sound quality to enjoy this game on the go!
Special Bonus Games: Double your Excitement & Winnings!
Gustavo El Luchador is packed with not one but two special bonus games that will take your gaming experience to the next level! The first one is called Rumble in the Ring – you can trigger this game by hitting the scatter free spin symbol. Brace yourselves, because this game mode will increase your chances of winning massively by expanding the paylines from 20 to 81! Who would have thought that such a tiny symbol could pack such a punch?
The second bonus game, Las Mascaras, will make you feel like a kid in a candy store! You have the chance to select dolls and masks to reveal your bet multipliers. Not only is it thrilling to see what rewards you have earned, but it's also amusing to see colorful dolls and masks on your screen when fighting for money!
Bet Options: Because Money and Power Go Hand in Hand
Listen up, high rollers and budget bettors alike! Gustavo El Luchador is the online slot game for you! With betting options ranging from 0.20 credits to 100 credits, this game has got you covered no matter what your bankroll situation may be. Whether you're a penny-pinching luchador or a high-stakes fighter, you can adjust your bet to suit your style of play.
Gustavo El Luchador also has some seriously sweet bonus games that can increase your paylines up to 81, making it rain like a Mexican monsoon. So get ready to rumble and bet big, or go home crying to your mama.
Mobile Compatibility
Not even Gustavo's wrestling mask can hide the fact that this game is versatile and compatible with all devices, even those held by sweaty palms. Whether you're at home, at work, or hiding from your ex, you can play anytime and anywhere without compromising the quality of the game. PearFiction has made sure that Gustavo is as smooth as his wrestling moves on all platforms.
FAQ
Can I play Gustavo El Luchador on my mobile device?
Yes, Gustavo El Luchador can be played on any mobile device.
What kind of symbols are included in the game?
Symbols include fighters, tacos, cactus, tequila, and spicy chili.
What is the Wild symbol?
The Wild symbol is the Gustavo symbol, which can replace any slot symbol needed to make a winning combination.
What is Rumble in the Ring?
Rumble in the Ring is an alternative gameplay mode activated by the scatter free spin symbols. The paylines will increase from 20 to 81, providing more opportunities for winning.
What is Las Mascaras?
Las Mascaras is a bonus game where you choose from displayed dolls and masks to win fantastic prizes, including large bet multipliers.
Can I try the game before betting real money?
Yes, there is a demo of the game available for those who want to try the game before betting real money.
What is the betting range in Gustavo El Luchador?
Bets can be placed from 0.20 to 100 credits, offering players both cautious and risky options for gameplay.
What is the maximum amount of paylines in Rumble in the Ring?
The maximum amount of paylines in Rumble in the Ring is 81.
What we like
Exceptional graphics & soundtrack
Two bonus games for enhanced experience
Wide range of bet options
Mobile compatibility
What we don't like