Golden Dragon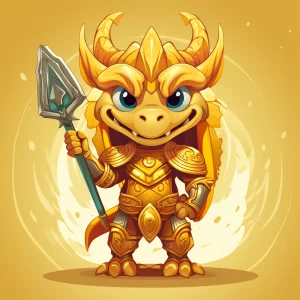 If you're looking for a slot game that's easy on the eyes, you've found it with Golden Dragon! TPG has done a great job with the red and gold color scheme, it's definitely giving us strong Bruce Lee vibes. The symbols are larger than life and represent some of the most sacred animals in Chinese culture. You'll see dragons, phoenixes, and more – all brought to life with fantastic detail! We do wish there were some more animations in the game though, perhaps something light and breezy like a Shaolin monk doing a cartwheel.
Despite the lack of animation, we have to give props to TPG for the easy-to-use buttons. They're large and feel great to press – no awkward fiddling around with tiny buttons here! The game runs incredibly smoothly too, you won't experience any annoying slowdowns. It's got that classic oriental feel that's just perfect for a game like this – we won't lie, we may have ended up putting the game on mute and blasting some of our own tunes after a while, but that's just because we're rebels.
Gameplay and Mechanics
Ah Golden Dragon, the slot game that has captured our hearts with its simplicity and fierce rewards. This game has 5 reels and 243 ways to win, which means winning combinations can be composed of adjacent identical symbols starting from the leftmost reel and proceeding towards the right. It's like a game of Tetris, but instead of clearing lines, you're getting paid! And who doesn't love getting paid?
Now, I know what you're thinking. Where are the animations?! Don't worry, this game may not have fancy animations, but it makes up for it in other areas. For example, it has an automatic spins feature for those lazy days when you just want to sit back and watch the money roll in. And for those days when you need a little extra oomph, it has a reel rotation accelerator to speed things up. This will definitely make you feel like you're living life in the fast lane.
The buttons are arranged on the right side and bottom bar of the screen, making it easy and comfortable to play. You won't have to stretch your fingers to reach for any buttons or strain your eyes trying to figure out what each button does. It's like Golden Dragon is looking out for you, making sure you have the best possible gaming experience.
Winning Combinations and Symbols
Are you ready to meet the mystical Golden Dragon and seek its treasures? Golden Dragon is a classic casino slot game that features 10 regular symbols and 2 special symbols. However, don't let its simplicity fool you, as this game offers big rewards.
The regular symbols feature various sacred animals such as the phoenix, cat, turtle, and koi carp. But these aren't your ordinary animals, these creatures are dripping in gold and will help you win big. There are also mandalas of different colors and a golden tree, which is also a Scatter symbol. With just a few of these, the Golden Dragon will grant you the gift of Free Spins. Who doesn't love free stuff, right?
If you're lucky enough to land the Scatter symbol, you'll trigger up to 24 Free Spins that can lead you to even greater treasures. And during Free Spins, you'll want to keep your eyes peeled for gold coins on the reels. Not only do they look shiny and impressive, but they also reveal their value at the end of the Bonus Game. It's like having your own little pot of gold, except it's on the screen and not at the end of a rainbow.
Speaking of gold coins, it's worth noting that you can trigger a Bonus Game with as few as six of them during regular gameplay. So, make sure you keep an eye out for them, or you might just miss out on your chance at another bonus round.
In conclusion, Golden Dragon is a game that's easy to follow, but offers plenty of fun and lucrative features. With regular symbols of sacred creatures and a golden tree that doubles as a Scatter symbol, this game is sure to keep you entertained for hours. So go ahead and give it a spin, maybe you'll get lucky and summon the Golden Dragon yourself!
What's Special About Golden Dragon?
Golden Dragon is not just another slot game. It is action-packed, gold-filled and full of surprises.
One of its most exciting features is the Bonus Game, which is triggered by six or more shiny gold coins during regular play. The Bonus Game takes you to another level of adrenaline-pumped gaming experience that will leave you with heart rates as high as Dragon's fire breath. And let's be honest, who doesn't like a game that elevates their blood pressure?
But wait! There's more! The game also has a Free Spins feature that is triggered by the golden tree Scatter symbol. Free Spins are like a gift from the casino gods, and they could range from 8 to 24 turns which gives you more chances to win big, or as we like to call it, to beat the dragon and take its gold.
During Free Spins, those flashy gold coins on the reels remain locked in place, and at the end of the Bonus Game, they reveal their true value. So, not only do you get to enjoy the thrill of beating the dragon, but you also get to keep all the treasure that you collect along the way.
In conclusion, Golden Dragon is worth playing, not only because of its fascinating design, but also because of the fantastic bonuses that it offers. With every spin, you have a chance to win big and make it rain in gold coins. Who knows, you might even beat the dragon at its own game!
Paytable and Payouts
If you're looking for a solid slot game with awesome payouts, look no further than Golden Dragon! The paytable is your best friend in this game, as it shows you the different payout levels for winning combinations of symbols. And let's be real, who doesn't love winning?
Golden Dragon has a generous number of regular symbols (10 to be exact) and 2 special symbols that can lead to some seriously sweet payouts. Plus, let's not forget about the Free Spins feature. With a max of 24 Free Spins up for grabs, you can practically feel the gold coins raining down on you already.
And speaking of gold coins, the fixed amount during Free Spins can lead to some insanely high winnings. It's almost like the game is just giving away gold – but hey, we're not complaining!
FAQ
What is Golden Dragon?
Golden Dragon is an online slot game from TPG with an oriental theme and 243 ways to win.
What are the symbols in Golden Dragon?
The symbols in Golden Dragon include sacred animals like the koi carp and turtle, as well as mythical creatures like the dragon and phoenix.
What is the grid size of Golden Dragon?
The grid size of Golden Dragon is 5 reels and 3 rows.
How many ways to win does Golden Dragon have?
Golden Dragon has 243 ways to win.
What are the special features of Golden Dragon?
Golden Dragon has a Free Spins feature activated by 3 or more Scatter symbols. The gold coins that appear during this feature can reveal high-level winnings. If at least six coins appear during regular gameplay, the player will get 5 Free Spins.
Is there a mute button in Golden Dragon?
Yes, there is a button on the screen that allows you to mute the oriental music in Golden Dragon.
Can I activate automatic spins in Golden Dragon?
Yes, you can activate automatic spins and the reel rotation accelerator in Golden Dragon.
What is the payout of the highest-value symbol in Golden Dragon?
The golden tree symbol in Golden Dragon is one of the highest-value symbols and also serves as the Scatter. The payout will depend on the number of symbols appearing on the reels.
What we like
Smooth gameplay with no slowdowns
243 ways to win for higher chances of winning
Bonus game and free spins feature add excitement
Fixed gold coins in free spins can result in high-level winnings
What we don't like
Lack of animations may be disappointing for some players
Game style could have been better