Golden Castle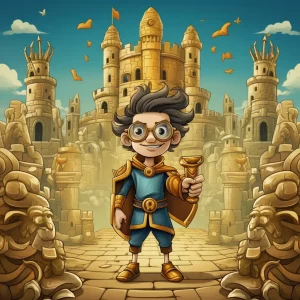 If you're tired of the same old slot machines with repetitive gameplay, then give Fantasma's Golden Castle Titanways a try. This casino game breaks the monotony with its innovative Titanways engine and unique game mechanics. The game operates on a 6×6 grid that allows for symbols to appear in five different dimensions – 1×1, 1×2, 1×3, 2×2, and 3×3.
Players will love how this game keeps the excitement going with its simple winning mechanics. All you need is three or more identical symbols to land adjacent from the first reel onwards. This setup increases your chances of winning as you can form multiple combinations with the different symbol sizes and dimensions.
If you're a fan of slots with amazing visuals and engaging gameplay, then Golden Castle Titanways will unquestionably be one of your favorites. This game is relatively easy to grasp, but it doesn't lag behind in the excitement factor. With lots of surprises, and several ways to win, this slot game has everything that a slot machine enthusiast could need.
Symbol Design and Size
The symbol design in Golden Castle is truly a work of art. The precious stones are so realistic, it's almost like they could jump out of the screen and into your pocket (if only, right?). And let's talk about the size of these diamonds! They're massive! It's like playing a game of Who Wants to Be a Millionaire, except instead of answering trivia questions, you're spinning for the chance to win it big.
But don't worry if you don't land on a massive 3×3 diamond. There are still plenty of other unique shapes and sizes to enjoy. Plus, the Ghost King feature is a hoot! Who knew haunting a castle could be so fun? By transforming symbols into smaller ones, Ghost King adds an extra layer of excitement to the game.
Quick tip: If you squint your eyes just right, the precious stones kind of look like candy. Don't blame us if you start craving some sweets while playing Golden Castle.
Avalanche Feature: The Fun and Quirky Way to Win Big in Golden Castle
Get ready to feel the thrill of the chase in this amazing game that will leave you wanting more. Golden Castle is a casino slot game that has taken the world by storm, and for good reason. One of the most exciting features of this game is the Avalanche feature that will leave you on the edge of your seat.
When playing Golden Castle, the Avalanche feature comes into play every time a winning combination is formed. This feature shatters any winning combinations, which then disappear before new symbols avalanche into the empty spaces. The best part? The more winning combinations you get, the more symbols will avalanche and the more chances you have to win big.
If you are lucky enough to land a mega 2×2 or 3×3 symbol, this will also crush the underlying symbols if there are partial gaps beneath them. This creates a huge chain reaction that can lead to some massive wins, which will surely bring a smile to your face.
But be careful, Golden Castle is highly addictive. The Avalanche feature will leave you feeling like you're in a never-ending loop of excitement and anticipation. You might even find yourself cheering and shouting as the symbols avalanche and the wins start multiplying.
Overall, the Avalanche feature is a great addition to this already amazing game. Its ability to create huge chain reactions and big wins makes it an absolute treasure. Don't take our word for it, try Golden Castle for yourself and experience the excitement of the Avalanche feature today!
Bonus Game and Progressive Multiplier: More Spins, More Wins!
Are you looking for a high-risk, high-reward game to satisfy your gambling cravings? Look no further than Golden Castle! Landing three scatters will activate the coveted Phantom Free Spins bonus game, which means a chance to get more spins, more action, and (hopefully) more money in your pocket.
But wait – there's more! This game has a progressive win multiplier that increases after each winning avalanche, so you'll be racking up those coins in no time. And the best part? There's no limit to how high the multiplier can go. That's right – the sky's the limit when it comes to your winnings in Golden Castle. The best part is that the multiplier does not reset between spins, so the longer you play, the higher you can go.
During the bonus feature, Ghost King can also split larger symbols, which sets the stage for some potentially significant payouts. This spooky guy can be a real lifesaver when it comes to your quest for riches – because who doesn't love a good ghost story? Just be sure to watch out for any other supernatural surprises Golden Castle might have in store for you.
Ghost King Symbol – Scary Good Wins!
Get ready to meet the Ghost King! This symbol is not only spook-tacular looking, but if it appears on the grid it can help you multiply your wins like a ghost that haunts your pocketful of coins. Randomly, the Ghost King can jump in and transform adjacent symbols into winning combos that will give you a scream-worthy payout. But that's not all, sometimes the Ghost King will get a little generous and turn some of those symbols into shiny golden wild symbols. How's that for a trick and a treat?
This symbol may sound creepy, but honestly, it's one of the friendliest creatures we've encountered inside a slot game. We couldn't believe how often it showed up to help us with our winnings. Frankly, we're starting to think that maybe the Ghost King just needs some friends, and we're happy to oblige. Who knew that hanging out with ghosts could be so profitable? Plus, it beats talking to the living.
Volatile Gameplay: Get Ready to Risk it All on Golden Castle Titanways
Hey there Slots lovers, if you're willing to risk it all in the high-stakes world of online casino games, then Golden Castle Titanways is just the slot game for you. You'll get the thrill of living on the edge every time you spin the reels, with the highly volatile gameplay that'll keep you on the edge of your seat.
You can bring in big wins of up to 20,000 times your wager if you play your cards right on Golden Castle Titanways. But hey, you can't win if you don't play, right? So, go ahead and take your chances with this thrilling game. Just don't come crying to us if you lose your shirt- we warned you!
RTP and Buy Feature: A Golden Ticket to Bigger Wins!
If you're looking for a thrilling online slot game that comes packed with big payouts and exciting features, you might want to give Golden Castle a spin. Not only does this game have a jaw-dropping RTP of 96.34%, but it also comes with a buy feature that can boost your RTP up to an impressive 97.12%! Now, that's what we call a golden opportunity!
The buy feature in Golden Castle is unlike anything we've seen before. For just a small fee of 70 times your default bet, you can unlock a feature that will take your gaming experience to the next level. It's like buying a virtual golden key to unlock endless treasures!
We can't help but feel like we're living out our childhood dreams of finding the golden ticket from Willy Wonka's Chocolate Factory when playing Golden Castle. Except, in this case, we're not getting a lifetime supply of chocolate, but a lifetime supply of big wins!
Betting Range And Top Prize
Hey there, high rollers and penny pinchers alike! Golden Castle presents a game that provides betting options for anyone – from those looking to test the waters to players who want to dive straight into an ocean of riches. With bets ranging from 20 cents all the way up to a hefty 50 Dollars per spin, players can tailor their gameplay experience to their liking.
Now for the moment you've all been waiting for – let's talk about the top prize. Brace yourselves, folks, because this game is no joke. The top prize is a whopping 20,000 times your bet! That's enough money to buy a castle of your own, if that's where your heart desires. Can you imagine getting that lucky spin and seeing that much gold rain down on your screen? If I were you, I'd already be drafting up my letter of resignation.
FAQ
What is Golden Castle Titanways?
Golden Castle Titanways is a slot game produced by Fantasma that involves medieval themes and precious stones that can give players big prizes.
What kind of game mechanics does Golden Castle Titanways use?
Golden Castle Titanways uses a unique system called Titanways that lets symbols fall and triggers free spins and reel modifiers leading to big prizes.
What is the RTP value of Golden Castle Titanways?
Golden Castle Titanways has an RTP value of 96.34%, which increases to 97.12% when the buy feature is activated.
What is the top prize players can get in Golden Castle Titanways?
Players can win up to 20,000 times their bet in Golden Castle Titanways.
What are the symbols in Golden Castle Titanways?
The symbols in Golden Castle Titanways consist of various precious stones, which range in value from 1x for 6 of a kind to 10x for 6 diamonds.
How does the Titanways system work?
The Titanways system includes symbols that land in sizes of 1×1, 1×2, 1×3, 2×2, or 3×3. Each reel with 1×1, 1×2, or 1×3 symbols counts as one symbol, while 2×2 or 3×3 symbols are counted as one symbol for each reel they cover.
What is the Avalanche feature in Golden Castle Titanways?
The Avalanche feature causes winning combinations to shatter and disappear, with new symbols falling into empty spaces. Mega 2×2 or 3×3 symbols will crush underlying symbols if there are partial gaps beneath them.
How do players activate the Wild Haunt feature in Golden Castle Titanways?
The Wild Haunt feature can be triggered by landing one or more grey Ghost King symbols. The Ghost King will select a larger symbol and divide it into individual 1×1 symbols, potentially multiplying a win if part of a combo.
How do players activate Phantom Free Spins in Golden Castle Titanways?
Players can activate Phantom Free Spins by collecting three scatters in the arc at the top of the reels within a single sequence of spins. The feature includes a win multiplier that increases after each winning avalanche.
What we like
Innovative Titanways engine and unique symbol designs
Avalanche feature adds excitement and potential for big wins
Phantom Free Spins with progressive win multiplier
Ghost King symbol adds an element of surprise to gameplay
What we don't like
Highly volatile gameplay may not suit all players
Buy feature can be costly