Gold Factory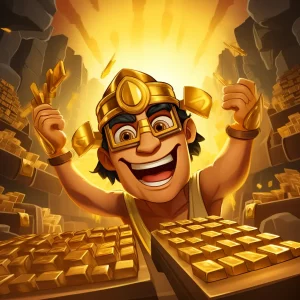 Are you ready to strike it rich? The Gold Factory slot game offers 50 paylines of pure, unadulterated excitement. Created by Microgaming, this 5-reel machine is set in a fictional factory where gold is produced at a mind-boggling rate.
So, how do you get in on the action? Simply place bets on the paylines, ranging from humble 1-coin wagers to more daring 20-coin bets. With coin values ranging from $0.1 to $0.5, players can spin to their heart's content and hope to hit the motherlode. And if you're feeling especially lucky, why not go all in with the maximum bet of $1,000? The odds might just be in your favor with the 95.6% RTP.
But be warned: once you enter the Gold Factory, it's easy to get lost in the glamour and the gold. With colorful graphics, lively sound effects, and generous payouts, it's no wonder this slot game has kept players coming back for more. So buckle up, comrades, and get ready to ride the wave of slot machine excitement with Gold Factory.
Gameplay and Layout
Gold Factory is a golden opportunity for players seeking a thrilling, linear gameplay experience. Although the game is quite straightforward, it provides enough excitement to keep things interesting throughout. The chance to win a jackpot of 619,000 coins is certainly enough to get the adrenaline pumping.
But it's not just the chance to win big that keeps players coming back for more. The user-friendly layout and easy-to-navigate interface make Gold Factory a breeze to play. And as if that wasn't enough, the game's engaging graphics and background music create a truly immersive experience.
Playing Gold Factory is like stepping into Willy Wonka's chocolate factory, only instead of candy, players have a chance to win big. And who doesn't love the chance to win big? But beware, just like in the chocolate factory, there's always a chance you'll be left with nothing but a tummy ache.
Symbols and Bonus Features
If you're a fan of slot games, you know that symbols are the heart and soul of the game. And boy, does Gold Factory deliver! The symbols in this game are all themed around – you guessed it – a gold factory. You'll see the Boss, who's probably counting his gold bars as we speak. There's also the alchemist, whose potions turn everything that touches gold. Then there's the cart full of gold bars and coins, the train that transports all that precious metal, the submarine that dives deep to unearth more gold, and even a hot air balloon that probably runs on gold, too.
But the star of the show is undoubtedly the Wild symbol: the game's logo. It acts as a joker, replacing other symbols to help you create winning combinations. The only symbol it can't replace is the Scatter symbol – which is also the key to unlocking the game's bonus features.
Speaking of which, let's talk about the Boiler Room Bonus Game. It's triggered when you land three or more Scatter symbols anywhere on the reels. Once activated, you'll be transported to the Gold Factory's Boiler Room, where you'll get to pick from different items to reveal cash prizes or trigger yet another bonus feature called the Chambers Room.
The Chambers Room is where things get really interesting. You'll get to pick from different doors, each leading to a different chamber. Some chambers will earn you even more cash prizes, while others will activate the Reactor Bonus Game or even award you with free spins.
All in all, Gold Factory's symbols and bonus features are definitely worth the investment. Who knows, maybe you'll be the one striking gold next!
Graphics and Sound Effects
Get ready to immerse yourself in the flashy graphics and wonderful sound effects of the Gold Factory slot game! This game is designed to be visually appealing to beginners and seasoned players alike, with its rich backdrop of gold, gems, and jewels.
As you play, you'll be treated to entertaining animations and sound effects that perfectly match the game's overall theme. You'll hear mechanical whirring, steam hissing, and coins clinking into the payout tray. These elements make the game feel more realistic and exciting.
One thing we particularly appreciate is the attention to detail in the Gold Factory slot game. Each symbol is meticulously crafted to reflect the game's theme, and the animation sequences are perfectly timed to match the pace of the game. Overall, the graphics and sound effects work together seamlessly to make the game a feast for both the eyes and ears.
If you're searching for a slot game with both style and substance, then Gold Factory is an excellent choice. With its top-notch visuals and crisp sound design, it's sure to delight players looking for a fun and rewarding experience.
Jackpot and Incentives
Looking to strike gold in your gameplay? Look no further than Gold Factory! Not only does this game offer an attractive jackpot with a possible payout of up to 619,000 coins, but it also has a range of exciting bonus games that add to the overall appeal of the slot machine.
Gold Factory is not just about chasing the jackpot. The game is designed to provide a fun and playful experience for players who want to enjoy an escape from the mundane. It's a cute and quirky game that is easy to use, perfect for players who want to avoid complicated gameplay and just dive straight in.
So if you're looking for a game that gives you the chance to win big while enjoying a light-hearted and enjoyable experience, Gold Factory has you covered. It's no wonder players keep returning to this game, considering the jackpot and all of the entertaining features.
And if you don't win big, at least you'll have a few laughs along the way. After all, what's a game without some fun and humor? With Gold Factory, you're sure to get both!
FAQ
What is the minimum bet for Gold Factory?
The minimum bet for Gold Factory is $0.01.
What is the RTP of Gold Factory?
The RTP of Gold Factory is 95.6%.
What is the maximum jackpot for Gold Factory?
The maximum jackpot for Gold Factory is 619,000 coins.
How many paylines does Gold Factory have?
Gold Factory has 50 paylines.
Is there an Autoplay feature in Gold Factory?
Yes, there is an Autoplay feature in Gold Factory.
What is the theme of Gold Factory?
Gold Factory is set in an imaginary factory where gold is produced.
What is the Wild symbol in Gold Factory?
The Wild symbol in Gold Factory is represented by the slot logo and replaces all other symbols, except for the Scatter.
What is the Boiler Room Bonus Game?
The Boiler Room Bonus Game is a special game in Gold Factory that is activated with three or more Scatter symbols and offers the chance to win the jackpot.
What we like
Exciting gameplay with bonus features
User-friendly and engaging layout
Well-designed graphics and sound effects
Attractive jackpot and bonus games
What we don't like
Limited betting options with a maximum bet of $1,000
RTP of 95.6% is relatively average