Glory of Egypt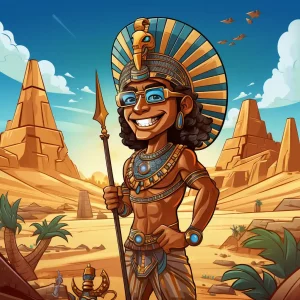 Gameplay and Features
Gameplay and Features
Are you ready to become a pharaoh and win big in Ancient Egypt? Glory of Egypt is the perfect game for you! The game features 5 reels and 3 rows, and offers players 10 ways to win. The graphics are impressive, and you'll feel like you're exploring an ancient pyramid.
But let's get serious for a moment. The RTP of the game is nothing to sneeze at, at 96.05% it is well above average. What's more, the maximum win is a whopping 5,000x the player's bet. That's enough to make even Cleopatra jealous!
The game also features Wilds, Scatters, and free spins. The Wilds will substitute for any other symbol to create winning combinations, while the Scatters will trigger the free spins feature. And let's be real, who doesn't love a good free spins feature? It's like finding a hidden treasure in the desert!
So what are you waiting for? Put on your explorer's hat and grab your shovel, and let's go dig up some ancient riches in Glory of Egypt!
Eye-catching Graphics and Animations!
Prepare yourself to embark on a journey to ancient times when pharaohs ruled the world and treasures were abound! The moment you launch the Glory of Egypt casino slot game, you will be greeted by a stunning temple structure filled with valuable treasures.
The intricate graphics and animations of this game are a testament to the quality of its design. From the sprawling desert, the swaying sunflowers, to the hieroglyphics etched along the border of the game, this slot game is a feast for the eyes. Only well-designed games like this will make dragging yourself away from a slot machine so hard!
Glory of Egypt features a range of symbols that accurately depict the thriving civilization of ancient Egypt. The symbols include not only the all-time favorite Caesar and Cleopatra, but also a stunning gold bracelet that is unique to this game. In addition, the playing cards in bold colors of gold and blue add a lively touch to the game.
As if the graphics weren't enough, the sound effects of Glory of Egypt lend an overall authentic feel to the game. The background music, accompanied by the traditional ancient Egyptian rhythmic beats, ties all the elements of the game together into an immersive experience that'll transport you back to the time of Cleopatra herself!
Symbols and Soundtrack
If you're a fan of ancient Egypt, you'll feel right at home with Glory of Egypt. The symbols of the game allow you to dive deep into the rich history and culture of this magnificent civilization. You'll appreciate seeing Caesar and Cleopatra grace the screen, alongside a stunning gold bracelet, and the traditional card symbols. Cleopatra plays the role of the Wild symbol and assists players in winning combinations. It's funny to see that even in the world of ancient Egypt, Cleopatra was still the queen of the game.
The game's soundtrack is nothing short of phenomenal. You'll be transported to the heart of Egypt as you listen to the exhilarating sounds of the game. Each spin is accompanied by an epic sound that makes the experience all the more thrilling. It's like standing in line at a music festival, except there's no annoyingly tall guy blocking your view and no questionable smells from the person next to you.
Unleash Your Inner Pharaoh: The Winning Potential of Glory of Egypt
Ready to uncover the secrets of the ancient pyramids? Let Glory of Egypt take you on a journey through the world of Cleopatra, King Tut, and other legendary figures of the Nile. But beware – with great power comes great responsibility (and a big appetite for gold).
One of the most impressive things about Glory of Egypt is its winning potential. With an industry-average RTP of 96.05%, you can rest assured that your chances of hitting a jackpot are higher than in many other online slot games. And speaking of jackpots, the maximum win in this game is a staggering 5,000x your bet. That's enough to make anyone feel like a pharaoh in their own right!
The game's features also play a key role in increasing your chances of winning big. The Wilds can substitute for any other symbol except the Scatters, helping you complete winning paylines. Meanwhile, the Scatter symbol can not only award you with up to 20 free spins, but can also trigger bonus games where you get to choose from several objects to reveal your prize. Just don't choose the snake – we hear they're a bit venomous.
In short, whether you're a seasoned online slot player or a beginner looking to strike it big, Glory of Egypt is a great choice. With its impressive winning potential, fun features, and engaging graphics and sound effects, it's a true diamond in the rough of the online casino world. Don't wait – take a trip to the land of the Nile today, and see if you can uncover the treasures that lie beneath its sands!
Bonanza of Bonus Gambling Game
Glory of Egypt is no less than an adventure for gamers keen on discovering the secrets of ancient Egypt. This game offers players the chance to double their winnings through a bonus gambling game – quite literally, double or nothing, folks! In this game, players must select one of four cards, and cross their fingers and hope that lady luck is on their side, possessing a higher value than the dealer's uncovered card. Players can win a maximum multiplier of 10x, which is like winning the lottery, only better.
But let's be honest, doubling your winnings never comes easy. It's like trying to get water from a stone. Gambling is like a rollercoaster: it's fun but can be nauseating at times. The buzz though, it's addictive, and that's something that can come in handy in the Ivory Tower (We won't judge!). So, if that's your cup of tea, Glory of Egypt will scratch that itch you may have been trying to reach since forever.
FAQ
What is the theme of Glory of Egypt?
The theme of this game is ancient Egypt and it is set inside a temple where treasures abound.
How many ways to win does Glory of Egypt offer?
Glory of Egypt offers 10 ways to win paired with a standard 5×3 structure.
What is the top prize in Glory of Egypt?
Lucky players who manage to win the top prize can earn 5,000 times their bet.
What is the RTP of Glory of Egypt?
Glory of Egypt has an industry-average RTP with a value of 96.05%.
Are there any special symbols in Glory of Egypt?
Yes, Cleopatra is a Wild symbol and there are also 2 Scatters that trigger free spins and make it easier to win.
Is there a gambling game in Glory of Egypt?
Yes, there is an additional gambling mini-game that allows the player to double their winnings by participating in a quick card game against a virtual dealer.
Can I play Glory of Egypt for free?
Yes, several casinos offer the For Fun version of Glory of Egypt, but you can also find demo versions on secure portals without having to register.
What is the soundtrack of Glory of Egypt like?
The soundtrack is the extra piece that perfectly completes the atmosphere of the slot.
What we like
Well-designed graphics and animations
Captivating ancient Egypt theme
Variety of winning features including Wilds, Scatters, and free spins
Chance to double winnings with bonus gambling game
What we don't like