Gangsterz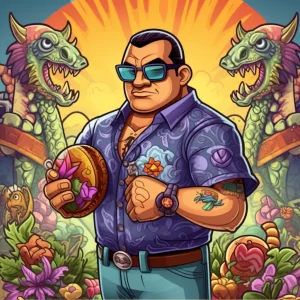 Gangsterz is not your ordinary slot machine game. It's like playing a game of Tetris, except the blocks are replaced with symbols of guns, cigars, and whiskey bottles. The seven reels and seven rows give you plenty of chances to form clusters of identical symbols. It's like forming a gang, but instead of members, you have symbols.
If you're lucky enough to form a winning combination, the symbols get removed and replaced with new ones. It's like getting rid of a snitch and replacing him with a loyal member. The new symbols can potentially lead to more winning combinations, making your gang stronger and more successful.
But don't worry, you don't have to be a wise guy to play this game. The Autoplay function can do the dirty work for you. You can set it for up to 1,000 spins and let it run indefinitely, like having an army of loyal gang members doing the job for you. Just sit back, relax, and let the money roll in.
The game has an RTP value of 96.2%, which means you have a good chance of getting your money back. It also has high volatility, which means the payouts can be massive, like a successful bank heist. Just don't spend it all in one place, or you might alert the feds.
Graphics and Design
Let's be real, no one becomes a gangster because they're attracted to bland colors and dull designs. Luckily, Gangsterz knows how to please its players with stunning graphics. The symbols are so clear and colorful, it's like they jumped right out of the screen and into your lap. It's almost like being in your own personal casino, except your mom won't be barging in every five seconds telling you to clean your room.
Aside from the graphics, the game design is top-notch. The game board takes center stage, but the three banking structure panels that flank either side make it feel like you're at the helm of a criminal operation. The game's left side constantly updates you on your spin winnings, while the right side is dedicated to purchasing bonuses. It's foolproof, really. Unless, of course, you were never really good at those math word problems in school. In that case, might we suggest a different career path?
One particularly cool feature is the counter at the bottom-right that keeps track of the bonuses you've received. It's like having your own personal accountant, but instead of working boring 9-to-5s, they're helping you win big bucks. So basically, they're the best kind of accountant.
Bonuses
Gangsterz, the ultimate slot game for fans of goodfellas, offers four bonuses that can make your gambling experience more exciting than a heist! If you want to feel like a gangster who's been offered a deal he cannot refuse, try your luck with the Detonation bonus! It will turn as many as 23 of those pesky unpaying symbols into Wilds and remove four symbols. That's more destruction power than a Tommy Gun!
But if you're more of a brains than brawn guy, you might want to go for the Promotion bonus. It transforms a random symbol into another. You may not be able to control people's minds, as much as you'd love to, but with this bonus, you can at least control the symbols on the reels.
If you're looking for even bigger wins, the Separation bonus might be your best bet. It makes a Wild symbol appear in the center of one row and turns the adjacent symbols into Wilds too. That's like being able to bribe the dealer into stacking the decks in your favor.
For those looking to streamline their gameplay and focus on the big prizes, the Reduction Bonus removes all low-level symbols from the reels, putting more high-paying symbols on the remaining reels to give you the best odds.
The Second Chance bonus gives you a second spin with random Wilds if there aren't any winning combos on the first spin. It's like getting the chance to roll the dice again without risking any chips! Finally, the Backlit Symbols bonus, where a random symbol lights up brighter than others. If combos are formed with it, the winning value will double! That's right, you're not going crazy, that's a 100% increase in winnings!
RTP Value
Are you ready to make some serious cash? Look no further than Gangsterz, with an RTP value of 96.2%, you have a high chance of hitting it big. That's right, this online slot game is not just for fun – it's all about the cha-ching! With high volatility, there's a lot to gain from playing Gangsterz, and who doesn't love a good gamble?
Plus, with a theme that'll transport you right back to the Prohibition era, you'll feel like a real-life gangster pulling off that big heist. Just make sure to watch your back, or you could end up in some hot water. But hey, isn't that part of the fun?
Accessibility and Demo Version
Gangsterz is more accessible than a lazy teenager with a TV remote. This game works on every device, including your trusty smartphone. It's like having a virtual slot machine in your pocket, but without the tinkering required to get it to work.
But let's be honest here, do you really want to spend your hard earned cash on a game you've never played before? That's where the demo version of Gangsterz comes in. It's like a free sample, but with none of the judgment from the supermarket staff when you go back for seconds. You can test out the game without spending a single coin, giving you a chance to explore the game's features and hone your gaming strategies so that you're ready to take on the real deal and Win Big Time, with emphasis on the capital letters, of course.
FAQ
What is the RTP of Gangsterz?
The RTP (Return to Player) value of Gangsterz is 96.2%.
What is the level of volatility?
The game has high volatility.
How do I win in Gangsterz?
You need to form clusters of at least five identical symbols, which can be arranged horizontally or vertically.
What is the Wild symbol?
The Wild is a golden 'W' that can replace any other symbol.
What are the bonuses in Gangsterz?
There are four primary bonuses, and two additional ones. Detonation, Promotion, Separation, and Reduction, plus Second Chance and Backlit Symbols.
Is there an Autoplay feature?
Yes, there is an Autoplay feature where you can for 10 to 1,000 Spins.
Are there any playing cards in the game?
No, there are no playing cards in Gangsterz; only thematic symbols.
Is Gangsterz mobile friendly?
Yes, it's available on every device, and the architecture allows for mobile gameplay.
What we like
Excellent graphics and design
Four impressive bonuses
RTP value is 96.2%
Demo version available for free play
What we don't like
Only seven reels and seven rows
High volatility could mean high risk