Fruity Mania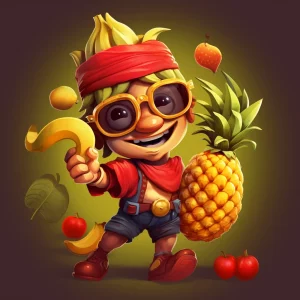 Get ready to go bananas for Fruity Mania, the 5-reel, 20 payline slot machine that will have you feeling like a fruit ninja! Your objective is to find identical symbols from left to right and unlock juicy winnings that are attributed to each fruit.
Starting with the icons of lowest value are bananas, lemons, cherries, and plums, which may seem like small potatoes, but can still pay off big time. Hey, every little bit counts, right? But don't worry, things get more apple-peeling as we rise up the pay scale with the apples, which can offer a quota of 400. And if you're really lucky, you can end up with a cherry on top, offering a win up to 400 times your initial bet! Talk about a fruitful game!
But remember, getting to the top can be a squeeze, so keep your eyes peeled for the special symbols and bonuses to help you on your quest. Fruity Mania is truly a slot game to go bananas for, so what are you waiting for? Get spinning now!
Symbols
Oh boy, are you in for a fruity treat with Fruity Mania. Get ready to dive mouth-first into some bananas, lemons, cherries, plums, and apples. They won't fill you up like a fruit smoothie, but they'll sure fill up your virtual wallet! And if you really want to take your game to the next level, you'll want to keep an eye out for the fruity cocktail. Not only is it a tasty way to get in the spirit, but it also serves as the Wild symbol. And let me tell you, this Wild isn't like the ones you see on a Saturday night out on the town. It can replace any symbol of the base game to help you create combinations and win some sweet rewards.
Graphics and Design
Fruity Mania is a cherry good time where you can have your fruit and win some cash too. The bright, vibrant colors and the fruit-based theme are a perfect match for the game. The graphics and animations are simple yet effective, and it's great to see a slot machine that doesn't rely on flashy graphics to impress. Besides, who needs extra frills when you have juicy fruits to look at?
Although the graphics are not the most impressive out there, the developers sure did know how to keep it sweet and simple. The background music is so catchy that you'll be humming it all day long. So if you're tired of the over-the-top graphics and just want a no-nonsense fruity experience, Fruity Mania is the game for you.
The fruits shine in this game, but that's about it when it comes to noteworthy graphic details. If you're looking for crazy animations or cinematic graphics, you won't find them here. But hey, who needs that when you have a slot machine filled with delicious and nutritious fruits? So, sit back, relax and soak in the fruity goodness that Fruity Mania has to offer.
RTP Percentage
Are you wondering what the RTP is for Fruity Mania? Well, hold on to your fruit bowl because it's set at 95.86%. Okay, okay, don't get too excited. Yes, it's slightly below the average industry standard, but don't let that deter you from playing this sweet game.
In fact, Fruity Mania offers decent winning potential and the straightforward gameplay makes it easy to understand and enjoyable to play. Plus, with all the fruity goodness on the reels, it's hard not to find yourself enmeshed in the game.
So grab some watermelon slices, a few berries, and give Fruity Mania a spin or two. Who knows, you might even strike it lucky!
Target Audience
Fruity Mania's simple and straightforward gameplay will appeal to veterans who have always played with slots in land-based casinos, preferring simplicity to technology. It's the perfect game for when you can't be bothered to read complicated instructions while nursing a hangover from last night's party.
The game is also perfect for players who enjoy cheerful and lively slots with a fruit-based theme. The graphics are colorful and fun enough to make you forget about your troubles. And who doesn't like a game that will remind you that, no matter how bad things are in real life, you can always win big with a cherry, an orange, and a watermelon?
However, players looking for modern features and special functions may not find Fruity Mania appealing. But, honestly, who needs all those fancy-schmancy bonus rounds and free spins when you can have a good old-fashioned slot game full of fruits? Give it a chance. Your grandma would be proud of you.
FAQ
What is Fruity Mania?
Fruity Mania is an online slot machine game developed by Felix Gaming with a fruit-based theme, 5 reels and 20 paylines.
What is the RTP of Fruity Mania?
The RTP of Fruity Mania is 95.86%.
What are the graphics like in Fruity Mania?
The graphics of Fruity Mania are colorful, with well-designed fruits and classic slot game symbols. However, the game does not have any spectacular animations.
What special features does Fruity Mania have?
Fruity Mania has a Wild symbol that can replace any other symbol to help create winning combinations. However, the game does not have any free spins or other bonus features.
What kind of players is Fruity Mania suitable for?
Fruity Mania is a simple and straightforward game that may appeal to players who prefer classic slots and simplicity over advanced features or technology.
What are the highest paying symbols in Fruity Mania?
The highest paying symbols in Fruity Mania are the watermelon and the cherry, which can pay up to 400 times the initial bet if you find five in a row.
How many paylines does Fruity Mania have?
Fruity Mania has 20 paylines.
What is the minimum and maximum bet in Fruity Mania?
The minimum and maximum bet in Fruity Mania vary depending on the online casino you are playing at. Check the game rules to see the specific limits.
What we like
Cheerful and lively fruit-based theme
Simple and straightforward gameplay
Decent winning potential
Appeals to fans of classic slot machines
What we don't like
No modern features or special functions
RTP percentage is lower than industry average