Fruitnation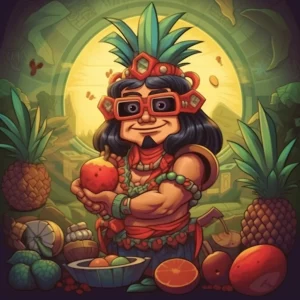 Fruitnation, huh? Sounds like a delicious place to play some slots! And trust me, this classic slot game by Bally will not disappoint your tastebuds. The gameplay is simple, and the lack of special features doesn't detract from the fun. With 5 reels and 3 rows, players have 5 fixed pay lines and the option to use the Autostart button for those lazy days.
The settings menu is also on point – you can turn off the sound if the clacking reels are too loud for you (or if your boss is spying on your screen). Plus, if you're feeling risky, you can disable the Gamble feature and avoid added temptation. And who doesn't love the option to increase the reels' rotation speed? It's like hitting the fast-forward button on life (minus the possibility of missing out on your favorite TV show).
33% return to player rate. That's not too shabby, if you ask me. Play your cards right, and you could come out of Fruitnation with a basketful of winnings.
Symbols and Paylines
Get ready to go fruit crazy with Fruitnation! This game is all about bright colors, fast-paced spins, and juicy goodness. With just 7 symbols, this slot keeps it simple. You'll find the humble cherry paying out even for a pair, followed by the cheerful orange and lemon, the luscious plum and watermelon, and finally the bell and number 7.
The bell symbol is where Fruitnation really shines. With a payout of $2,500 for five symbols, you might just hear church bells ringing in your head. And if you're lucky enough to land five number 7 symbols on a payline, you'll be treated to a monster payout of $5,000!
Just remember, winning combinations are formed from left to right, so keep those eyes peeled and those reels spinning. With Fruitnation, you'll be rolling in the dough…or should we say rolling in the BERRY good cash? (Sorry, we couldn't resist a fruit pun.)
Minimum and Maximum Bets
Get ready to play the high stakes game, Fruitnation! The minimum bet is $5 so you better dig deep into those pockets and bring out your best lucky charm. Don't worry if you're feeling a bit adventurous, because the maximum bet in this game is $5,000 — perfect for those ballers out there who aren't afraid to take a risk or two.
Fruitnation is all about convenience and ease, so if you're feeling lazy or you just want to take a break, the Autostart button is here to help. You can initiate automatic spins with one click and sit back, relax, and watch the reels spin by themselves. Just try not to doze off – you don't want to miss the jackpot win.
Remember, the Autostart button is not a life sentence — if you want to take back control, just click the button again and you'll be back in the driver's seat. Don't be a quitter and don't worry, practice makes perfect, so keep spinning those reels and who knows — the next big win could be just around the corner!
Gamble Your Way to the Top with Fruitnation's Gamble Feature
Get ready to double your winnings or lose everything with Fruitnation's exciting Gamble Feature. After each win, players can choose to enter one of two Gamble modes: the card game or the ladder game. But beware, this feature is not for the faint of heart!
In the card game, players must bet on the colour of the next card – red or black. If you guess correctly, you'll double your bet up to a maximum of $150. But if you're wrong, you'll lose everything you've won – so make sure you're feeling lucky before you take the plunge.
For those who prefer a little bit of strategy, the ladder game could be for you. In this game, players must climb the ladder by guessing the correct higher amount, up to a maximum of $150. Each correct guess will increase your winnings, but if you guess wrong, you'll lose everything.
Overall, Fruitnation's Gamble Feature adds an extra element of excitement to the game and gives players the chance to potentially win big. But remember, gambling should always be done responsibly – know your limits and don't let the thrill of the game take over!
Return to Player (RTP) Percentage
Are you tired of playing slot games with low RTP rates that leave you feeling like you're just giving away your money? Well, Fruitnation is here to save the day with an impressive RTP of 96.33%! That's right, you can count on getting the most bang for your buck with this game.
What does this mean, you ask? Well, for every $100 you wager, you can expect to get $96.33 back on average over an extended period of time. That's a pretty sweet deal, if you ask us! And who knows, maybe you'll even beat the average and end up with more cash in your pocket than you started with.
So, if you're looking for a slot game with a high RTP and some seriously juicy fruit symbols, then Fruitnation is definitely worth checking out. Plus, with its fun graphics and exciting gameplay, you're sure to have a great time. Just be sure to know when to quit, or you might end up with a bellyache (or an empty wallet)!
FAQ
What is Fruitnation?
Fruitnation is a classic slot game with 5 reels and 3 rows, featuring 7 symbols with 5 fixed pay lines.
Who created Fruitnation?
Fruitnation is developed by Bally, an American software house known for producing excellent slot games.
What is the minimum and maximum bet size in Fruitnation?
The minimum bet is $5, while the maximum bet is $5,000.
How do I start playing Fruitnation?
Select your preferred bet size and click the Spin button. You can also use the Autostart button to initiate automatic spins.
What is the RTP of Fruitnation?
Fruitnation has an RTP of 96.33%, which is considered high for a slot game.
How many special features does Fruitnation have?
Fruitnation does not offer any special features, such as wilds or scatters. However, it does have two Gamble modes that you can choose from after each win.
What symbols are included in Fruitnation?
Fruitnation features 7 symbols, including cherry, orange, lemon, plum, watermelon, bell, and number 7.
What are the two Gamble modes in Fruitnation?
The two Gamble modes in Fruitnation are the card game and ladder game, which allow you to double your winnings up to $150 or climb the ladder to win higher amounts.
What we like
Simple and straightforward gameplay
Ability to adjust game settings
High RTP of 96.33%
Option to play with Autostart feature
What we don't like
Lack of special features
High maximum bet of $5,000