Fruit Million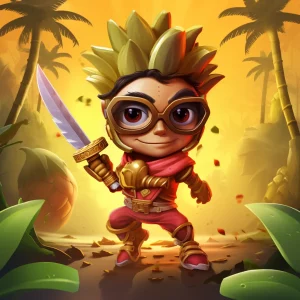 Fruit Million is not your grandma's fruit slot game, instead, it is an exceptional and engaging game that offers an unforgettable gaming experience. The game's 5×4 grid and 100 pay lines provide ample opportunities to hit the jackpot. What's more, the bet levels on the game range from $0.20 to $15, so whether you're a penny slot player or a high roller, you can enjoy spinning the reels of this fantastic slot game.
If you're a player who's all about fairness, then you're going to love playing Fruit Million. The game has a high RTP of 97.1%, which means you'll have a higher chance of winning big prizes. And with the Quick Spin feature and Autoplay, you can spin the reels quickly and sit back, relax and wait for the wins to start rolling in.
Overall, the Fruit Million slot game is not just a feast for the eyes but also brings excitement on every spin. So, are you ready to give your taste buds a treat and try your luck at spinning the reels of Fruit Million?
Bonuses and Special Features
Fruit Million certainly doesn't skimp on the bonuses and special features! In fact, it's practically bursting with them. First up, we've got the Wild symbol – represented by a cute little bee. The bee can substitute for any other symbol on the reels (except for the Scatter, of course), and it'll even expand to fill any empty cells. Talk about a dedicated worker!
Speaking of Scatters, there are two of them in Fruit Million. The first is a beehive that appears as a Stacked Symbol. It can expand to the left or right, which is a pretty sweet deal. And get this: it stays in place for subsequent spins! That's right, it's a fixed symbol. The second Scatter is a diamond, which will pay out regardless of pay lines.
There's also a Gamble feature that lets you increase your last win and double your payout. It's like playing a game within a game, and who doesn't love that? Overall, Fruit Million offers an impressive array of bonuses and features, making the gameplay both fun and potentially lucrative.
Graphics and Design
Are you ready to feast your eyes on something sweet? Fruit Million has it all – juicy fruit symbols, gorgeous sunflowers, and golden honey produced by the bees. The color scheme of this game is dominated by a vibrant yellow hue, which creates a bright and cheerful atmosphere. The reel animation is smooth, and the fruit symbols look delicious enough to eat!
As if that wasn't enough, the game's backdrop is a jar of thick and flowing honey, which adds to the game's temptation. It's catchy and fun, conveying the mood of the game perfectly. Hearing the sound effects following a winning combination just adds to the overall excitement and pleasure of the game.
Overall, the graphics and design of this game are top-notch for any fruit slot fanatic. It's like a mouth-watering smoothie for the eyes, ears, and soul.
Payouts and RTP
Fruit Million? More like Fruit Trillion with a payout rate of 97.1%! This game's RTP is so high, you'll feel like you've won just by playing. The game's default bet of $0.20 per spin is perfect for those who want to get a taste of the game but don't want to spend all their fruit, I mean, money. Plus, it's a great way to get your daily dose of vitamins. *wink*
For the high rollers out there, the maximum bet level of $15 per spin is sure to get your juices flowing. And imagine winning big and being able to treat yourself to a fancy fruit platter with all the ripest and juiciest picks. It doesn't get much better than that.
Compatibility and Availability
Fruit Million is like the perfect pair of jeans that fits everyone! It's available for play on everything from desktop computers to flip-phones, making it accessible to players anytime, anywhere. In fact, you could even play it while you're in the bathroom, just don't forget to flush!
Whether you are a die-hard desktop player or someone who prefers the convenience of mobile, Fruit Million's compatibility across devices ensures that players have a seamless gaming experience. Just remember to keep your phone charged, or else you may have to resort to playing using a calculator (#Throwback).
Don't be afraid to give Fruit Million a try. It's a fresh and juicy slot game that's sure to bring some excitement into your life. Overall, Fruit Million is a fun and engaging slot game- just don't let the fruit go to your head! (See what we did there? Fruit jokes, we're on a roll!)
FAQ
How many pay lines does Fruit Million have?
Fruit Million has 100 pay lines.
What is the Wild symbol?
The Wild symbol in Fruit Million is the bee, which acts as a substitute for all other symbols except the Scatter.
What is the Scatter symbol?
There are two Scatter symbols in Fruit Million: the beehive and the diamond. The beehive is a Stacked Symbol that can expand to the right or left and remain fixed in the subsequent spins. The diamond pays regardless of pay lines.
What is the minimum bet for Fruit Million?
The default minimum bet for Fruit Million is $0.20 per spin.
What is the maximum bet for Fruit Million?
The maximum bet for Fruit Million is $15 per spin.
What is the Gamble feature?
The Gamble feature in Fruit Million allows you to increase your last win by selecting the correct color of a covered central card.
What is the RTP of Fruit Million?
Fruit Million boasts an excellent RTP of 97.1%.
Can the Wild symbol expand?
Yes, the Wild symbol in Fruit Million can expand to occupy the empty cells on the reel, increasing the chances of forming winning combinations.
What we like
Impressive RTP of 97.1%
Plenty of opportunities for winning combinations with 100 pay lines
Exciting bonuses and special features, including expanding Wilds and Scatters
Accessible via all devices
What we don't like