Forgotten Fable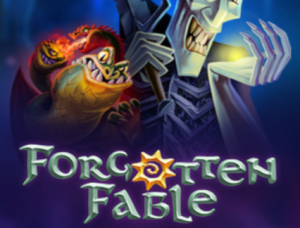 Are you ready to embark on a mystical journey with Forgotten Fable? This 5×3 reel slot game with 15 paylines is unlike any other online slot game you've ever played! The graphics are so impeccable, they'll make you forget you're not actually in a magical world of fantasy and wonder.
But let's get down to business – the betting. The base game gives you a chance to win up to 1,270 times your bet, which is great news for your wallet and even better news for your mood. And if you're lucky enough to come across two special Wild symbols – the Skull and the Sun – you're in for a real treat. They can replace any symbol and activate dark and flame runes, which will lead you to free spins and awesome multipliers!
So, if you want to get lost in a mysterious and enchanting realm while also potentially winning some serious cash, then Forgotten Fable is the perfect game for you. Just don't forget to come back to reality once you're done!
Special Features
If you're looking for a slot game that offers great special features, then Forgotten Fable has got you covered. The golden egg symbol is the perfect complement to the Wilds, and it can help you create new combinations that lead to big wins. Plus, when you do score a winning spin, get ready for a magical experience: an animation will lead to the appearance of a magic chest that can bring up to 5 multipliers!
And if that wasn't enough, Forgotten Fable also has free spins that come with multipliers that can go from 4x to 12x! This means that you can earn even bigger payouts and have more fun while doing it. Just picture it: you sitting on your couch, playing Forgotten Fable, and laughing maniacally as your winnings pile up!
Forgotten Fable also features Flameland spins that come with no multipliers, but with higher base values for combinations. So, if you're feeling particularly fiery and lucky, why not give them a whirl?
In conclusion, the special features in Forgotten Fable are definitely something to write home about. Whether you're a seasoned gambler or a newbie just getting started, you're sure to have a blast with this game. And who knows? You might just end up winning big and becoming the talk of the town!
Theme
Forgotten Fable is a fantasy-themed online slot game that will take you on an adventure like no other. Get ready to embark on a journey filled with stunning graphics and legendary villains such as Baba Yaga, Koschei the Immortal, Vodyanoy, Leshy, and Gorynych. And, let me tell you, these villains aren't your average slot game bad guys. These guys could be starring in a horror movie- without make-up.
This game truly stands out in the market, not just because of its unique and creative design style, but also because of its fantastical theme. It's fantastic with fantastical. So fantastic, it might make you want to grow a wizard's beard, or dust off your old D&D books.
And, the graphics is stunning! When I first played this game, I felt like I was transported to another world where everything was bright and vivid. It's like I was walking around in a fantasy book placed in a timeless land. And, the symbols are incredible. They add a playful feeling to the game, and it's like they have their own personalities- almost like Disney characters!
Graphics
Forgotten Fable is not just a game, it's an immersive experience, thanks to the game's breathtaking graphics. The characters are so beautifully designed that they will take your breath away. You might even start cheering for the villains, that's how much you'll love them.
The dragons look so real that you might be tempted to reach out and pet them. They are that magnificent. Even the Royals look like they were born to play a part in this fairy tale. Watching them come to life as you spin the reels is a treat for the eyes.
I don't know about you, but the graphics of Forgotten Fable turned me into some sort of a slot game snob. Once you experience this level of excellence, it's hard to settle for anything less. This game has set the bar for all other fantasy-themed slot games that come after.
Winning Potential
Are you the type of player who is always in it for the big win? Look no further than Forgotten Fable, with an impressive RTP of 96% and medium volatility. Whether you're a high roller or a casual player, the game's potential winnings can reach astronomical heights – up to 1,270 times your bet during the base game!
Special features like multipliers and free spins give players an even better chance of earning significant rewards. So, don't be afraid to take a chance on Forgotten Fable. It's a game that is worth your time if you're an experienced gambler looking for explosive gameplay, excitement, and the potential for big wins.
FAQ
What is the RTP of Forgotten Fable?
The RTP of Forgotten Fable is 96%.
Are there any special Wild symbols in the game?
Yes, there are two special Wild symbols: the Skull and the Sun. They can replace any other game icon and activate the dark runes and flame runes, respectively.
What is the potential win in the base game?
It is possible to obtain a potential win of up to 1,270 times the bet in the base game.
What is the golden egg in the game?
The golden egg is a Wild symbol that can replace any missing piece on the game grid. However, it has no power over the Skull or Sun symbols.
What are the Magic Chests in the game?
When a winning spin is obtained, the Skull and Sun symbols trigger an animation that leads to the appearance of a Magic Chest. It can bring up to 5 multipliers ranging between 2x and 6x.
How many free spins are offered in the game?
The game offers 10 free spins.
Are there any multipliers in the free spins feature?
Yes, the multipliers can go from 4x to 12x in the Free Spins feature.
Is Forgotten Fable a medium volatility slot?
Yes, Forgotten Fable is a medium volatility slot.
What we like
Impeccable graphics and stunning design
Unique fantasy theme featuring legendary villains
Special features with multipliers and free spins
High winning potential with up to 1,270 times the bet
What we don't like
Medium volatility may not appeal to all players
Limited availability on some online casinos