Firebird Spirit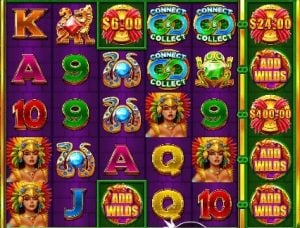 Get ready for this fiery adventure, where the Firebird Spirit slot game offers plenty of thrills. With 1,875 ways to win on a large grid that has 6 reels and 5 rows, players have many chances to hit it big. And if you're feeling lucky, you can activate the Autoplay function and let the game play itself.
But fire beware — this game has high volatility that can set your bankroll ablaze! To get started, you can place your bets, ranging from a minimum of $0.25 to a maximum of $125.
Just like a phoenix rising from the ashes, you too can rise to the top of the leaderboard and get the minimum win of 4,250 times your bet. Watch out for the stunning goddess Chantico, who is the highest paying symbol of all, while the bird symbol acts as the Wild, substituting for all other symbols on the reels.
The Connect & Collect symbol, represented by the inverted eight, is the key to unlocking six special bonuses and features. So keep a sharp eye out for it, and you might just find yourself flying high above the competition!
Bet Range
Are you on a budget but still want to experience the thrill of the game? Fear not, my friend! Firebird Spirit has got you covered with a minimum bet of only $0.25 that won't break the bank. On the other hand, if you want to go all out and make it rain, the maximum bet of $125 will give you the rush you're looking for.
With such a diverse range of bets, this game is perfect for all kinds of players. Whether you're a newbie or a veteran of the slot game universe, Firebird Spirit has something to offer you.
This game is so great, you won't have to worry about being forced to sell your car to cover your bets. Although, should you decide to do it anyways, we won't judge you. The gameplay is just that fun. So go ahead, spin to your heart's content!
Game Grid
Firebird Spirit is one of the hottest slot games out there, and it's not just because of the fiery graphics. With a massive grid featuring 6 reels and 5 rows, this game has an incredible 1,875 ways to win! It's like trying to find your way through a maze, except instead of getting lost you're picking up cash along the way.
The symbols in this game feature some seriously cool Aztec designs that'll make you feel like Indiana Jones searching for lost treasure. The game's jackpots are also clearly visible on the left side of the screen, so you can always keep an eye on your potential winnings. And if you're feeling brave (or just a little reckless), the three buttons to start playing, autospin, and adjust your bet are located at the bottom. Just don't accidentally bet your entire life savings on a single spin, unless you're trying to live that Gregor Samsa life.
Get Ready for These Special Prizes in Firebird Spirit
Firebird Spirit is a game that offers players not only the chance to win big but also six special bonuses and features related to the Connect & Collect symbol. And let's be real, who doesn't love a good bonus feature?
The Quick Collect, for example, is a bonus where you can get an extra prize on top of your regular win. If you are not satisfied with your spin, worry not, you can trigger the Respin to try again. The Jackpot is the biggest prize up for grabs, which could make your bank account soar like a phoenix!
But that's not all. The game also features Add Wild where an extra Wild symbol is added, and Free Spins where you can spin the reels without wagering any of your own funds.
As for the Connect & Collect symbol, it is the key to unlocking all of these marvelous bonuses. Create a chain of Connect & Collect symbols that ends in one of the special positions, and you are guaranteed to receive the corresponding bonus. The bird is the Wild symbol that replaces all symbols except the Connect & Collect symbol, which means that it is your best bet to achieving a Connect & Collect chain.
Who knows? With these features, you just might soar like the Firebird itself and win big while having a ton of fun along the way. Give it a try and let us know if you agree that Firebird Spirit is the hottest game in the casino right now!
Device Compatibility
Birds are known to soar high in the sky, but now you can take them with you anywhere! Firebird Spirit is the ultimate online slot game that you can enjoy on any device, even on your grandma's ancient tablet.
Whether you're an Apple fanboy or an Android enthusiast, this game is compatible with every device. Which means wherever you go, Firebird Spirit goes with you. No need to wait for boring flights and long bus trips, just whip out your phone and start spinning those reels!
The game's developers have gone to incredible lengths to ensure that the graphics are optimized for every screen size. This means whether you're playing on a 4-inch phone or a 12-inch tablet, the visuals and gameplay will be crystal clear.
FAQ
What is the theoretical return to player?
In Firebird Spirit, the RTP value is 95%.
Are there any special bonuses or features?
Yes, there are six special bonuses and features related to the Connect & Collect symbol.
Can I play on my tablet?
Certainly, Firebird Spirit is available for every device, so you can play comfortably even on your tablet!
How many ways to win are there?
There are 1,875 ways to win.
What is the betting range?
The betting range goes from a minimum of $ 0.25 to a maximum of $ 125.
What is the minimum win amount?
The minimum win amount is 4,250 times the bet.
Is there an Autoplay function?
Yes, the Autoplay function is present, which allows us to automatically spin the reels.
What is the Connect & Collect function?
The Connect & Collect function is a bonus feature that allows you to win special prizes by creating a chain of Connect & Collect symbols.
What we like
Large grid with 6 reels and 5 rows
1,875 ways to win
Betting range from $0.25 to $125
Six special bonuses and features
What we don't like
High volatility
Minimum win is 4,250 times the bet