Fetching Fruits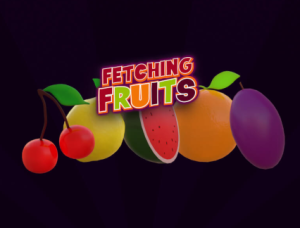 Fetching Fruits by NewAge Games is not just another traditional fruit-themed slot game. It's a deliciously fun ride with juicy fruits that are not just your everyday run-of-the-mill cherries and watermelons. Get ready to spin the reels, and let's dive into the gameplay mechanics of this exciting game!
The user interface of Fetching Fruits is straightforward, making it very easy to play for both experienced and new players. The buttons to control the game are located at the bottom of the screen and are intuitive to use. The Autoplay feature is perfect for those who love to sit back and watch the fruits spin to the tune of electronic sounds, and the Start button is there for those who like to be more hands-on with their gaming experience.
The game's black screen background complements the colorful reels perfectly and gives you the feeling of being seated in front of a real slot machine in a Las Vegas casino. And there's more – if you feel lucky, you can maximize your bets at any time by using the special Bet Max button, which is conveniently located on the screen. This way, you can increase your chances of winning big while having the time of your life.
Fetching Fruits doesn't just come with the potential to win big, but it also has some surprising and entertaining features. The musical component is not an exception. The soundtrack of electronic sounds and flutes is perfect to enhance the excitement of seeing 3 or more symbols aligned. And besides the regular symbols, the game also features some special ones, like the Wild and the Scatter. They can trigger a series of Free Spins or Multipliers, giving you an even bigger chance of getting fantastic payouts.
All in all, Fetching Fruits is an entertaining and engaging slot game that offers a lot of fun and excitement. It is very easy to play, but it has a lot of depth that will keep you entertained for hours on end. So why not give it a spin and see for yourself why it's one of the fruitiest and most fun slot games in the online casino world?
Symbols and Paylines
Have you ever wanted to play a slot game that's fruity and fun? Well, look no further than Fetching Fruits! This game has nine symbols, divided into low-level ones that pay less and high-level ones that offer significant rewards. And let's be honest, who doesn't love some juicy fruits?
Let's start with the low-level symbols that include cherries, lemons, and the numbers 9 and 10. Sure, they may not offer the most exciting payouts, but they're still a great way to increase your chances of winning. Plus, they'll make you feel like you're getting your daily dose of vitamin C and keeping your immune system strong.
Now let's move on to the high-level symbols. These symbols are where the real fun is at. We're talking plum, watermelon, orange, and bell. These symbols offer the chance for significant rewards that will leave you feeling like you just won the fruit lottery. And let's be honest, who doesn't love the sound of ringing bells?
Winning combinations in Fetching Fruits develop from the first reel on the left moving to the right. There are five fixed paylines, and players win by combining 3 to 5 identical symbols. So, it's time to start practicing your matching skills and get ready to win big! The minimum bet is $0.05, which means even those playing on a budget can still get in on the fruit-filled fun. But, if you're feeling lucky, the maximum bet is $10. Who knows, maybe you'll hit the jackpot and be able to buy your own fruit stand?
Remember, the more players bet, the more chances they have of winning. And with increasing winnings as the initial bet increases, there's no reason not to go all in and hope to cash in on some serious fruity fun. So, what are you waiting for? Start spinning those reels and let the fruit frenzy begin!
Betting Options
If you're eager to get your paws on some juicy fruits, you'll need to take a look at your betting options in Fetching Fruits. Like most slots games, this one lets you select a betting amount that suits your budget. But unlike other games, this one lets you bet in Dollars. Feeling fancy yet?
You can choose to bet as little as $0.05 if you're feeling a bit broke. Hey, we've all been there. But if you're feeling flush, you can crank it up to $10. The higher the bet, the higher the winnings, but also the higher the risk. It's like trying to snag a cherry out of a tree – you might miss, but if you catch it, it'll be oh so sweet.
Just remember, winning combinations develop from the first reel on the left moving to the right. So don't go betting all your Dollars on a winning combination that's just not going to happen. We can't guarantee you'll win, but we can guarantee you'll have a good time trying.
Autoplay Feature
Are you someone who likes to multitask while playing slots? Maybe you want to finally organize your sock drawer or re-watch all seven seasons of Game of Thrones. Well, Fetching Fruits has just the feature for you – Autoplay.
With Autoplay, you can set the game to play anywhere from 10 to 100 spins automatically. You don't even have to lift a finger! Well, except for the initial click, of course. But hey, that's just one finger, and we believe in your abilities.
And don't worry about losing all your savings while you're off doing something else. You can set win or loss limits that will stop the Autoplay feature and return you to manual play mode. It's like having a personal financial advisor at your fingertips (or mouse cursor).
Menu and Information
Are you ready to serve up some fun with Fetching Fruits? While this slot game may not come with all the bells and whistles of other games, it still packs a powerful punch. Just like a juicy slice of watermelon on a hot summer day, Fetching Fruits is refreshing and satisfying.
Now, let's talk about the menu and information provided in this game. While the internal menu may be bare bones, let's be real, who needs a fancy menu when you've got juicy fruits spinning on your screen? However, it is a bit disappointing that the game does not provide information on volatility and RTP, which might be a dealbreaker for some players.
But fear not, because despite the lack of information, the symbols and paylines are easy to understand and visible on the screen. Even your technologically challenged grandma could figure out how to play this game! And with clickable icons located on the screen, you can easily turn off the music, access the internal menu, and return to the initial screen without needing to call your grandkids for help.
FAQ
How many paylines does Fetching Fruits have?
There are 5 fixed paylines in Fetching Fruits.
What is the minimum bet in Fetching Fruits?
The minimum bet in Fetching Fruits is $0.05.
What is the maximum bet in Fetching Fruits?
The maximum bet in Fetching Fruits is $10.
What is the highest paying symbol in Fetching Fruits?
The bell symbol has the highest value and pays up to $50 in Fetching Fruits.
Does Fetching Fruits offer Autoplay?
Yes, Fetching Fruits offers Autoplay with the possibility of selecting between 10 and 100 automatic spins.
What is the RTP of Fetching Fruits?
The RTP of Fetching Fruits is not specified in the game's internal menu.
Can I play Fetching Fruits for free?
It depends on the online casino or platform offering the game. Some may offer a free demo version of the game.
What devices can I play Fetching Fruits on?
Fetching Fruits can be played on desktop and mobile devices.
What we like
Classic fruit-themed slot game
Pleasant musical component
Autoplay feature for convenient gameplay
Clear and straightforward symbols and paylines
What we don't like
Limited information in the internal menu
Lack of volatility and RTP details