Everest Slot Review
In this Everest review, we'll explore the thrilling world of the Everest online slot by Four Leaf Gaming. We'll be diving into the details of the slot theme, layout, symbols, and unique mechanics. Discover key information about the game's RTP, volatility, maximum win, and betting limits.  Read on to learn more.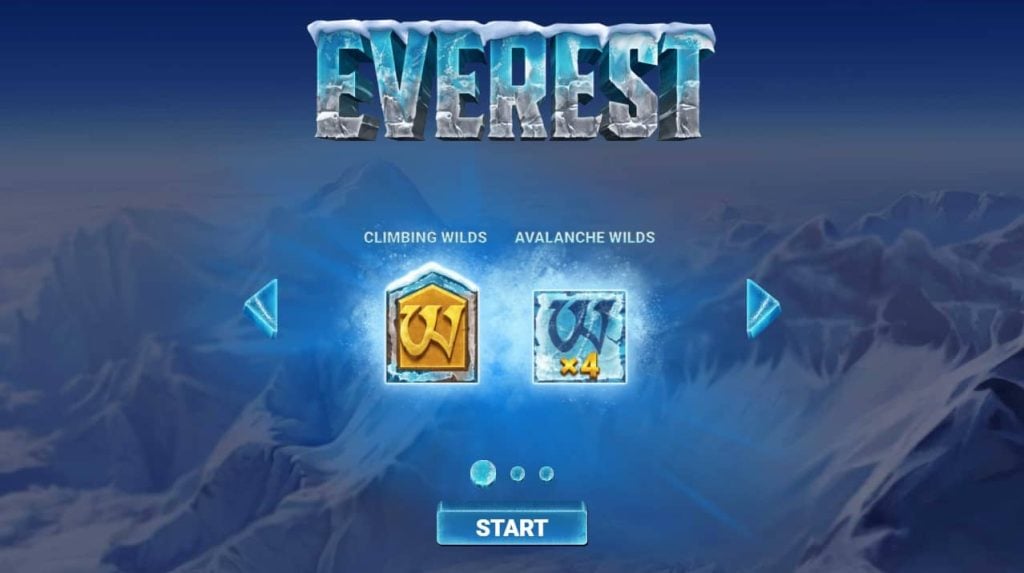 Introduction to Everest
Everest, created by Four Leaf Gaming, invites players to embark on a virtual expedition to Mount Everest, the tallest peak on Earth, standing at an awe-inspiring 8,848.86 meters. The game captures the essence of this iconic mountain, offering an adventure that promises excitement and rewards.
Limits and Layout
Everest offers a gaming grid with five reels and an initial setup of four rows, providing players with 1,024 ways to win. However, what sets this slot apart is its potential for expansion. The grid can grow to an impressive ten rows, offering a staggering 100,000 ways to win. This versatility ensures that players can expect a diverse and engaging gaming experience.
To maintain a balance between excitement and predictability, Everest has medium volatility. Our Everest review also revealed that the slot offers a competitive RTP of 96.45%. Whether you prefer conservative betting or are willing to take bigger risks, Everest accommodates a wide range of bet sizes, starting at £0.10 and going up to £30 per spin. For those seeking an extra thrill, the option to trigger the free spins round adds another layer of excitement to the gameplay.
Everest's visuals effectively capture the Himalayan landscape, featuring snow-covered peaks and a captivating backdrop. This attention to detail immerses players in the world of Everest. Complementing the visuals is an engaging soundtrack that enhances the adventurous theme, contributing to an overall enjoyable gaming experience.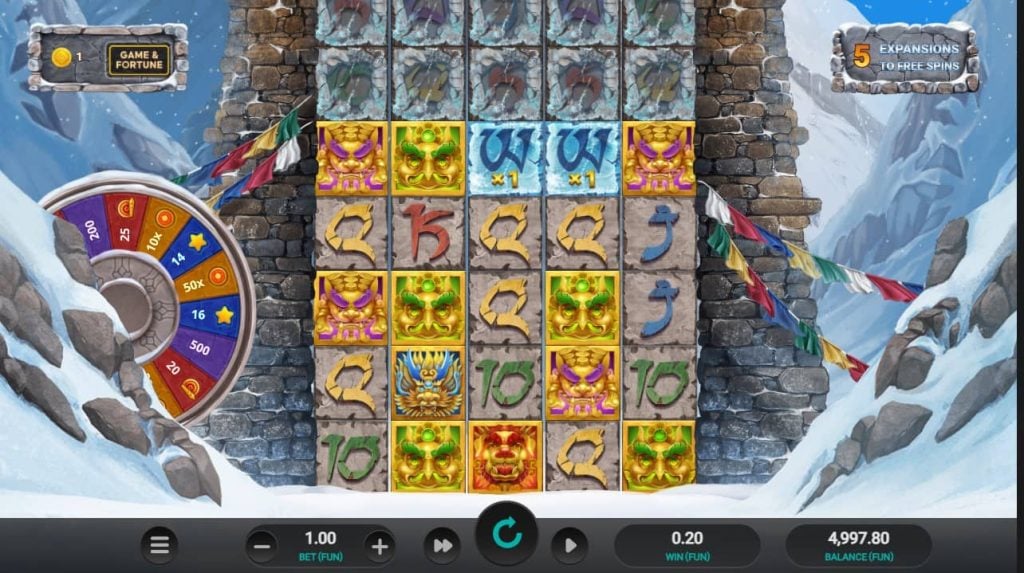 Gameplay and Features
We enjoyed compiling this Everest review as we found that it offers an array of captivating features that enhance the gaming experience. Among these features are Avalanche Wilds, free spins, and various other thrilling elements.
One of the standout aspects of the game is its innovative ways-to-win pay system. When winning symbols align, they vanish, creating space for new symbols to cascade from above. This unique mechanic opens the door to the possibility of creating chains of consecutive wins, providing an adrenaline-pumping gaming experience that keeps players on the edge of their seats.
The game also introduces other engaging features, each contributing to the overall adventure. These include Climbing Wilds, which can substitute for regular pay symbols and increase the reel height, boosting the potential for significant wins. Additionally, the presence of Avalanche Wilds adds another layer of excitement. Avalanche Wilds also cascade down the reel, enhancing their multiplier based on the number of steps they descend.
Everest also offers a captivating free spins feature, which triggers when players land a specific number of scatter symbols. The game provides an opportunity for players to earn 10, 12, or 14 free spins, depending on the number of scatter symbols achieved. These free spins take place on a larger 5×10 grid, providing even more chances to secure impressive wins.
The Everest slot also introduces exciting bonus features such as the Bonus Booster, Fortune Maker, Bonus Replay, Super Spinner, and Nitro Spins, offering players various ways to enhance their gameplay and potentially increase their winnings. These features, along with the core gameplay mechanics, make Everest an engaging and rewarding slot experience that keeps players entertained with every spin.
Regular Symbols
Regular symbols in Everest include 10-through-Ace card symbols, serving as low-paying symbols. These symbols are represented with intricate designs, each offering unique colours and shapes. When five of these low-paying symbols align, they can reward you with 0.4 to 1.2 times your initial bet.
Scatter Symbols
The elusive scatter symbol holds the key to triggering free spins in Everest. Landing 3, 4, or 5 scatter symbols awards players with 10, 12, or 14 free spins, respectively.
Wild Symbols
Climbing Wilds play a vital role in Everest, serving as substitutes for regular pay symbols. The more Climbing Wilds involved in a win, the higher the reel height increases, leading to potentially larger payouts.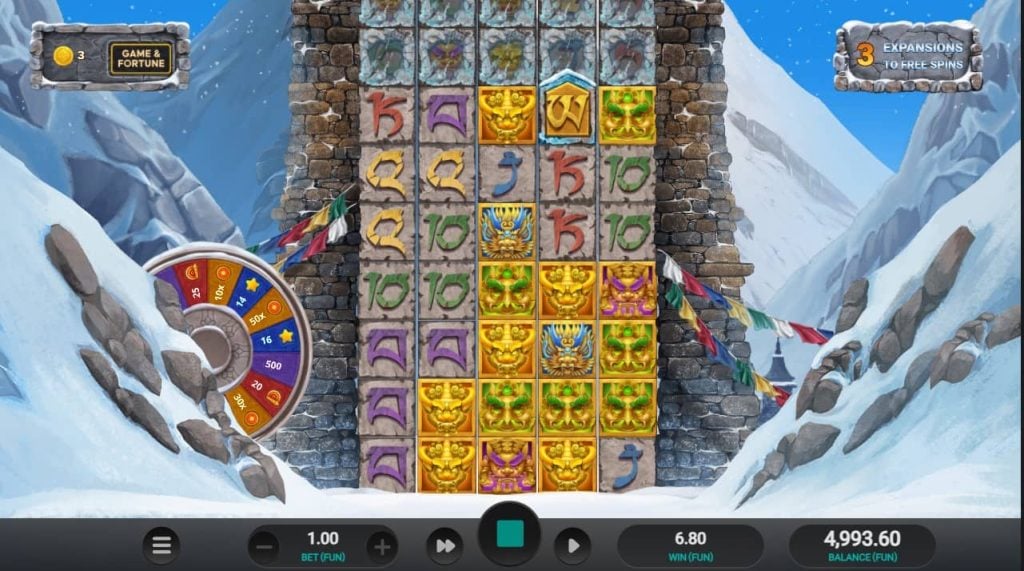 Expert Opinion on the Everest Slot
Based on our experience of putting together this Everest review, this slot provides an exhilarating gaming journey enriched with diverse features and betting options. While some elements may remind players of other Four Leaf Gaming online slot machines, Everest distinguishes itself with unique features like Climbing Wilds and Avalanche Wilds. The game's remarkable potential for colossal wins, with a maximum payout reaching 28,600 times the bet, adds an extra layer of excitement.
Play the Everest Slot Free Demo
If you're ready to explore this slot for yourself, all you need to do is check out our Everest free demo. Playing free slots here at slotjava.com gives you the opportunity to get used to the features before playing for real money at online casinos!
Slots Similar to Everest
If you find the adventurous theme and exciting features of Everest appealing, you might also enjoy these three comparable slot games:
Katmandu Gold: Take another journey into the heart of the Himalayas with Katmandu Gold. This slot offers an immersive mountainous experience with its unique Megaclusters mechanic, where symbols can split into smaller ones, providing numerous ways to win. The game also includes free spins and cascading reels for an action-packed adventure.
90K Yeti Gigablox: Join an expedition to the icy wilderness in 90K Yeti Gigablox. This slot features the Gigablox mechanic, where oversized symbols can lead to massive payouts. With free spins and a high volatility, it offers a thrilling ride for players seeking big wins.
Wild Buccaneers Megaways: If you're drawn to high seas and pirate adventures, Wild Buccaneers Megaways might be your cup of grog. With the Megaways mechanic, it offers thousands of ways to win. Engage in battles with free spins and cascading reels while hunting for buried treasure.
These slots provide a variety of themes and features, ensuring there's something for every adventurous slot enthusiast.
Everest Slot - FAQ
Does Everest offer free spins?
Yes, Everest free spins feature as part of its gameplay and add an additional thrill. 
Can I play Everest on mobile?
Absolutely! You can enjoy a no download version of Everest by accessing the game via your mobile browser
Where can I play Everest?
If you want to play Everest online for real money, you'll find it at a host of top casino sites. You can also try the free demo here at slotjava.com
What is the Everest RTP?
Everest boasts an RTP of 96.45% which is slightly above average.