Epic Legends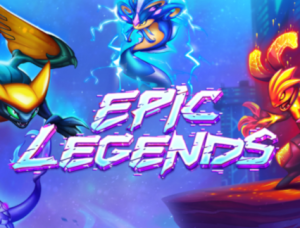 Get ready to lose yourself in a world of mystical creatures and bonuses with Epic Legends. This exciting casino slot game has unique features and a gameplay structure that will have you hooked in no time.
With four mystical creatures playing a crucial role in the game, it's important to keep an eye out for them. These creatures help unlock features that enhance your chances of bigger wins.
But don't worry if you can't find them because the Wild symbol has you covered. This symbol can substitute for all other symbols in the game, giving you more opportunities to hit a winning combination.
One of the most exciting aspects of Epic Legends is the Scatter Ball. When this ball randomly appears above the first reel, you're in for a treat. Not only does it activate bonuses, but it also offers free spins, giving you more chances to win big.
And when those free spins start rolling, the giant creatures' appearance triggers delightful animations that amplify gameplay and add an extra layer of excitement to the game. You'll never know what to expect, but one thing is for sure: Epic Legends is designed to keep you engaged for longer.
So, what are you waiting for? Give Epic Legends a spin, and who knows, those mystical creatures might just bring you epic wins and legendary payouts.
RTP and Volatility
Epic Legends is not only a visually stunning game full of epic battles, but it also offers an amazing RTP of 96.16%. What does that mean for you? Well, it's simple maths! For every $100 you put on the line, you are likely to get $96.16 back. Who said online gambling couldn't be profitable?
And don't worry about the volatility, because despite its epicness, it's still a medium volatility game. So you can expect a balance of moderate and occasional big payouts. This is perfect for players who want to navigate the fine line between high and low volatility games. You'll enjoy plenty of regular wins without losing out on the chance to hit a decent jackpot.
So if you want to go on an epic adventure without breaking the bank, Epic Legends is definitely worth giving a spin. And who knows, you might just come out of it as a legend yourself!
Don't Miss Out on the Futuristic Fun: Theme and Design of Epic Legends
Are you ready for a slot game that will whisk you away to another world? Epic Legends takes place amidst a bustling futuristic city, with four mystical creatures vying for your attention. Sure, the basic symbols offer lower payouts – but why settle for basic when you can unlock the unique features of the game's incredible characters?
Epic Legends' immersive design will have you feeling like you're living in the future. And who wouldn't want that? It's so well-executed that you'll forget you're not actually there. (Don't get too invested, though – we can't afford to lose our players to some other dimension.) The game designers clearly put a lot of thought into every detail, and it shows – the result is an experience that you'll want to return to again and again.
Symbols and Paytable
Get ready to unleash superpowers with Epic Legends! This casino slot game features four unique characters that come loaded with special abilities. Whether you're a fan of the epic Red, the cool Blue, the stealthy Green, or the bold Gold, you'll find plenty of entertainment packed in this game!
Aside from the character symbols, there are also classic playing card symbols that offer lower payouts. However, the real excitement lies with the high-paying characters, which can result in massive wins. From the ultra-cool animations to the impressive payouts, Epic Legends has something for everyone!
The paytable is well-balanced, providing a balance between frequently triggered smaller payouts and less frequent but enormous wins. With such an excellent payout structure, players can easily get hooked on Epic Legends, possibly leading to an all-nighter that ends in regret. Pro-tip: it's always enough to win a little and exit the game with joy than to lose your shirt and not being able to pay your electricity bill.
Special Features and Bonuses
Are you ready for some epic wins? Then look no further than Epic Legends casino slot game! This game offers several special features that will keep you on the edge of your seat and increase your chances of hitting a big win.
First up, we have the Scatter Ball. This little ball appears randomly above the first reel and can activate bonus spins. That's right, you heard it here first – more chances to win! And who doesn't love that?
The free spins feature is initiated by the Scatter Ball and triggered by the giant creatures' appearance on the screen. This is where things start to get really interesting. Each creature awards a multiplier between 2x and 6x, or a Wild symbol that covers an entire reel. The Blue legend awards Sticky Wilds, which means that the Wild symbol will remain in place for a set number of spins and help you rack up those wins. Meanwhile, the Red creature has the power to replace all symbols on the second and third reels with a base game symbol. That means more opportunities to match symbols and hit those big wins!
Overall, the special features and bonuses in Epic Legends add an extra layer of excitement to an already thrilling game. So go ahead, spin those reels and see what kind of epic wins you can achieve!
FAQ
What is Epic Legends?
Epic Legends is an online slot machine game that was launched in 2021. It is designed by Evoplay and features four mystical creatures and a unique function for each of them.
What is the RTP of Epic Legends?
The game boasts an RTP of 96.16%.
Are there any special features in the game?
Yes, the game features a Scatter Ball that can randomly appear above the first reel. When it lands, it can activate a new bonus spin for the player, offering more chances to win. The Scatter Ball can also trigger free spins when it moves to the right.
How many paylines does the game have?
Epic Legends has a standard structure with 20 paylines.
Are there Wild symbols in the game?
Yes, the Wild symbol can substitute for all other symbols, making it easier to hit winning combinations. It can appear in both the base game and during free spins.
What is the volatility of the game?
The game has a medium volatility.
What happens during the free spins feature?
During the free spins feature, players are awarded seven free spins that correspond to the legend displayed on the screen. Depending on the character, players can win a multiplier, a Wild symbol that covers an entire reel, or Wilds that transform into Sticky Wilds until the end of the feature. However, the Red creature has the power to replace all symbols on the second and third reels with a base game symbol.
Is Epic Legends worth playing?
As an online slot game with an intriguing theme and overall design, coupled with the chance to hit a big win, Epic Legends is worth playing. The game offers a decent level of entertainment, and the unique functions of the legendary creatures make the game exciting.
What we like
Unique gameplay structure
Exciting special features and animations
Fair RTP of 96.16%
Balanced paytable with frequent payouts
What we don't like
Limited number of mystical creatures
Medium volatility may not appeal to all players