Enchanted Forest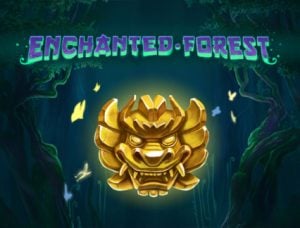 Welcome to the enchanted world of Enchanted Forest, a slot game that will take you on a magical journey where you will discover treasures beyond your wildest dreams. This game has a minimalist design with a 3×3 grid and only five fixed pay lines. But don't let the size of the game fool you, it has tons of features that will keep you engaged for hours.
When you first start the game, you will notice a space irradiated with green light, bordered by two gorgeous trees, and reels divided by thin vines. The buttons are engraved stones with Celtic symbols that give the game a unique and mystical dimension.
The Autoplay and Turbo functions are available and allow you to set automatic spins and accelerate the reel's rotation. These functions are especially useful if you need to take a quick break or want to increase the speed of the game. Plus, the game's volatility is low, and the theoretical return to the player is 95.57%, making it one of the best slot games for low-risk players.
Overall, Enchanted Forest is a fantastic game with a refreshing design and exciting gameplay that will transport you to a serene and magical world. So, grab your lucky charm and start spinning those reels!
Symbol Design and Functionality
Get ready to discover a magical world with Enchanted Forest's eight symbols that will take you to a realm filled with mystical runes and animal statues. The runes replace the standard playing cards and give the game a unique touch. As for the animal statues, these are the symbols that offer the highest payouts.
Don't miss the Golden Mask Wild symbol, which can appear stacked and help you achieve even bigger payouts. If you manage to fill the entire grid with the same symbols, you'll activate the Wheel of Truth feature that guarantees a spin on a special wheel, where you could land multipliers and the much-coveted True Respin function.
Enchanted Forest also comes with a Bonus Bet feature that can increase your chances of winning big. The only drawback? You'll have to up the ante to fully utilize this exciting feature.
All in all, Enchanted Forest offers plenty of opportunities to score some big wins, so let's get those reels spinning and enjoy the enchanting journey!
Experience the Magic with the Special Bonus Features
Enchanted Forest is not just any other slot game, it is a magical world of its own with special bonus features that will keep you enchanted for hours. First up, we have the Twin Respin feature that get activated when two reels are filled with the same symbols, and the third reel spins automatically for increased chances of winning. See, twins always get you some bonus in life.
Another exciting feature is the Wheel of Truth that gets activated when you manage to fill the entire grid with the same symbols. And for this, the reward is a spin on a special wheel with multipliers up to 10x or the True Respin function. Who needs a magic potion when you have the Wheel of Truth?
Wait, there's more! The game also features the Bonus Bet function which is a payable feature, but comes with its own set of rewards. This feature allows players to increase their winnings and double the amount of fun they're having. You know what they say, the more bets, the more fun!
Lastly, but not the least, is the True Respin feature that awards 15 free spins with only high-value symbols. All this magical goodness in one slot game, what more could you want? So, come on and explore the enchanted forest and experience all the magic and winnings it has to offer with its special bonus features.
Autoplay and Turbo Functions
Are you tired of physically spinning the reels? Fear not, fellow slot enthusiasts, because Enchanted Forest has got you covered! With the Autoplay and Turbo functions, players can relax and let the game do the work for them. The Autoplay feature not only saves your energy, but it can also set specific win and loss limits for you to sit back and enjoy the show! Now you can multitask while playfully spinning those reels.
And for those of you who are impatient—and let's face it, who isn't when it comes to winning big?—the Turbo function allows players to speed up those reels, creating a rush like no other. So, if you're the type of gambler who just can't wait for Lady Luck to make up her mind, Enchanted Forest just might be the game for you.
Small Grid with Fixed Pay Lines
If you're looking for a game with a small grid and a fixed pay line structure, Enchanted Forest might be the one for you! The 3×3 grid offers a cozy and contained gaming experience, perfect for those who get overwhelmed by games with larger grids. With only five fixed pay lines to keep track of, you won't have to put in much brainpower, so you can focus on the aesthetics and let yourself be enchanted by the forest.
And the best part? You won't have to break the bank to play. The base bet is a mere 0.30 $, so you can take spin after spin without worrying about draining your funds. Of course, if you're feeling lucky, you can always raise the bet as you wish, but remember to gamble responsibly, folks.
The low volatility of the game ensures that while you may not win big, you also won't lose big. In fact, the theoretical return to player is 95.57%, so you're bound to have some decent payouts and a good time playing. The buttons in the game are engraved stones with Celtic symbols, adding an extra layer of enchantment to this already magical game.
FAQ
What is the theoretical return to player in Enchanted Forest?
The RTP value is 95.57%, which is not very low, but slightly below the average of other slot games.
How many symbols are in Enchanted Forest?
There are eight base symbols and one special symbol.
What are the most profitable symbols in Enchanted Forest?
The most profitable symbols are the animal statues.
Is Twin Respin feature free in Enchanted Forest?
Yes, Twin Respin feature is free and triggered when two reels are filled with identical symbols.
What is the Bonus Bet feature?
With the Bonus Bet feature, players can win higher prizes. However, it is payable.
Are the game buttons easy to use in Enchanted Forest?
Yes, the game buttons are easy to use, and Autoplay and Turbo functions are also available.
How is the atmosphere of the game in Enchanted Forest?
The game's atmosphere is mysterious and beautiful with a forest background, Celtic symbols, and delicate music.
Is Enchanted Forest a high-volatility game?
No, the game's volatility is low, and the payout is quite high.
What we like
Special bonus features with multipliers up to 10x and True Respin function
Autoplay and Turbo functions to accelerate reel rotation
Game's volatility is low with a theoretical return to player of 95.57%
Beautiful and delicate design with Celtic-inspired symbols
What we don't like
Small grid with only five fixed pay lines
Base bet is 0.30$, which may not be suitable for all players