Electric Wilds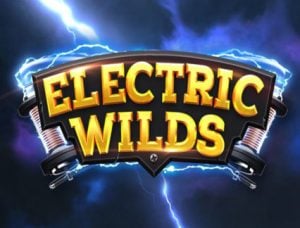 Get ready to enjoy the thrills of neon lights and a classic 90s feel with Electric Wilds slot game! With its simple yet straightforward gameplay mechanics, players can easily dive into the world of this classic 3×3 online slot game. The game features a total of five paylines that operate on a classic matrix and offer some interesting wins that will keep you coming back for more.
One of the most interesting elements of Electric Wilds is the unexpected lightning discharge that illuminates a position on the reels and transforms a symbol into a Wild. This kind of jolt is definitely what you need to electrify your gameplay and make it more exciting! There is nothing like seeing the lightning bolts and hearing the electrifying sound effects, it's like winning the jackpot in a thunderstorm!
Players can generate combos by working on more paylines, which is a great way to increase the win. The game has low volatility which makes it an ideal game for beginners or anyone looking for a low-risk game. Although the gameplay is simple and straightforward, this might not appeal to all players. However, if you love the classic slot game feel, then Electric Wilds is the game for you!
Payout Potential
Are you in it to win it? Electric Wilds has got your back! This slot game offers players a solid chance to hit it big. With its electrifying gameplay and tantalizing payouts, you'll be on the edge of your seat from the first spin.
However, let's be real – this is not a game for the impatient. You'll need to wait for that perfect electric sprint to hit the jackpot. But once you do…boy, oh boy! You'll be feeling electric for days!
If you're a high roller, you'll definitely appreciate the maximum win cap of 250,000 coins. That's enough to get anyone's pulse racing! So buckle up, charge your batteries, and get ready to experience the thrill of Electric Wilds.
Game Design
Electric Wilds certainly brings back memories of the 90s with its neon lights and classic design. The graphics are simple yet effective, offering a straightforward and enjoyable gaming experience. However, it's fair to say that the game isn't the most flashy or visually stunning option out there. If you're looking for bells and whistles, you might need to look elsewhere.
One thing that might disappoint some players is the lack of animations and sound effects that come with the game. If you're a fan of immersive audio and visual elements in your gaming experience, you might find yourself a little underwhelmed with Electric Wilds. But hey, who needs sound and animation when you're winning big?
The game does have one unique and exciting element to it- the lightning discharge. When this is activated, a specific position on the reels will illuminate and transform symbols into wilds, which adds a much-needed boost of energy and excitement to the gameplay. It's almost like having a thunderstorm in your own living room!
Get Sparked with the Maximum Win
Electric Wilds is an electrifying game that offers an impressive maximum win of 250,000 coins. That's like winning an entire year's supply of energy drinks, but hey, you do you! Of course, pulling off a win like that requires a bit of patience.
Don't worry, players aren't going to be shocked by the wait, but they will need to be on the lookout for the right electric sprint. And when it does happen, players can generate combos and increase the win by working on more paylines. With so much potential to win, players will be wired to the game!
RTP: Shockingly Average
Electric Wilds claims to be electrifying, and while it may not shock you with its payouts, its RTP of 96.12% is nothing to sneeze at. While not the best in the industry, it's still a solid payback percentage that can keep you spinning those reels without draining your bank account too quickly.
For newbie gamers, this slot game may be just what the doctor ordered. With its low volatility, Electric Wilds offers a more laid-back experience, much like listening to some smooth jazz with a cup of tea in hand (or a glass of wine— we're not judging here). You don't have to be a high-rolling daredevil to enjoy this game. It's perfect for those who are just looking for a little fun without risking too much.
However, if you're a seasoned slot machine gamer, you may find that Electric Wilds lacks a bit of pizazz. While the game has some exciting features like wild symbols and scatters, there's a distinct lack of spirit within its gameplay. It's a bit like trying to dance to elevator music— sure, you can do it, but it's not exactly soul-stirring. In conclusion, Electric Wilds may not zap you with its gameplay, but it's a solid choice for those who want to play it safe while still enjoying a little bit of electric energy.
FAQ
Is Electric Wilds an online or traditional slot game?
Electric Wilds is an online slot game.
What is the design and theme of Electric Wilds?
Electric Wilds has a bright, neon, shocking design, and a 90s style theme.
How many paylines does Electric Wilds have?
Electric Wilds has 5 paylines.
What is the RTP of Electric Wilds?
The RTP of Electric Wilds is 96.12%.
What is the maximum win in Electric Wilds?
The maximum win in Electric Wilds is 250,000 coins.
What happens when lightning appears in Electric Wilds?
When lightning appears in Electric Wilds, a precise position on the 3×3 grid will be illuminated, and the player can admire one of the symbols on the illuminated line become a Wild, thus granting an extremely 'wild' prize.
Can more lightning increase the win in Electric Wilds?
Yes, if lightning should assign more lightning, the possibility of working on more paylines and seeing the value of the prize increase will also increase.
Is Electric Wilds a high or low volatility game?
Electric Wilds is a low volatility game.
What we like
Element of surprise adds excitement to gameplay
Low volatility makes it ideal for beginners
Attractive proposition for high rollers
Simple gameplay mechanics
What we don't like
Lacks in animations and sound effects
Might not appeal to experienced players