El Diablo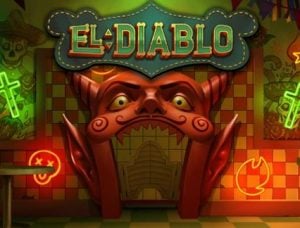 Are you ready to shake hands with the devil? El Diablo is here to spice up your casino experience with its fiery hot gameplay and devilish design. As a classic 5×3 slot machine game, this one will take you on a wild ride with its 5 fixed paylines starting from the leftmost reel. All you need to do is match 3 or more symbols on the screen, and the big cash prizes are right around the corner, if you're brave enough to play with the devil himself.
The game features classic symbols such as cherries, horseshoes, and sevens, but with a devilish twist. And how could it not, with a name like El Diablo? So, instead of boring old fruits, you're looking at cherries with horns and pitchforks, and lucky sevens with tails caught in the flames of hell itself.
But what sets El Diablo apart from other slot machine games is its fiery gameplay. With its burning-hot graphics and devilish soundtrack, you'll feel like you're sitting in the pit of hell itself. And who knows, maybe you'll even make a deal with the devil and win big!
Payouts
If you're looking for a game that can really pay out, El Diablo might just be the one for you! With a maximum win threshold of 500x your total bet, there's plenty of opportunity to rake in the cash. Just be sure not to sell your soul to the devil in order to get those winnings!
Speaking of the devil, the devil symbol is actually the most rewarding one in the game. Landing this bad boy guarantees you 20x, 50x, or even 100x your bet, depending on how many you get. But don't worry, you don't have to actually make a deal with the dark lord to win big – you just have to spin the reels and hope for the best.
Of course, all slot games have their limits, and El Diablo is no exception. You can place bets ranging from 0.10 to 200 credits, which might not be enough to make you a millionaire overnight, but it sure is enough to keep things interesting. And who knows, with a little bit of luck and a lot of perseverance, you might just walk away with a nice payout.
Bonus Features
Are you ready to spin for the win? Well, before you do, let's take a closer look at the bonus features in El Diablo. And trust us when we say, these features are hot as hell!
First up, keep your eyes peeled for the Bonus Symbol. It's the key to unlocking some fantastic rewards. If you manage to land three of these symbols on reels 1, 3, and 5, you'll trigger 10 free spins. That's right, not 5, not 8, but 10. That's more spins than you can count on your fingers and toes. With each spin, your chances of getting lucky keep increasing.
During the free spins round, the excitement levels get cranked up a notch. A maxi symbol will be randomly selected. This symbol will fill the center reels in a 3×3 format, giving you more chances to hit winning combinations. It's like hitting the jackpot, but without all the effort. Well, except for hitting the spin button, but we all know that's the fun part.
Overall, we're beyond impressed with the bonus features in El Diablo. They're devilishly good and will leave you craving more. Will you be the one to outsmart the devil and hit the big win? Give it a spin and find out!
Visuals
Let me just start by saying, El Diablo is a feast for the eyes. The graphics are so good, I almost forgot I was gambling away all my hard-earned money! The colors are so vibrant and the details are so intricate, I felt like I was in the middle of a beautiful Mexican fiesta! Heck, even the devil looked charming enough to take on a date!
The Mexican Calavera theme is showcased perfectly through the designs, making it the perfect game to play if you're feeling a little homesick or just want to celebrate the Day of the Dead in style (albeit with the risk of emptying your pockets!). And let's face it – who doesn't love a good theme? Pair that with good gameplay and you're in for a treat!
Interface
Get ready to take on the devil himself in the exciting slot game, El Diablo! But don't worry, navigating the interface is a breeze – even for those who have never played before.
The adjustable autospin feature is especially handy for those of us who like to multi-task. You can set up those autospins like a boss and let those reels spin while you do important things like watch cat videos on YouTube or balance your checkbook.
And for those who can't bear to be away from the game for even a second, have no fear! El Diablo is fully mobile compatible, so you can keep the devil by your side wherever you go. Just don't blame us if you find yourself shouting "Viva la Diablo!" in the middle of a quiet public place.
FAQ
Is El Diablo available for mobile devices?
Yes, it is. You can play El Diablo on any iOS or Android device with HTML5 support.
What is the maximum amount I can bet in El Diablo?
You can place bets ranging from 0.1 to 200 credits in El Diablo.
What is the most valuable symbol in El Diablo?
The devil symbol is the most rewarding in El Diablo, guaranteeing 20x, 50x, and 100x your bet.
How many paylines does El Diablo have?
El Diablo has 5 fixed paylines that start from the leftmost reel.
What is the RTP of El Diablo?
The theoretical return to player ranges from 94.25% to 95%, which is slightly lower than other recent versions.
Does El Diablo have a Free Spins feature?
Yes, El Diablo has a Free Spins feature that is triggered by landing three bonus scatter symbols on reels 1, 3, and 5.
What is the maximum win threshold in El Diablo?
The maximum win threshold is 500x for the total bet.
What is the volatility of El Diablo?
El Diablo has medium volatility, and it's suitable for players who want big surprises with adjustable bets.
What we like
Easy-to-use interface
Detailed and colorful graphics
Fun Mexican Calavera theme
Adjustable autospin feature
What we don't like