Ducks Till Dawn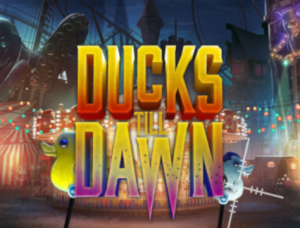 Get ready for some quackin' good fun with Ducks Till Dawn by Kalamba Games. This unique slot game takes you on a shooting gallery adventure with duck-shaped symbols that move across the reels and hide behind other symbols. And let's not forget about the wild magician, who can help you score some serious wins.
With six reels and four rows, you'll experience the thrill of having 24 symbols on each spin. So get your trigger finger ready and aim for the crosshairs symbol because that's where the real treasures await.
And did we mention the crystal ball scatter symbol? This mystical orb can grant access to the free spins mode, where you'll have a chance to earn even bigger prizes thanks to a multiplier on the crosshairs symbol. Just be sure to keep an eye out for more crystal balls, as finding two or more will grant you additional free spins.
Overall, the gameplay mechanics of Ducks Till Dawn are unlike any other slot game out there. It's a combination of shooting gallery fun and traditional slot gameplay that will leave you quacking with excitement.
Symbol Design
Have you ever heard the phrase, 'putting lipstick on a pig?' Well, the designers of Ducks Till Dawn definitely didn't need any lipstick because these symbols are already dolled up and ready to play! The circus and amusement park theme is executed flawlessly, and the duck-shaped symbols waddling around the game grid will leave you quacking up for days.
One thing that stood out to me was the high design quality of the symbols. They're easy to distinguish from one another, which makes gameplay clear and unambiguous. Plus, who doesn't love a good balloon animal or plush toy? It's like having your own personal carnival right at your fingertips.
Graphics and Sound Design
If you're looking for a slot game that will give you goosebumps, then look no further than Ducks Till Dawn. This game has taken great care in its graphics and sound design, which sets it apart from other slot games. The eerie amusement park in the background adds an extra element of spookiness to the game.
The shooting gallery booth where the symbols rotate is a great touch. It's like the ducks have come to life and are taunting you to try and shoot them down. The symbols are all well designed and tie in perfectly with the horror theme of the game. A special mention goes to the ducks themselves – they're not your typical cute, quacking kind. These ducks look like they've seen some serious stuff and aren't afraid to show it.
While the game doesn't have a background soundtrack, the tense music that plays when you're about to win adds a level of excitement to the game. It's like the game is saying, 'Oh, you think you've got this? Let's see if lady luck is really on your side.'
Overall, the graphics and sound design of Ducks Till Dawn are top-notch. They perfectly capture the horror theme of the game, and you can tell that a lot of time and effort has gone into their creation. So, if you're a fan of horror and slot games, give Ducks Till Dawn a shot. Who knows? You might just come out a big winner – and without any nightmares (we hope).
Bonus Features
Ducks Till Dawn is a fantastic casino slot game designed to give you an unusual kind of gaming experience. The game offers a couple of bonus features to make your gameplay more exciting. And trust me, you're going to need them. This game is a real quacker!
The moving ducks feature is unique to the game. Get a duck to land on the crosshairs symbol, and you'll be quacking all the way to the bank. Speaking of ducks, I've never seen so many ducks in one game! But don't worry, they're all deliciously crispy, and not one of them is going to fly away.
The magician is the wild symbol in Ducks Till Dawn. And who better to perform all kinds of duck-related magic tricks than a magician? He's going to do a lot of hocus-pocus on the reels, and you're going to be spellbound with the magical wins he'll conjure up. The crystal ball is the scatter symbol that awards you with free spins. And who doesn't love free stuff? The multiplier on the crosshairs symbol during free spins can lead to huge prizes. So, keep your fingers crossed and your eyes on the prize.
Finding two more crystal balls in a spin gives you additional spins to keep on spinning. That's right, more chances to win big! But remember, the ducks are watching you. So, keep your cool and aim straight. You don't want to anger the ducks. They can be quite feathery when they want to be.
How Does Ducks Till Dawn Compare to Similar Slots?
Compared to other slots with similar themes, Ducks Till Dawn is a Quacktastic way to spend your time! This game stands out with its unique moving ducks feature that adds to the gameplay mechanics. Other slots with similar elements include Scruffy Duck by NetEnt and Halloween Circus by GiocaOnline. However, Ducks Till Dawn has a higher number of reels and rows, allowing for more symbols to be displayed per spin.
The game also features high-quality graphics and sound design, which add to the overall immersive experience.
But enough with the bird puns, let's get back to the review. If you're a fan of online slots, then Ducks Till Dawn is definitely worth a try. It has plenty of opportunities to win big and will keep you entertained for hours. Just don't be surprised if you find yourself quacking with excitement when those bonus rounds hit!
FAQ
What are the graphics like in Ducks Till Dawn?
The graphics are unique and attention to detail with a gloomy amusement park in the background. The game screen features a shooting gallery booth, and numerous symbols rotate to form winning combinations.
Is there background music in Ducks Till Dawn?
No, there isn't any background music, but when the player approaches a win, a tense musical sequence appears that will make every spin of the slot full of pathos.
What are the gameplay mechanics like in Ducks Till Dawn?
The slot has six reels and four horizontal lines, effectively displaying 24 symbols on each spin. The mechanic that certainly characterizes this slot the most is the moving ducks. The ducks appear on the right side of the screen and move towards the left, hiding behind the various symbols that make up the game grid. When a duck hides behind the crosshairs symbol, it will award the win shown above the duck.
Are there any special symbols in Ducks Till Dawn?
Yes, there are two special symbols: the magician, who is a wild symbol capable of covering the role of the Joker and replacing any other normal symbol in the game, and the crystal ball, a scatter symbol that allows access to the free spins mode.
How do you access the free spins mode in Ducks Till Dawn?
You have to get the blue or red crystal ball scatter symbols. The free spins mode gives players the possibility of winning huge prizes thanks to the multiplier placed on the crosshairs. Finding two more crystal balls in a spin gives additional spins.
What other slots have similar elements to Ducks Till Dawn?
Scruffy Duck by NetEnt features the same animal as its protagonist, and Halloween Circus by GiocaOnline would be similar to the theme of Ducks Till Dawn.
What is the RTP (return to player) of Ducks Till Dawn?
The RTP of Ducks Till Dawn is 96.24%, which is slightly above average for online slot games.
Can you play Ducks Till Dawn on your mobile device?
Yes, Ducks Till Dawn is optimized for mobile devices. You can play it on your phone or tablet, as well as desktop computers and laptops.
What we like
Unique gameplay mechanics with moving ducks feature
High-quality symbol design and easy to distinguish symbols
Great attention to detail in graphics and sound design
Bonus features including wild and scatter symbols, free spins, and multipliers
What we don't like
No background music throughout the game
Limited number of similar slots available for comparison